For the past decade, the Pentagon has authorized an apparently unsuitable fashion choice for Afghan soldiers — one that has cost U.S. taxpayers as much as $28 million, a government watchdog for Afghanistan said Wednesday.
The questionable attire involves a uniform featuring a woodland camouflage pattern that "may be inappropriate," the Special Inspector General for Afghanistan Reconstruction, or SIGAR, said in a 17-page report.
Why doesn't the forest pattern jibe? Afghanistan is primarily desert, and forests make up just 2.1 percent of the nation's landscape, according to the World Bank.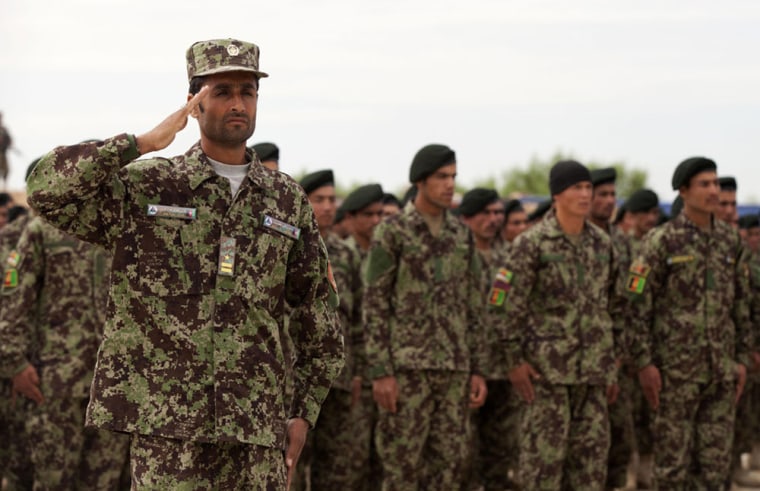 "You don't pick a proprietary pattern for an arid desert country based upon fashion," John Sopko, the U.S.'s special inspector general, told NBC News. "You want to pick it based upon camouflage purposes. If you were fighting away in Germany or Maine, where you have forest, then this makes sense."
SIGAR's report also cites Timothy O'Neill, a camouflage consultant and retired Army officer of 25 years, to point out why it matters: "Desert designs don't work well in woodland areas and woodland patterns perform poorly in the desert."
But the choice of garment pattern wasn't the only rub, SIGAR said:
"The U.S. government already had rights to multiple uniform patterns that were not in use by U.S. forces, which could have been used by the (Afghan National Army) at no cost, and may have been equally effective in the Afghan environment."
The decision to use the non-government-owned forest camouflage pattern came after U.S. officials in 2007 found designs on the internet from a company called HyperStealth and showed them to Defense Minister Abdul Rahim Wardak. He "liked what he saw. He liked the woodland, urban, and temperate patterns."
Three months later, the Afghans settled on the forest-appropriate design and the Pentagon signed off.
"It's good to talk to the Afghans," Sopko said. "That doesn't mean you agree with everything they say."
As part of its review, SIGAR said the Department of Defense has spent $93 million on uniforms for the soldiers since 2007. They bought more than 1.3 million uniforms and 88,000 extra pairs of pants with the forest pattern without ever "determining the pattern's effectiveness in Afghanistan compared to other available patterns." Adding onto the costs were zippers instead of buttons for the blouses, the use of hook and loop fasteners, and more pockets, SIGAR said.
Related: U.S. Pays Millions for No-Show Teachers, Students
The decision to go with that particular style instead of one already available to the U.S. government reportedly cost an extra $26 million to about $28 million.
SIGAR added: "Neither DOD nor the Afghan government knows whether the ANA uniform is appropriate to the Afghan environment, or whether it actually hinders their operations by providing a more clearly visible target to the enemy."
SIGAR shared a draft of its report to the Pentagon in May, and that upon subsequent discussions, Department of Defense officials "expressed general agreement with contents of the draft report."
Those officials added that they would conduct a cost-benefit analysis and work with the Afghan Ministry of Defense, SIGAR added.
The report said that if the Afghan uniforms were changed to include a pattern that is not owned by a private company, it would save taxpayers between roughly $68 million and $72 million over the next 10 years.
Related: 12 Ways Your Tax Dollars Were Squandered in Afghanistan
Congress has earmarked billions of dollars to help Afghanistan train and properly equip its army, but SIGAR has noted over the years the potential for financial waste and money-sucking decisions that could have been avoided.
Among some of the more head-scratching choices was the decision to spend $486 million for "deathtrap" aircrafts that were later sold as scrap metal for a total of $32,000, $335 million on a power plant that used just 1 percent of its capacity and $34.4 million on a soybean program for a country that doesn't typically eat or grow soybeans.
Sopko commended current Department of Defense officials and the U.S. military leaders in Afghanistan for being responsive to his group's reports about waste. But he said the federal government needs to use Afghanistan as a lesson for how to properly budget and spend money because, ultimately, it's taxpayers who are on the hook.
"We just poured in a lot of money real fast, and the people who make the dumb decisions — six months or a year later — they're gone," Sopko said. "They're never held accountable — that's been the problem."