Yevgeny Prigozhin's rise owed much to videos that spread rapidly through Russian social media and nationalist circles: charting his feud with the Kremlin's military leaders, then showcasing his armed revolt against them — all carried by a gust of intrigue and anger.
On Wednesday those same channels were filled with video that appeared to document what may have been the Wagner mercenary chief's final, fiery plummet into a field outside Moscow.
Though much is still unclear, here's what we know and what NBC News has verified about the dramatic incident.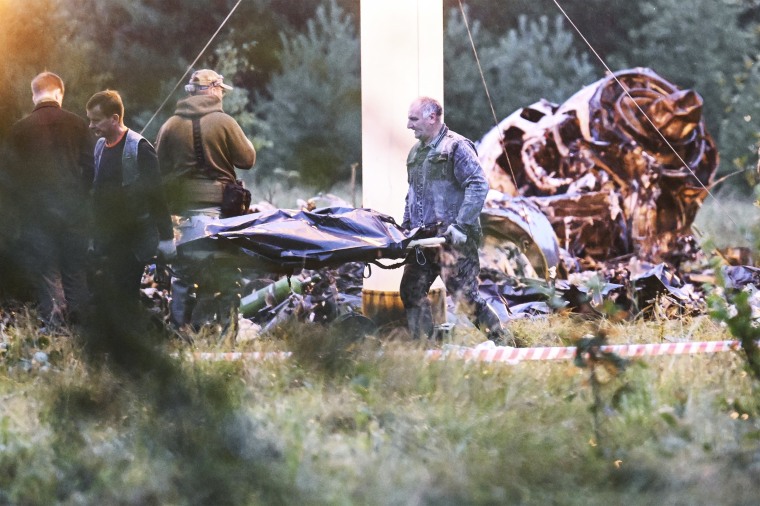 In one video geolocated by NBC News near the village of Kuzhenkino in Tver oblast, Russia, what looks like a plane can be seen spiraling down through clouds, trailing smoke behind it. The video, filmed from the ground and posted on social media, shows the apparent jet hurtling toward the ground before crashing and erupting into flames, sending a dark plume of smoke spiraling into the sky.
Another video filmed from a car near the same area shows an eyewitness driving beside a field in which the fiery wreckage of a plane can be seen. Another, graphic and close-up, shows someone inspecting the flaming wreckage in a field and swearing as they come across what appears to be two bodies.
Part of the aircraft's registration number, "795," on what appears to be the blue tail of the plane could also be seen in another video geolocated near Kuzhenkino. An Embraer Legacy 600 jet belonging to Prigozhin was known to have the serial number RA-02795. The executive jet was believed to be carrying Wagner leaders from Moscow to St. Petersburg on Wednesday.
The aircraft could be seen making a sudden drop in flight-tracking data published by Flightradar24. The jet appeared to lose around 1.5 miles of altitude in just half a minute, according to the site, transmitting data for the last time at 11:20 a.m. ET.
The aircraft had shown no sign of any problem until it started making "a series of vertical movements" downward and upward before making a "rapid descent," Chris Lomas, an aviation content specialist with Flightradar24, said in a phone interview.
Lomas said it was "very difficult to speculate" on what might have caused the crash. "What we can say was that ... whatever that event was, it was very quick and it was pretty devastating."
Prigozhin was listed by Russian authorities as one of 10 people aboard the jet that crashed Wednesday. Everyone on the aircraft died, Russian officials said, with a Telegram channel associated with the Wagner group also announcing that Prigozhin had died.
The Kremlin has yet to comment on the fate of the man whose clash with Russia's military leadership saw him challenge President Vladimir Putin's authority.
Along with Prigozhin, an official passenger list for the crashed plane posted on Telegram included Dmitry Utkin, another senior Wagner official.
The bodies of those onboard were removed from the crash site and sent to a nearby morgue Thursday morning, according to photos and videos shared by news agencies and Russian media.
Photos also showed a fragment of the plane found more than two miles away from the site of the crash, the Russian state news agency RIA reported Thursday, near the entrance to a nearby village in the Tver region. 
So far, there has been no official confirmation about exactly whose bodies were found or identified.
A Western official told NBC News on Wednesday that U.S. and European allies were comparing assessments to get clarification on Wednesday's crash.
In St. Petersburg, Prigozhin's hometown, photos showed mourners gathering at a makeshift memorial outside the Wagner Group's former headquarters, with Wagner badges placed alongside red candles and flowers.
Video verified by NBC News also appeared to show small bouquets of flowers left at a café in the city that was purported to be associated with the mercenary leader.
Photos also showed a makeshift memorial in front of the Wagner office in the Siberian city of Novosibirsk on Thursday.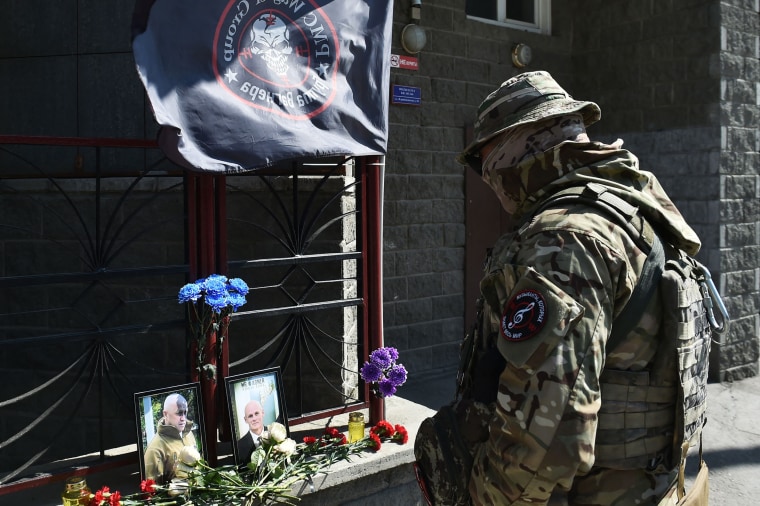 While the mercenary chief had largely fallen out of view following his aborted armed rebellion in June, he appeared to be shown delivering his first video address in months earlier this week.
In a 41-second clip published by several Telegram channels affiliated with Wagner on Monday, a person who appeared to be Prigozhin was filmed standing in a desert-like area dressed in military fatigues and wearing a bulletproof vest bearing the Wagner logo.
He vowed to make Africa "more free" and Russia "even greater on every continent." NBC News was not able to verify the video's authenticity, as well as when or where it was shot. 
It is still unclear what lies ahead for the Wagner mercenary group, which has been linked to violence in Syria, Mali, the Central African Republic and other nations, if its leadership has been lost.