HONG KONG — Satellite images taken over multiple cities in China show heightened activity outside crematoriums and funeral homes, appearing to contradict the country's low official Covid-19 death figures and illustrating the severity of the outbreak in the world's most populous country.
The images, taken by the Colorado-based space technology company Maxar in late December and early January and shared with NBC News, show a parking lot has been built since early December at a funeral home in Tongzhou, on the outskirts of Beijing, the capital.
Other images from cities around the country show a greater number of cars parked outside funeral homes compared with similar periods in past years.
The satellite images are consistent with firsthand NBC News reporting in Beijing, where officials say the outbreak has already peaked.
Construction equipment was visible at the Tongzhou funeral home during a visit Dec. 22, while workers in white hazmat suits could be seen unloading caskets from a steady stream of vans at the Dongjiao funeral home during multiple visits that week. Police were patrolling both places.
Elsewhere in Beijing, crematoriums have been operating 24/7, with one major funeral home saying the wait time for a cremation slot was up to two weeks. With some funeral homes no longer allowing memorial services, reporters have witnessed families instead holding them at hospitals, where empty caskets are being stored outside in alleys.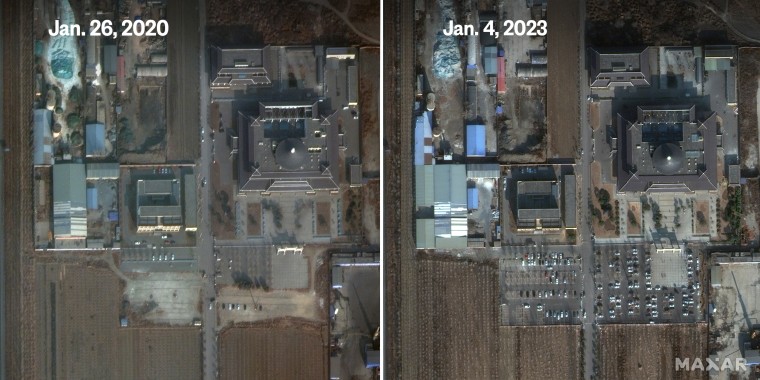 While the Chinese government says the outbreak is predictable and under control, the World Health Organization says that official Chinese data underrepresents the current number of Covid hospitalizations and deaths and that it cannot form a clear picture of the outbreak without more information.
China has reported fewer than 40 Covid-related deaths since Dec. 7, when officials abruptly lifted "zero-Covid" restrictions that had largely shielded China's 1.4 billion people from the virus for the past three years but fueled rare widespread protests. The country's official death toll is about 5,270 since the start of the pandemic, but international experts say the true number of deaths could reach 1 million or more in the coming months — about the same as in the U.S.  
China's older population, which has a relatively low vaccination rate, is expected to be especially affected. Experts also predict the virus will spread beyond major cities into rural areas as people return to their hometowns to celebrate the coming Lunar New Year.
Commenters on Chinese social media have also questioned the government's reporting, pointing to the recent deaths of prominent artists, scientists and academics, some of whose obituaries named Covid as the cause, as well as the experiences of their own families.
"It's the sixth day since my grandfather left, and I still can't stop crying," a commenter in Sichuan province wrote on the social media platform Weibo, adding: "I hate Covid and this inexplicable decision to lift all the restrictions — to hell with you, false death data!"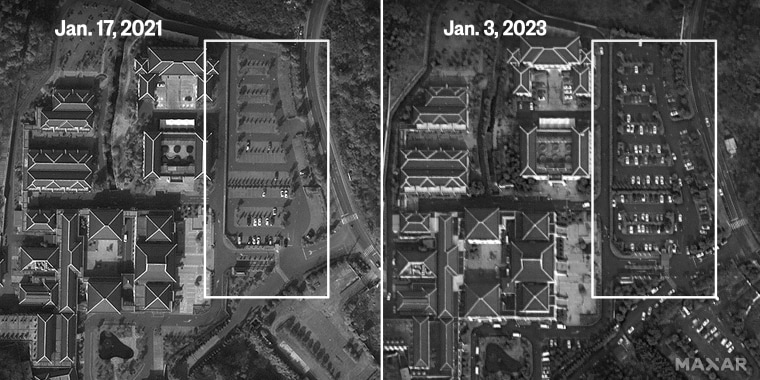 Chinese officials reject criticism of the data they have provided and say the true death toll will become clearer after analysis of "excess deaths."
Dr. Liang Wannian, an epidemiologist and senior adviser to the Chinese government, said Wednesday that the priority at the moment should be treating severe cases.
Until the pandemic is over, "it is impossible to identify the exact death rate," he said at a news conference in Beijing.
He also defended the way China determines whether deaths were Covid-related, counting only those that involve respiratory failure — a definition the WHO has criticized as too narrow.
There is no global consensus about how to define Covid deaths, Liang said, "so each country has their own individual way of calculating."
China briefed all WHO member states on its Covid outbreak last week, and it has provided additional information about its response, said Maria Van Kerkhove, the WHO's Covid-19 technical lead.
"However, there are some very important information gaps that we are working with China to fill," she said at a news briefing Wednesday.
Citing the lack of data on China's outbreak, the U.S. and other countries have imposed restrictions on travelers from China in recent weeks. Beijing, which says the measures are unscientific, excessive and discriminatory, took the first of its promised countermeasures Tuesday by suspending short-term visas for citizens of South Korea and Japan.
Japan has lodged a protest with China over the suspension, while South Korea says that its Covid border measures are based on science and that China's response is "very regrettable."
China's new foreign minister, Qin Gang, who is visiting Ethiopia, told Phoenix TV in an interview Wednesday that the South Korean and Japanese restrictions had hindered China's personnel exchanges with the two countries, "so we, the Chinese side, have a reason to respond."
Jennifer Jett reported from Hong Kong, and Janis Mackey Frayer reported from Beijing.