Nearly $43 million of U.S. taxpayers' money was spent on building a gas station in Afghanistan — 140 times more than it should have cost, according to a government watchdog.
The Special Inspector General for Afghanistan Reconstruction (SIGAR) also said that one of the most "troubling" issues is how the Department of Defense was unable or unwilling to explain why the "ill-conceived" project was so expensive.

"Even considering security costs associated with construction and operation in Afghanistan, this level of expenditure appears gratuitous and extreme," SIGAR said in a report issued Monday.
The agency's top official went further.
"It's an outrageous waste of money that raises suspicions that there is something more there than just stupidity," John Sopko, the special inspector general, told NBC News. "There may be fraud. There may be corruption. But I cannot currently find out more about this because of the lack of cooperation."
Despite having vast natural gas reserves, Afghanistan is heavily reliant on importing petroleum products. The Downstream Gas Utilization project — overseen by the Task Force for Stability and Business Operations (TFBSO) — was aimed at changing that.
The mission involved building and operating Afghanistan's first compressed natural gas filling station in the city of Sheberghan and helping develop the commercial market for domestic natural gas.
The problem was, according to SIGAR, is that there was "no indication" the Task Force studied the viability of the project — or considered the significant obstacles it faced — before construction began.
Related: Meet the Man Who Keeps U.S. Spending in Afghanistan in Check
A feasibility study "might have noted" that Afghanistan lacks the distribution infrastructure to make such a market viable — and that converting cars from gasoline to CNG would be cost-prohibitive for most Afghans, SIGAR said.
"They're saying they can't find anybody who knows anybody about this billion-dollar program?"
Despite all of that, a contract for just under $3 million was awarded to a company called Central Asian Engineering in 2011. According to SIGAR, an economic impact assessment found the task force spent well beyond that —$42,718,730 — between 2011 and 2014 to fund the station's construction and supervise its initial operation.
A CNG filling station "would have cost no more than $500,000 in neighboring Pakistan," the report noted, calculating the "exorbitant cost to U.S. taxpayers" at 140 times higher than it should have been.
Sopko told NBC News it appeared that "nobody was minding the store."
"This is one of the worst examples of poor planning and just sheer stupidity," Sopko told NBC News. "It's outrageous."
Related: Pentagon Blew $36M on Unwanted Afghan Outpost
He called the cost "indicative of a real serious mismanagement" but said perhaps the "more serious" issue was how the Department of Defense had failed to offer documentation or records on the project.
"I'm suspicious when I see something that cost 140 times more than it did and I find people trying to withhold or not cooperate with me," Sopko said. "It raises my suspicions."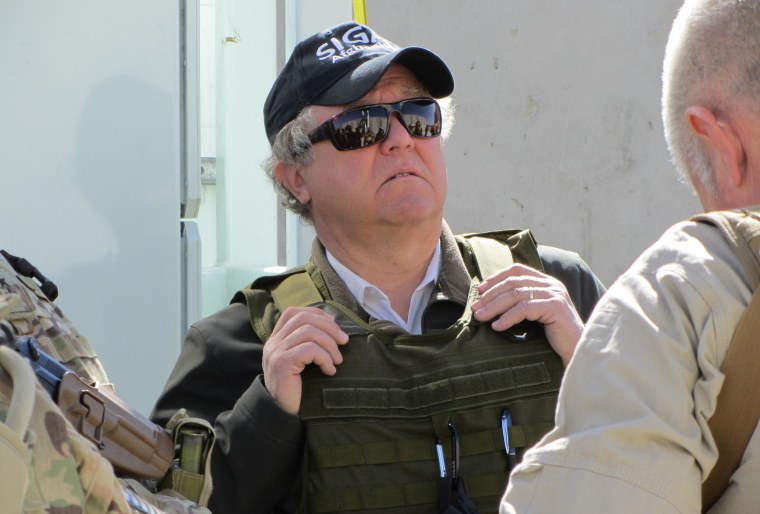 Congress appropriated more than $820 million for the TFBSO between 2010 and 2014 for projects to support economic development, and SIGAR has been conducting a broader review of its activities.
The SIGAR report said a lack of cooperation from the Pentagon had "hindered" its review — an allegation flatly rejected by Principal Deputy Under Secretary of Defense for Policy Brian McKeon.
McKeon said the Department of Defense was not trying to restrict access but rather "quite the opposite."
"We're quite ready, willing and able to provide access to these records and we've made that plain to Mr. Sopko's office," he told NBC News. "We have a mandate under the law to provide access to documents and that's what we're doing."
McKeon acknowledged that the $43-million price tag sounds like something "wasn't done properly" but told NBC News he couldn't speak to the details because the project "came well before" he took up his role in the Office of the Secretary of Defense.
"On the face of it that sounds like something might not have been done most efficiently but I don't have the business expertise or knowledge on this project to tell you that it was done right or wrong," he said. "Sopko — if he wants to find out more about whether the project was properly done — he can access the materials that we are making available to him."
According to SIGAR, the Department of Defense responded to initial requests for information with a letter saying that it no longer had the "personnel expertise" to address Sopko's queries because the task force was closed down in March 2015. A copy of that letter, from McKeon, was included in the report.
"They're saying they can't find anybody who knows anybody about this billion-dollar program? I've never encountered anything like this," Sopko said. "It's pixie dust. It's sort of like — poof! The program disappeared and with it all recollection and memory."
Related: True State of Afghan Military Kept Secret, Watchdog Says
While Sopko told NBC News he was not alleging obstruction, he called the justification "unreasonable" and "incomprehensible" — especially given that the task force was shut down months, not years, ago.
"This was a horribly run, horribly managed program and it reported to the Secretary of Defense… But just because its embarrassing doesn't mean you make the program disappear."
U.S. Sen. Claire McCaskill called the report's finding "outrageous" and said she had written a letter to Secretary of Defense Ashton Carter demanding the Pentagon provide a full accounting of the project.
"There are few things in this job that literally make my jaw drop," McCaskill, a senior member of the Armed Services Committee, said in a statement. "But of all the examples of wasteful projects in Iraq and Afghanistan…this genuinely shocked me."
In response to a draft of the SIGAR report, McKeon had written another letter — reprinted in the final report — saying the DOD had been fully prepared to give SIGAR access to documents and officials but that the office had "not availed itself of these offers of assistance."
SIGAR and Sopko strongly disputed that, saying that promises of documents and access had never materialized despite repeated requests. Access to certain archived documents was offered under conditions of DOD review which SIGAR rejected, the report added.
Despite that, the SIGAR report said, Sopko plans to continue looking into the task force's activities to look at how it operated, what it achieved and whether any criminal conduct occurred. The review into the gas station was one part of that.
McKeon told NBC News that he supports the work of SIGAR and other Inspectors General — and that he's sure the answers Sopko and SIGAR are looking for can be found in the archived documents on the task force.
"I don't know what a CNG facility in Afghanistan should cost," he said. "I'm sure there's a lot more information in the archive and records that show what the original estimates were and explain more why it cost what it did."