A new virtual exhibition explores the identity of Rohingya Muslims from Myanmar living in the world's largest refugee camp, through the lens of Rohingya photographers.
About 900,000 Rohingya refugees live in the Cox's Bazar area of southeast Bangladesh after fleeing neighboring Myanmar, where they have long been persecuted by the government. More than half of them are under 18, according to the U.N. refugee agency.
Their future remains uncertain years after the largest exodus in 2017, when Myanmar security forces were accused of driving Rohingya out of the country with a large-scale campaign of killings, mass rape and arson. The military denies the allegations, which the U.S. government declared a genocide earlier this year.
Download the NBC News app for breaking news and politics 
The virtual exhibition, which launched in June on World Refugee Day, gives young Rohingya an opportunity to express themselves around themes such as memory, loss, love and hope, organizers say.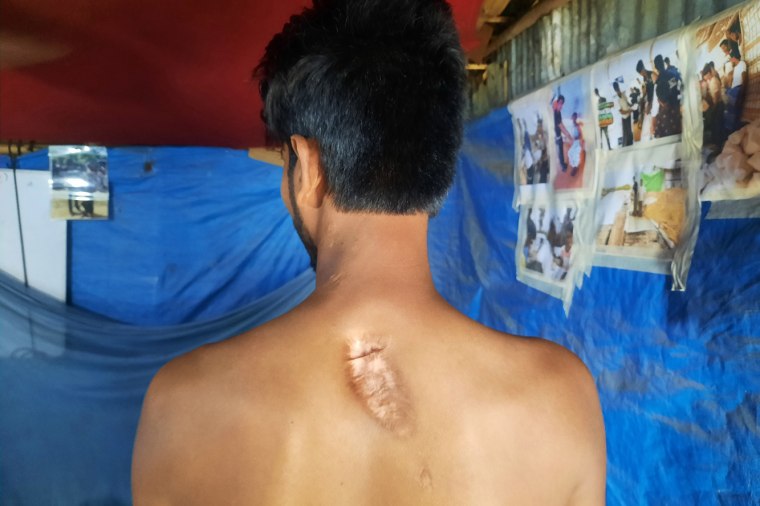 "With this exhibition, we want the world to see the Rohingya refugee community through our own eyes," Sahat Zia Hero, founder of Rohingyatographer magazine and one of the curators of the exhibition, said in a news release. "We want people to see us as human beings, just like everyone else and to share our hopes and dreams, our sadness and our grief with others, to make connections." Shaiful, 22, says he was coming back from fishing at a nearby lake when he saw military forces surrounding his village in Myanmar's Rakhine state on Aug. 25, 2017. Houses had been set on fire, and he was scared for his parents and siblings.
"I wanted to help, but I was afraid for my own life," he said. "A soldier saw me and shot me in the back."
Shaiful fell down and the soldiers thought he was dead. When he opened his eyes, he said, he was bleeding and couldn't move. Neighbors helped him flee to Bangladesh, where he received hospital treatment.
"I want justice for myself and those who were murdered in my community," he said.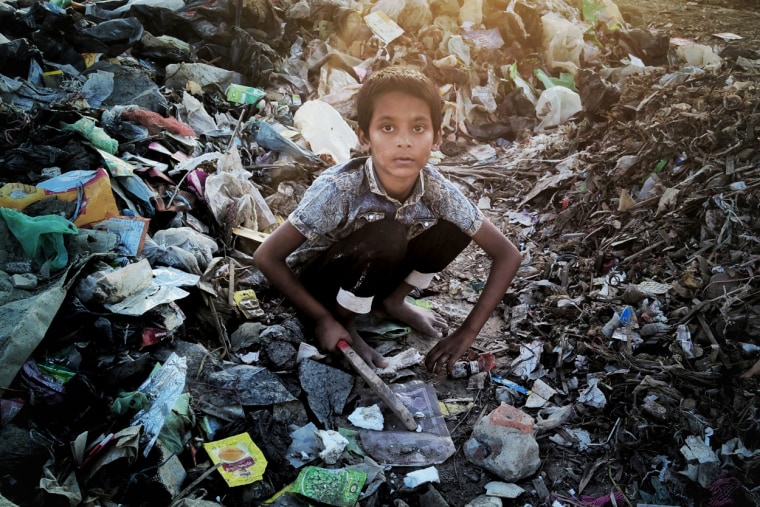 Residents of the camps live in crowded conditions, are unable to work and have limited access to education.
"I don't go to school," said Absar, 6. "I come here every day to collect plastic bottles from this wasteland."
He said he sells the bottles to a shop in the market to support his father, who is sick, and his two younger sisters.
"There is nobody except me to support my siblings and provide for my father's treatment," he said.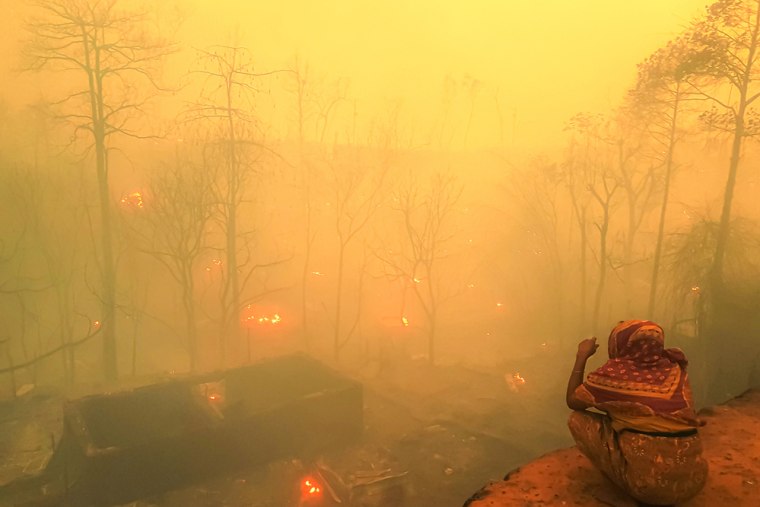 The camps have also experienced devastating fires, including one in March 2021 that killed at least 15 people and damaged about 10,000 shelters.
Sahat Zia Hero took a photo of his neighbor Zaudha, 40, crying as she saw what remained of her home.
"With the smoke and heat, she was afraid to go down the hill to look for the spot where her home once was. She cried and shouted loudly: 'Our lives have burned!'" said Sahat Zia Hero, whose home was also destroyed.
"The smoke was all that was left of our homes," he said.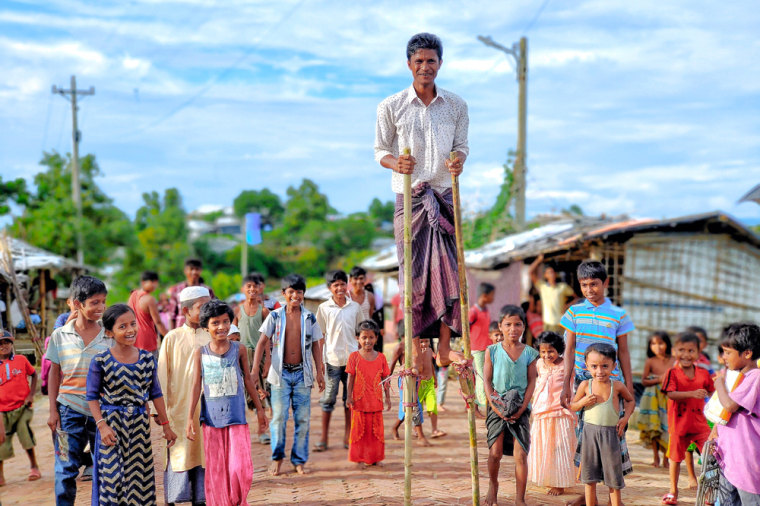 The exhibition also captures more joyful moments with people like Sorwar, 33, who spends much of his time inventing toys.
"I feel happy seeing children laughing when they see me walking on these stilts made of bamboo," he said.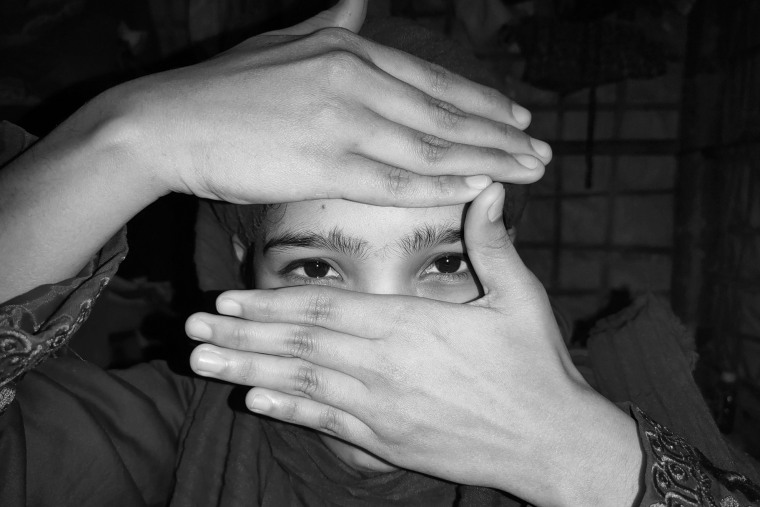 Shahida Win captured her friend and neighbor Noor Fatema, 18, who is being trained as a tailor.
"Noor Fatema also likes photography but unfortunately she doesn't have a mobile phone to take photos," she said. "She always enjoys when I take her photograph in different poses and creative styles."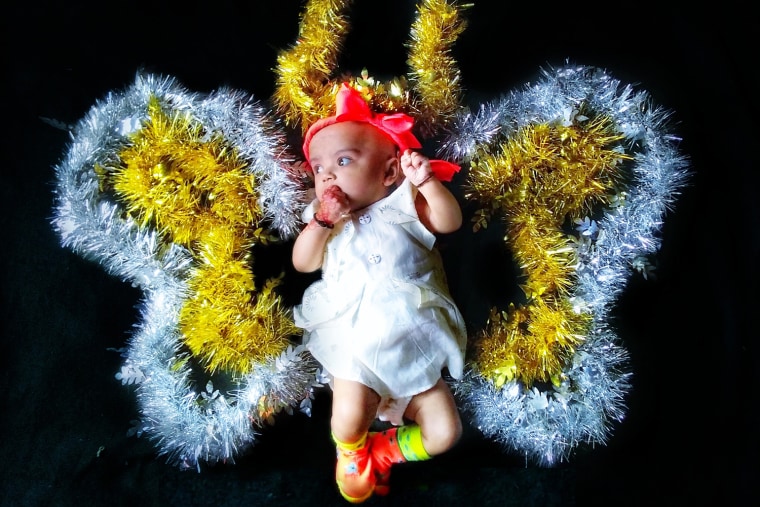 Tens of thousands of children have been born in the camps since 2017, advocacy groups say. Denied citizenship in Buddhist-majority Myanmar and birth certificates in Bangladesh, they are effectively stateless.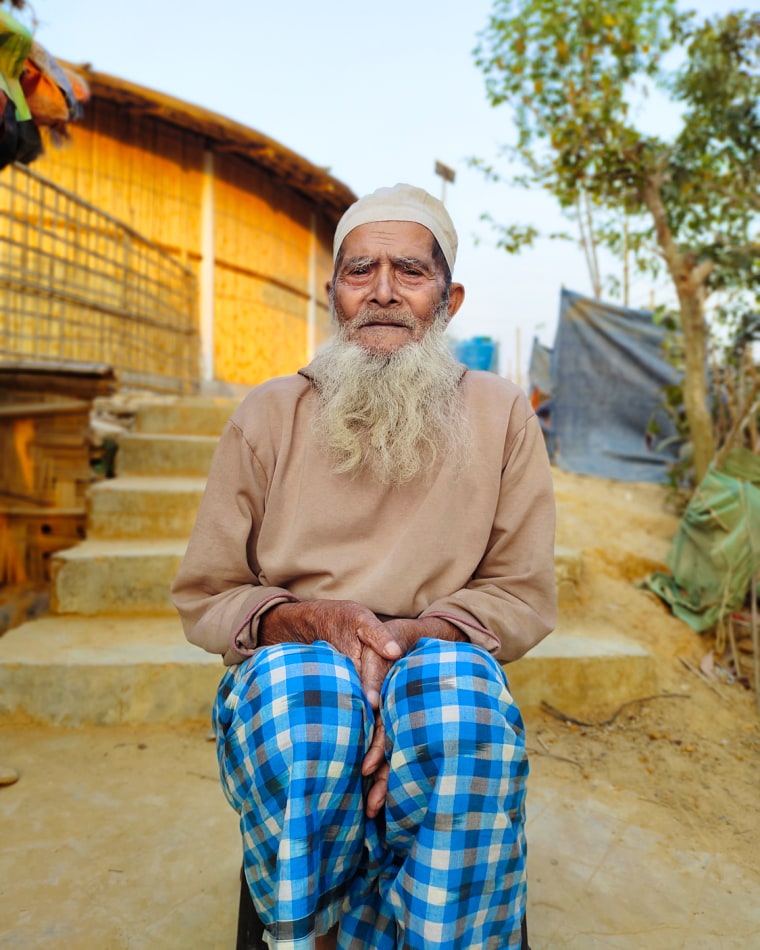 Among the oldest residents of the camp is Muhammad Jalil, 102. This is the third time he has been a refugee in Bangladesh, having also fled violent military campaigns against the Rohingya in 1978 and 1991. Both times he and his family were eventually repatriated.
"My eyes are dying to see my homeland once again," he said. "I want to die in my own country."