EL CENIZO, Texas — The latest battle over illegal immigration in the Trump era is unfolding in Texas where a small border town is suing the state over a new law that bans so-called "sanctuary cities."
Critics argue the legislation is unconstitutional and will trigger racial profiling. But in a new interview with NBC News, Texas Gov. Greg Abbott defended the law.
"The biggest misconception is the so-called 'show your papers' requirement," Abbott said. "There is no requirement that you show papers. That is absolutely false."
Abbott signed Senate Bill 4 earlier this month on Facebook Live, arguing that it was about public safety.
"No one can be pulled over and stopped whether walking or driving just for no reason or because of what their race may be," he said. "There has to be that probable cause."
He also blasted opponents who argue that the legislation is anti-Latino.
"My wife is the first Hispanic first lady" of the state, he said. "They have absolutely nothing to fear. The only people who face any type of consequence are criminals. If you commit a crime and you're wanted by the federal government, then yes you have something to be concerned about. If you haven't committed a crime, and you're not wanted by the federal government, you have no concern."
But on the Rio Grande, there's a town on edge.
El Cenizo — about a half hour's drive south of Laredo — has 3,800 residents. About 20 percent of them are undocumented immigrants.
"This whole notion that all these problems we have with illegal immigration in our country is because of that side is just a false narrative," said Mayor Raul Reyes. He's now suing the state of Texas after lawmakers passed SB 4, which bans so-called "sanctuary cities."
The term is generally used to describe places that limit how much local police can enforce federal immigration laws.
"(The new law) hinders the relationship between police departments and the community," Reyes said. "It decreases the criminal activity reports. It opens up the door to more domestic violence and more sexual assaults against immigrants that would go unreported. And that's dangerous."
President Donald Trump signed an executive order in January that threatened to withhold federal money from sanctuary cities, but a judge blocked it.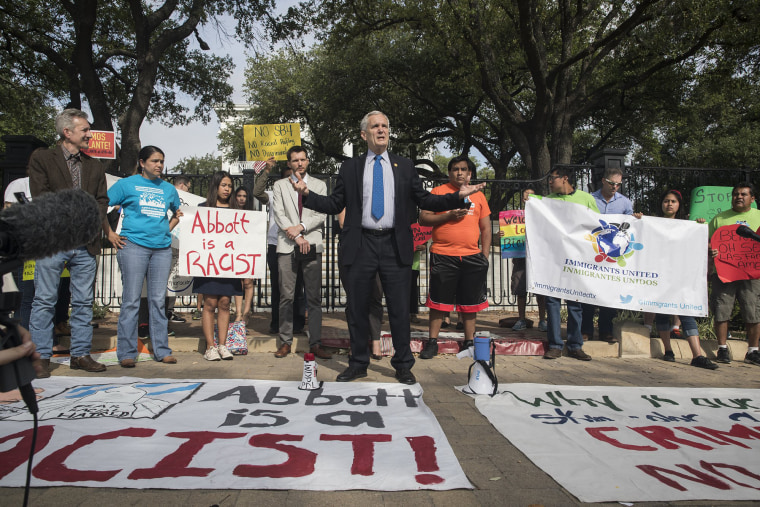 The new Texas law is the first since then. It would fine local governments up to $25,000 a day. It would potentially send police chiefs and sheriffs to jail by charging them a misdemeanor for not complying with the law. And it would remove from office elected or appointed officials who refuse federal requests to help with immigration enforcement.
El Cenizo has been at the center of the immigration debate before. In 1999, the town passed ordinances making Spanish its official language and preventing local police from asking about immigration status.
The mayor is joined in his lawsuit against the Lonestar State by officials from Maverick and El Paso counties as well, and is being helped with funding by LULAC, the League of United Latin American Citizens.
NBC News spoke with one undocumented woman who didn't want to reveal her name. She said she crossed the border 15 years ago to be with her husband's family — and said immigrants now are looking over their shoulders like never before.
For Mayor Reyes, the looming court battle has high stakes.
"I believe in doing the right thing and doing the right thing is fighting for those who have no voice and live in fear," he said.
If the law takes effect on Sept. 1, he said, fines could wipe out his town's entire $250,000 annual budget in two weeks.