BURBANK, Calif. -– Hillary Clinton told Ellen DeGeneres that she has mixed feelings about selfies on the campaign trail but is a big fan of Kim Kardashian's dedication to the photographic phenomenon.
Clinton, who took a now-famous selfie with Kardashian at a fundraiser last year, revealed in a taped appearance on The Ellen Show Thursday that the celebrity has special lights on the front of her phone designed to make subjects look better.
"She takes out her phone and she presses a button. I've never seen this anywhere else," Clinton explained. "You hold it up, it has light all the way around it, like little tiny, tiny light bulbs."
DeGeneres said she had also seen the phone and agreed the enhanced feature "makes you look better."
"It makes anybody look better! I have been desperately looking for one of those ever since," Clinton said with a smile. (The full interview is set to air Monday.)
The Democratic front-runner, dressed in a tan pantsuit, talked about taking selfies with voters and lamented that the photos were affecting quality time at campaign events.
Clinton said that in 2008, "before the tyranny of the selfie," she would shake hands and have lengthy chats with supporters on the rope line.
"There's something so personal about running for president," Clinton said. "I'll shake hands with somebody and they'll say, 'you know I want to tell you about,' and then they'll tell me about their child with addiction problems, their parent with Alzheimer's. They will really share that moment. That has diminished greatly because of the selfie."
Clinton admitted, however, that she often makes a connection with a voter if they're both trying to get the technology to work. She noted that many people who attend her events don't necessarily know how to take a selfie, so Clinton has mastered the art and tends to bond with older supporters that way.
"I was not great at this before I started this campaign, but I've gotten a lot better, so I'll take it and I'll say: 'OK, let's do it.' And I reverse it, and hold it up, and everything," Clinton said.
Tony Goldwyn, who plays Republican President Fitzgerald Grant on ABC's "Scandal," made a surprise appearance on the show and played a game of "Heads Up" with Clinton and Degeneres. (Goldwyn recently campaigned for Clinton in Iowa.)
Goldwyn had to guess phrases and words that Clinton and Degeneres were acting out, including "aerobics class," "slow motion," and "paparazzi."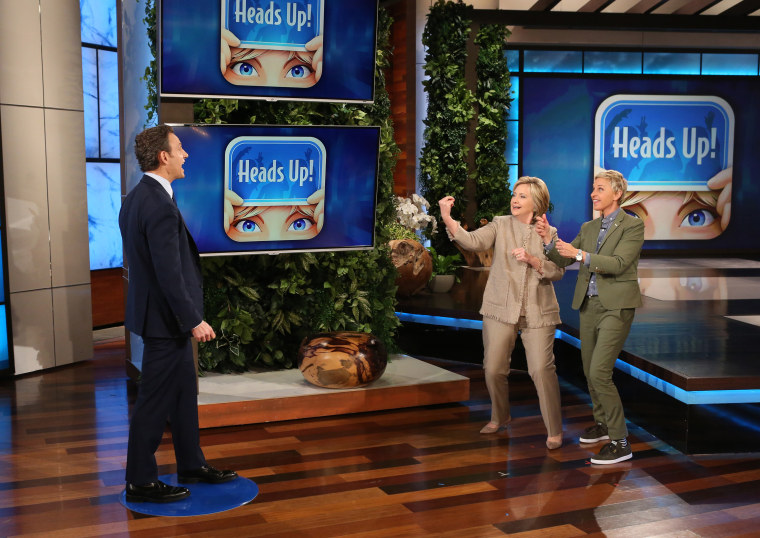 During the interview, Clinton spoke about her family and how challenging it is to run for president as a woman.
"I feel like if you are forceful, you're too forceful. If you're not forceful enough, you're not tough enough. I mean, it's just a constant evaluation all the time about how you're being perceived and so much perception is rooted in very ancient feelings we have about the roles of men and women," Clinton said.
She revealed that her husband, former president Bill Clinton, spoils their granddaughter Charlotte more than she does. Clinton said that her daughter Chelsea is "the enforcer," while Bill and their son-in-law Marc Mezvinsky are looser with the rules when it comes to Charlotte.
DeGeneres and Clinton also discussed Kate McKinnon, who does impressions of both women on NBC's "Saturday Night Live." Clinton said watching McKinnon play her when she hosted the show was like an "out of body experience."
"When I see her doing me, I say 'oh no, that's not me,' and then I'm within inches of her, and some of it's off, but some of it's a little too close for comfort," Clinton said.
This was Clinton's second appearance on The Ellen Show since announcing her candidacy in April. She was first on in September when the program aired from New York City for a week.