INDIANAPOLIS, Ind. — Gov. Mike Pence is staying mum on his meeting with Donald Trump this weekend as part of the presumptive Republican nominee's vice presidential vetting process, telling reporters only that "nothing was offered, nothing was accepted."
"What I could tell you this was a very enjoyable personal time between two families and we got to know each other a lot better, and nothing was offered, nothing was accepted," Pence said Sunday.
Speaking to reporters at the Indianapolis Symphony Orchestra's "Star Spangled Symphony" concert under a tent as a steady rain fell over the outdoor festivities, Pence said he'd "always be grateful" for the time he spent with Trump at his golf club in New Jersey, and that the Trumps "couldn't have been more kind and gracious." Pence offered few details on the meeting — aside from disclosing that he played golf with Trump, and that the presidential contender "beat me like a drum." He also said the two "talked about our country, we talked about the progress we've made in Indiana," including the state's economic strength and some of the reforms enacted under Pence.
An aide said Trump was accompanied by his wife, Melania, for the meeting, while Pence brought along his wife and one of their daughters.
Pence is one of the first potential vice presidential picks to meet one-on-one with Trump as the candidate considers his options. He heaped praise on Trump, saying that the real-estate mogul would "provide the kind of leadership that will strengthen our nation, restore our prosperity, and provide the kind of appointments to the Supreme Court that we'll be pleased to support." But the Indiana governor wouldn't say whether he'd take the spot if Trump offered it to him.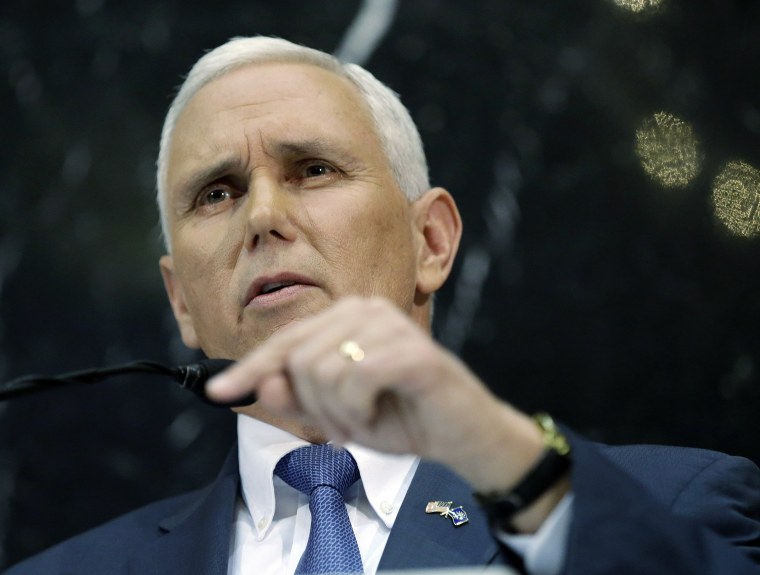 "I love my job and I love my country, but I'm not gonna get into hypotheticals," he said.
Pence later reaffirmed that he's focused on his reelection fight: "I am the governor of Indiana and I'm running for reelection this year and I'm focused on the job."
Pence said, however, he's aware that the clock is ticking because state law bars him from running for reelection and vice-president at the same time, adding "we'll be very respectful of that." In the meantime, he said he planS to be an active surrogate for Trump and is looking forward to campaigning with him in Indiana and "anywhere else he thinks I can be helpful."
He also declined to weigh in on the controversial tweet Trump issued this weekend that included a star of David over a background of $100 bills, which was found to have gained some traction on a white supremacist forum online.
Pence would only offer praise for the candidate, telling reporters that it was a "profound privilege" to "build a relationship with someone I hope is sitting in Oval Office this next January," regardless of what the future has in store — "but I also wanna say it was a lot of fun," he added.