The lawsuit against Donald Trump's self-styled "university" accusing it of scamming hundreds of students can head to trial, a New York judge decided Tuesday.
Eric Schneiderman, New York state's attorney general, filed a $40 million civil suit against Trump University — an online program for would-be real estate investors — in 2013. He claimed the school used fraud and false advertising techniques to lure students with the promise that they could get rich — just like Trump.
The school has come under renewed scrutiny since the businessman became the front-runner in the GOP presidential race and touted that Trump University earned an "A" rating with the Better Business Bureau.
The agency said in February that Trump University no longer had any rating because it was believed to be out of business. While it had "A" ratings in the past under a previous name of the Trump Entrepreneur Initiative, it also collected ratings of "D-minus."
Trump's lawyer argued Tuesday in Manhattan Supreme Court that the fraud case against the university deserves a jury trial. The judge didn't set a trial date, but said lawyers for both sides can submit arguments in regards to a jury.
Related: Donald Trump's Failed Business Ventures Are Back in the Spotlight
Schneiderman said he wants a trial to move quickly in court after "thousands of Mr. Trump's alleged victims have been waiting years for relief from his fraud."
He added that Trump and the school's president, Michael Sexton, are expected to be called as witnesses.
"As we will prove in court, Donald Trump and his sham for-profit college defrauded thousands of students out of millions of dollars," Schneiderman said in a statement Tuesday.
The school — which was never accredited — first launched in 2004, charging students anywhere from $1,500 to $35,000 for access to web seminars.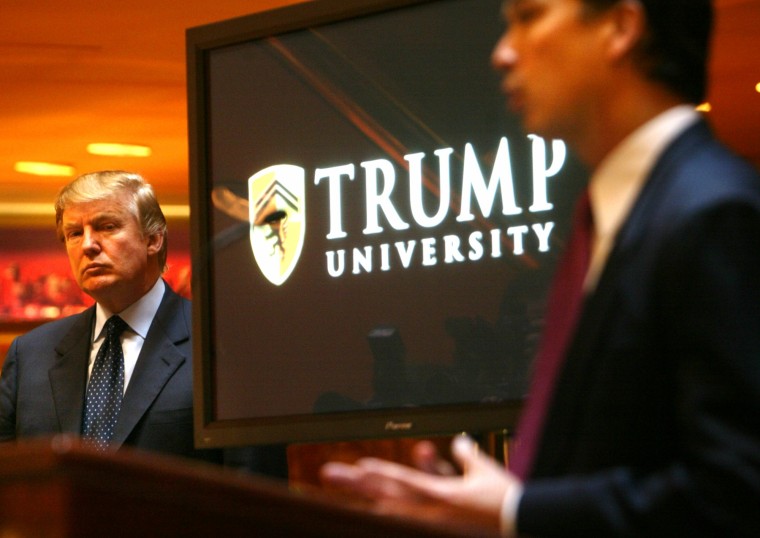 Trump lawyer Michael Cohen previously denied the allegations lobbed in Schneiderman's suit, and said the attorney general's office only wanted a campaign contribution. The website 98PercentApproval.com was set up by the Trump team to combat the accusations.
But the New York suit isn't the only one against Trump U, and cases are pending elsewhere, including in California and Florida. The businessman-turned-politician has said he expects to testify and is looking forward to clearing the school's name.
But he wouldn't want to go to court until after his White House bid ends.
"Whenever it happens, it happens. But, you know, I would imagine the courts would make it not go on during a campaign," Trump told TIME this month. "I would think that would be very unfair."