Getting off social media won't be one of Donald Trump's New Year's resolutions, a top aide confirmed Sunday, adding that America can expect more policy pronouncements and newsmakers in 140-character missives from the president-elect before and after his inauguration.
Days after Trump surprised national security experts by calling for more nuclear arms, incoming press secretary Sean Spicer told ABC News that Trump wouldn't shy away from using Twitter freely when in office — although the last time U.S. nuclear policy was detailed, it came after a year of deliberation.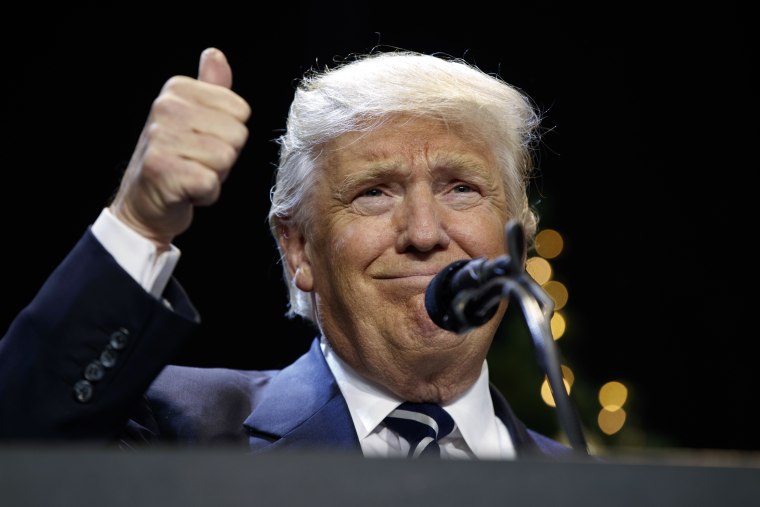 "I think it freaks the mainstream media out that he has this following of over 45-plus million people that follow him on social media, that he can have a direct conversation. He doesn't have to have it funneled through the media," Spicer said on ABC's "This Week." "You're going to see — absolutely you're going to see Twitter."
Spicer said Trump, who announced shortly after the election that he'd cut back on his Twitter use, isn't likely to do that because "when he tweets, he gets results."
Trump's 2016 was colored by dozens of Twitter-spurred headlines and results — some intended, some not. Let's take a look at his top 140-character moments.
1. He declared his love for all Spanish speakers because of taco bowls
This one earned mockery, accusations of stereotyping, and a whole lot of retweets when the Republican candidate tweeted a picture of himself eating a taco bowl on Cinco De Mayo with the caption "I love Hispanics."
2. He feuded with a former Miss Universe over her weight
After rival Hillary Clinton criticized Trump for his treatment of a former Miss Universe winner — allegedly calling her "Miss Piggy" and "Miss Housekeeping" because she is Latina — Trump called the woman "disgusting" and said she had a sex tape. No such sex tape was ever found.
3. And just about everyone else
Vice President Joe Biden is "not very bright"; Marco Rubio was a "light weight"; Jeb Bush is "confused"; Whoopi Goldberg is "very sad!" and listening to Carly Fiorina prompts a "massive headache." The New York Times catalogued 289 targets of these insults throughout the race.
He even cryptically threatened the wife of Sen. Ted Cruz, R-Texas, saying he would "spill the beans" on Heidi Cruz.
4. He announced his vice presidential pick in a Tweet
Indiana Gov. Mike Pence became the first vice presidential candidate to be announced on social media, when Trump confirmed the news on Twitter after a number of media outlets reported it before the news conference at which Trump intended to announce it as a surprise.
5. He connected directly with voters, offering them nicknames and catchphrases
Trump constantly retweeted supporters who showered him with praising tweets, boosting engagement and creating a seemingly organic, direct way of addressing the candidate. Nicknames like "Crooked Hillary" and "Lyin' Ted" were mentioned at rallies, but the nicknames were cemented on Twitter.
6. He promoted racists and hateful users, too
This wasn't always a positive social strategy: After Trump retweeted several apparent white supremacists, white supremacists said they were boosted by what they considered a "wink-wink" of support, and Trump was widely condemned for amplifying the voices of those who promote hateful ideologies.
7. He reinvented traditional campaign rapid response
While most campaigns use press releases and surrogate interviews to combat their rivals in real time, Trump's Twitter account was his top surrogate, offering up countless rapid-fire tweets responding to rivals and the day's news.