WAUKEE, Iowa — Voters usually want to know what a presidential candidate believes. Joe Biden is defining himself to Iowa caucus-goers by what he doesn't believe.
"I do not believe we're the dark, angry nation that Donald Trump sees in his tweets," the former vice president said as he unveiled his stretch-run pitch in a school gym here Thursday morning.
"I don't believe we're the nation that rips babies from the arms of their mothers and thinks that's OK. I don't believe we're the nation that builds walls and whips up hysteria about an invasion of immigrants that's going to do terrible things to us. I do not believe we're the nation that embraces white supremacists and hatred, as he has done."
Finding himself at an unusual crossroad — the leading contender for the Democratic nomination in national polling but at risk of being hobbled by poor showings here Monday and in New Hampshire on Feb. 11 — Biden chose the day the president arrived for a rally in Des Moines to fully drape his candidacy in the theme that has more subtly animated him since he entered the race in April.
Biden is running as the antidote to Trump — no less and little more.
The elixir is one part political campaign and one part social movement, a mix that presents him as the singular vehicle for arresting the cultural destruction most Democrats and at least a few Republicans think Trump has wreaked on the country. The label Biden put on it Thursday — "character" — is a contrast point that might give him room both to beat up on Trump and to present himself as a unifier, because some Republicans believe that's a trait that is deficient in the president.
Biden is not trying to sell caucus-goers or Democrats in other states on a grand vision, even though his party's progressive wing has demonstrated new strength since he left the vice presidency three years ago. He's betting he can win the nomination and the general election mostly by harnessing the force of a backlash against Trump.
"I don't believe we're a nation that bows down to Vladimir Putin, and I will not," Biden said. "I do not believe we're a nation that sees a free press as the 'enemy of the people' — justifies — legally justified inquiries as 'witch hunts,' congressional oversight as a 'hoax.' I don't believe we're a nation that says fulfilling your oath of office is an option, an option. And I don't believe we're a nation that, in fact, looks at the Constitution and thinks it's OK to be laughed at, mocked or ignored."
In all, there were eight lines that began with what Biden doesn't believe.
In the closing days before Monday's caucuses — the quadrennial human cattle call when Iowans gather at schools, community centers and churches across the state to publicly select their favored candidates — the leading contenders are all turning to more personal and less policy-heavy appeals. For Biden, that's a sweet spot.
He likes to remind Democrats that he faithfully served President Barack Obama, who is still popular, for two terms as vice president. Their general affinity for him has served him well as a shield against questions about his politically awkward statements and changes in his views on policy, which include reversals on matters related to abortion rights, gay rights and criminal justice.
Conversely, his top rival in polling nationally and in Iowa, Sen. Bernie Sanders, I-Vt., made himself iconic with a focus on policy. Sanders vowed to talk more about his own biography in this campaign, and he has at times, but it has been something of a struggle for a man who is uncomfortable talking about his personal life and perhaps wary of diluting his policy-heavy brand.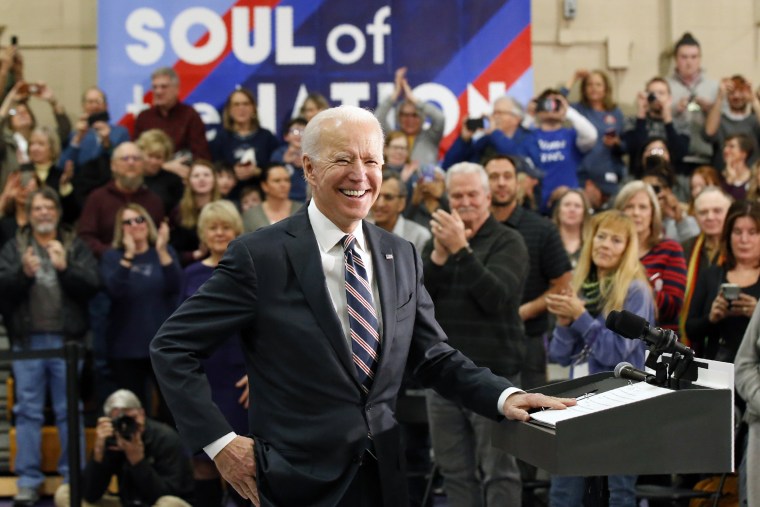 On Thursday, Biden argued that policy doesn't matter as much as personal virtue in this election.
"Health care, climate, guns, national security, education, student debt, women's rights — all these issues and more are on the ballot," Biden said. "But something else is on the ballot, something even more important. Character is on the ballot. America's character."
Those other issues — the ones that top rivals Sanders, Elizabeth Warren, Pete Buttigieg and even dark horse billionaire Michael Bloomberg say are urgent priorities that the next president must address — are secondary, Biden argued. He was saying not only that his character is superior to Trump's, an assertion with which Democrats in the room and across the nation surely agree, but also implicitly that it's the best in the primary field.
Biden also defined what he believes in: A "uniquely American code" defined by New York Times columnist David Brooks as "an invisible moral fabric that binds this nation together."
That fabric, he said, is threaded with traits like honesty, decency and fairness.
Randy and Cathy Cory, retired West Des Moines residents who plan to caucus for Biden, said the former vice president's contrast with Trump is exactly what they're looking for.
"If you don't have a strong character and a moral fiber, your policy positions are not going to reflect that, and we've seen that and we've lived with that for the last few years," Cathy Cory, 65, said after attending Biden's rally here. "I think [Biden] has plenty of policy positions out there."
Download the NBC News app for breaking news and politics
Her husband agreed but said there's a generational divide not only in the state but also in their family.
"Our son is 24. He's all in on Bernie," said Randy Cory, 62. "We have some spirited arguments in our house, about every time he comes over, because he's very concerned about 'Medicare for All,' climate change, social issues. We are, too. We think Joe is very strong on those issues."
For some Iowa caucus-goers, the character case is a convincing way for Biden to hammer Trump and portray himself as a unifying force at the same time.
"The focus today, yeah, what he was talking about was sort of the negative," said Heather Wheeler, 64, a substitute teacher from Urbandale. "But Biden is the unifier. He can pull this country together."
Her husband, Dennis, 69, said the contrast is why Biden can win in November.
"We have Republican friends who would support Biden," he said. "They're more moderate. They're embarrassed by what's going on."