WASHINGTON — Driving President Donald Trump's "law and order" message, Vice President Mike Pence praised law enforcement on the third night of the Republican convention Wednesday against the backdrop of protests sparked by a police officer shooting a Black man in Kenosha, Wisconsin.
"Let me be clear: the violence must stop – whether in Minneapolis, Portland, or Kenosha," said Pence, referring to protests in the wake of police shootings. "The hard truth is, you won't be safe in Joe Biden's America."
Pence honored Dave Patrick Underwood, an officer killed during recent protests in Oakland, Calif., whose wife was a guest at the vice president's speech. Pence did not mention by name any of the Black Americans killed by law enforcement whose deaths have sparked the recent Black Lives Matter protests.
"Law and order are on the ballot," Pence continued. "The choice in this election is whether America remains America."
The third night of the RNC — the traditional political pep rally that Trump is hoping will boost his flagging re-election campaign — was held as the country faces turmoil.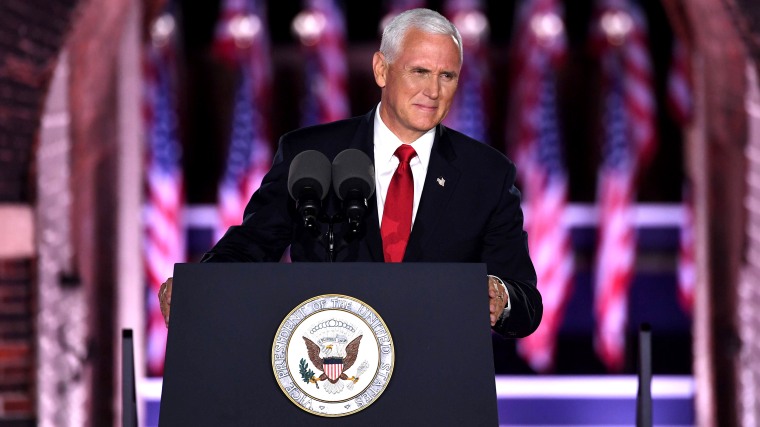 A teenager was arrested Wednesday for fatally shooting protesters in Wisconsin demonstrating against the police shooting of Jacob Blake, a Black man. The NBA postponed playoff games in response to Blake's shooting. Texas and Louisiana braced for a catastrophic hurricane. Deadly wildfires continued to burn in Northern California. All while the coronavirus death toll rapidly nears 200,000.
Pence opened his speech by voicing support for those in the path of the storm, but he appeared to sidestep the realities of the pandemic, offering a rosey portrait of a recovered country.
"Thanks to the courage and compassion of the American people, we are slowing the spread, we are protecting the vulnerable, we are saving lives, and we are opening up American again," Pence said, touting "the delivery of billions of pieces of Personal Protective Equipment" and claiming that "no who required a ventilator was ever denied a ventilator in the United States."
Trump and the first lady made a surprise appearance at the end of Pence's, greeting the group of supporters who attended the speech, few who wore masks or maintained distance on the rope line. Maryland requires face coverings for indoor and outdoor events.
Speakers throughout the night cast Democrats as fueling riots and opposing law enforcement, a message Trump has hammered in an effort to drum up fear of his Democratic rival Biden.
"From Seattle and Portland to Washington and New York — Democrat run cities across this country are being overrun by violent mobs. The violence is rampant. There's looting, chaos, destruction and murder," said South Dakota Gov. Kristi Noem. "People that can afford to flee have fled. But the people that can't, good, hard working Americans, are left to fend for themselves."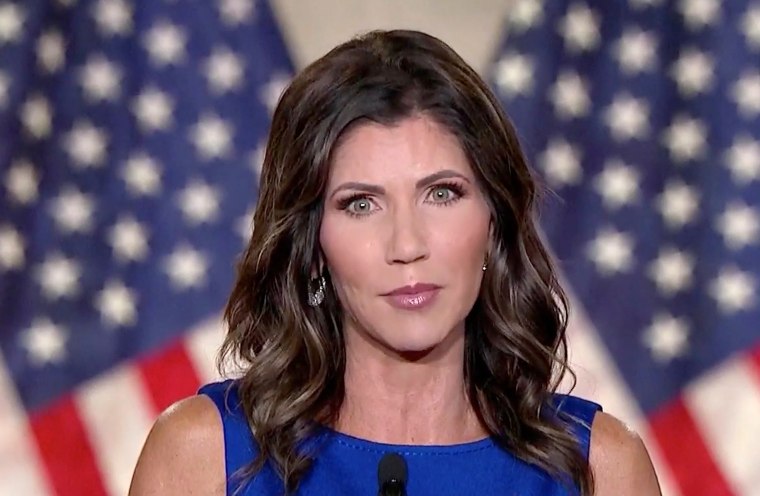 Violent crime is up in cities around the country, including ones run by Republicans.
Wednesday night's focus on the military and law enforcement comes amid renewed protests calling for social justice in response to the shooting of Blake, the Black man from Wisconsin.
Kyle Rittenhouse, a 17-year-old, was arrested in connection to a fatal shooting at the protests Tuesday night. A Tik Tok video that appeared to show scenes from a Trump rally in January was posted to an account associated with Rittenhouse. In CSPAN footage of the event, Rittenhouse appears to be standing in the front row next to the stage.
Trump campaign communications director Tim Murtaugh said that the president "has repeatedly and consistently condemned all forms of violence," adding that Rittenhouse "had nothing to do with our campaign and we fully support our fantastic law enforcement for their swift action in this case."
Murtaugh told reporters that Trump had been briefed on a video of Blake being shot by a police officer. Trump tweeted earlier Wednesday he would send federal law enforcement and the National Guard to Wisconsin to "restore LAW and ORDER!"
Tennessee Sen. Marsha Blackburn accused Democrats of disrespecting law enforcement.
"Leftists try to turn them into villains. They want to cancel them. But I'm here to tell you these heroes can't be canceled," she said.
Republicans also sought to appeal to women and Black voters Wednesday, constituencies that have grown increasingly unease with the Trump presidency. Speakers at times tried to offer a counter to the Democrats' recent discussion of systemic discrimination, portraying America as a country of opportunity regardless of one's background.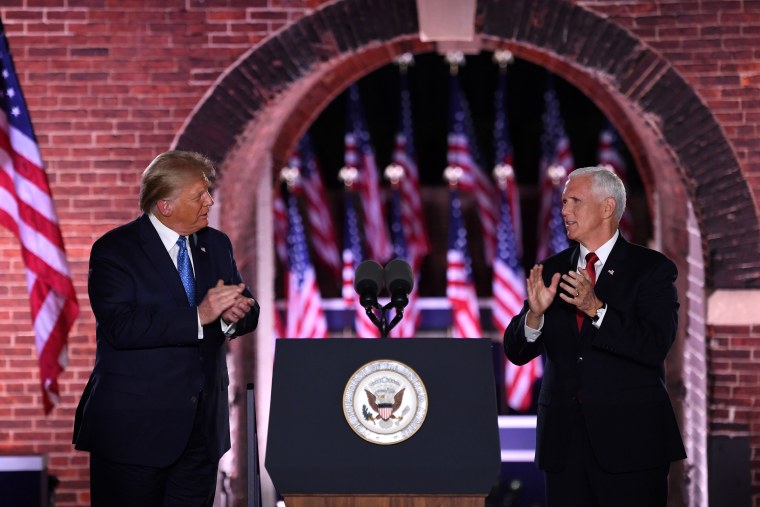 White House counselor Kellyanne Conway criticized Biden's selection of Kamala Harris as a running mate, saying "a woman in a leadership role still can seem novel. Not so for President Trump."
"For decades, he has elevated women to senior positions in business and in government. He confides in and consults us, respects our opinions, and insists that we are on equal footing with the men," Conway said.
Download the NBC News app for alerts and all the latest on the Republican convention.
Lara Trump, the president's daughter-in-law, said she saw "first-hand the countless women executives who thrived" at the Trump Organization.
"Gender didn't matter, what mattered was someone's ability to get the job done," she said.
Mike and Karen Pence, Lara Trump and Conway all made references to the 100th anniversary of the ratification of the 19th Amendment, which granted white women the right to vote.
Burgess Owens, a Republican congressional candidate in Utah and a Black man, argued that "even through the challenges of segregation, we were taught that anything is possible in America."
"We live in a country where we're encouraged to dream big. Where second chances are at the core of our American identity. We don't hear that same message from Nancy Pelosi's Congress," Owens said. "Career politicians and even a former bartender, want us to believe that's impossible."