WASHINGTON — A woman who briefly worked as an aide for former Vice President Joe Biden in the 1990s has expanded her claims that he harassed her to now include an instance of sexual assault, which Biden's campaign denies and says is untrue.
The woman, Tara Reade, first made the assault allegation public last month, saying in a podcast interview that Biden — then a veteran senator from Delaware and a powerful committee chairman — penetrated her with his fingers under her skirt when she brought him a gym bag in spring 1993. At the time, she was a staff assistant in his office on Capitol Hill.
NBC News has spoken with Reade multiple times since she came forward with the assault allegation on March 25 and has also spoken with five people with whom Reade said she shared varying degrees of detail over time. Three of those people said on the record that they do not recall any such conversation with Reade.
A fourth person, who spoke on the condition of anonymity, said Reade told her about the alleged assault at the time. That person, who asked that her name be withheld by NBC News for fear of negatively affecting her business, said she remembers Reade's telling her that she spoke with superiors in Biden's office about harassment but not the assault. She also recalled that Reade told her she filed a formal written complaint with a Senate personnel office at the time.
A fifth person, who also spoke with NBC News anonymously, recalled that Reade told her in the mid-2000s that Biden had been inappropriate and touched her when she worked in his office but that she didn't detail the alleged assault. Reade said that she also told her mother, who has since died, and her brother, who has told The Intercept that he remembers having been told about an incident at the time.
Former Biden staffers, including his former chief of staff Ted Kaufman and his longtime executive assistant Marianne Baker, were both named by Reade as having been told about harassment at the time, but both said they have no recollection of the claim. Biden's campaign has said the alleged assault "absolutely did not happen."
In a new statement Sunday, the campaign pointed to his record of advocating for survivors and his authoring of the Violence Against Women Act.
"He firmly believes that women have a right to be heard — and heard respectfully," deputy campaign manager Kate Bedingfield said. "Such claims should also be diligently reviewed by an independent press. What is clear about this claim: it is untrue."
Download the NBC News app for breaking news and politics
Thursday evening, Reade filed an official complaint with the Washington, D.C., police. The public incident report — which is one page long and doesn't name Biden — was obtained by NBC News and recounts an assault sometime from March 1 to May 31, 1993. Reade confirmed that she is "Subject-1" in the report and that "Subject-2" is Biden. It is illegal to falsify police reports, and the statute of limitations for prosecuting the allegations has passed.
She also said that at the time of the incident, she filed a formal complaint through a Senate personnel office. In it, she said, she complained of harassment but didn't allege an assault.
Federal law at the time set forth procedures for allegations of harassment or discrimination in employment on the basis of gender, which would have included a hearing by a board of independent officers. No such process was initiated by Reade's complaint.
Reade's new allegation comes at a highly sensitive moment — not just for Biden as he moves forward now as the apparent Democratic nominee for president, but also amid a larger societal reckoning with how to seriously address people's accounts of sexual harassment and assault in the #MeToo era.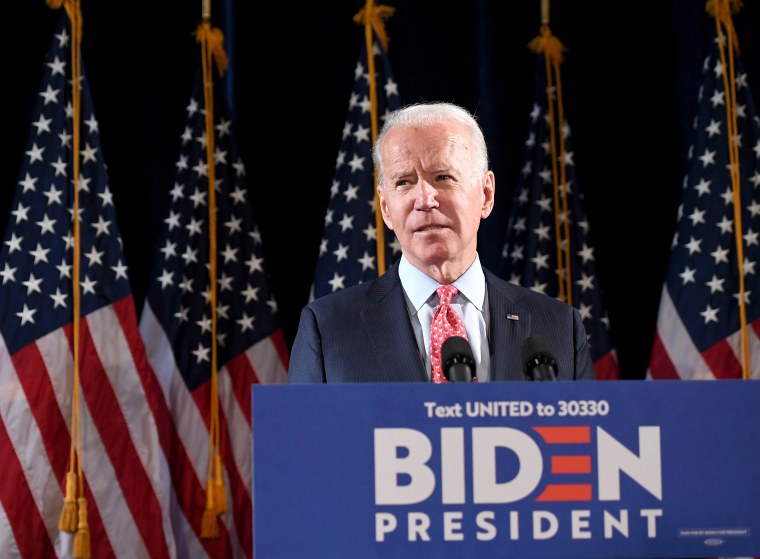 Donald Trump won the presidency in 2016 despite facing multiple allegations of improper sexual conduct and sexual assault. A recording of Trump bragging about sexual assault to an "Access Hollywood" host also emerged in the weeks before Election Day. In addition, Trump's former personal lawyer and fixer, Michael Cohen, was sentenced to three years in prison in 2018, in part for his role in making secret payments to women who claimed they had affairs with Trump.
It was just over a year ago that a former Nevada legislator, Lucy Flores, came forward with her story of Biden inappropriately touching and kissing her without consent. Flores was the first of several women who would soon come forward and, in interviews with NBC News and other outlets at the time, recount how the self-described "tactile" politician's close physical contact made them feel uncomfortable.
Biden, who was about to launch his campaign, acknowledged then that "social norms are changing" and "the boundaries of protecting personal space have been reset," and he said he would be "much more mindful" of his conduct going forward.
None of those women accused Biden of crossing the line into sexual assault. That includes Reade, who in an April 3, 2019, article in The Union, her local newspaper in Nevada County, California, said that Biden had inappropriately touched her during her time working in his office, rubbing her neck in a way that made her feel uncomfortable, and that she'd been asked to serve drinks at a fundraiser because she was told that Biden, then a senator, thought she had nice legs.
Reade says now that she didn't feel comfortable telling her full story then. Reade was also met with criticism on social media after she made her initial claims of harassment in April 2019, in part because she was vocally supporting other Democratic presidential candidates but also because of her past favorable writings about Russia and President Vladimir Putin.
In a posting on Medium from 2018 that has since been deleted, she called Putin "a compassionate, caring, visionary leader" and said she hoped "America will come to see Russia as I do, with eyes of love." Reade explained that at the time she was working on a novel and said the writings don't represent her current feelings toward Russia or Putin. But the reaction online "really shut me down," she said. "I didn't feel safe."
"What's hard for me is I don't want Donald Trump to be president," Reade said, noting that she tried to come forward when other Democrats were still left in the field.
In an interview, Reade recalled that she was asked to deliver a gym bag to Biden sometime in spring 1993 and that she met up with him in an empty corridor somewhere in the Capitol complex. She couldn't recall exactly where or when the alleged incident occurred, she said.
"I greeted him, and there was no small talk. He smiled at me, and then he just had me up against the wall." She said that Biden began kissing her and that he ran his hands up her shirt and under her skirt, using his knee to push her legs open. Reade said she remembers him saying several things to her at that moment, including — in a low voice — asking, "Do you want to go somewhere else?"
When she pulled away, Biden "just looked at me and said: 'You're nothing. You're nothing to me,'" Reade said. She said that after that, Biden tried to reassure her, saying, "You're fine, you're fine, you're OK." After that, she said, he adjusted his clothing and walked away.
"I remember wanting to say 'stop.' But I don't think I said it. I don't know if I thought it or said it," Reade said.
She said she felt "frozen" in that moment but later walked to the bathroom, cleaned up and went back to Biden's Senate office to get her purse. She then called her mother, who she said encouraged her to file a police report. Reade said she didn't file a police report at the time.
Reade said that while she never came forward about what she said was an assault to her superiors in Biden's office, she was vocal about feeling harassed and made uncomfortable during the months she worked there. "I remember saying I was uncomfortable and why. But nothing happened," she told Democracy Now in an on-camera interview at the end of March.
She named Baker, the former executive assistant; Kaufman, Biden's former chief of staff; and Dennis Toner, who also worked in the Senate office, as three people she complained to at the time.
Through the Biden campaign, Baker, who was executive assistant to Biden for 20 years, said she "never once witnessed, or heard of or received, any reports of inappropriate conduct, period — not from Ms. Reade, not from anyone."
Toner said he didn't remember working with her and said the allegations were antithetical to anything he experienced or remembered in 30-plus years working for Biden.
"It's just so foolish to think that any of this actually occurred. You would remember, my God," Toner said.
Kaufman, then chief of staff in Biden's Senate office, who continues to serve as an informal adviser, said Reade "did not come to me" with the allegation. "I would have remembered her if she had, and I do not remember her," he said.
Reade worked in Biden's Senate office briefly, from December 1992 through August 1993, according to a Senate employment history transcript she provided. Reade recalled leaving the office before that, after her duties were diminished and she was told she wasn't a good fit for the office. She appears to have offered different explanations for having left Washington in the past, including to pursue an acting career.
Soon after, Reade became a mother and, in the late 1990s, changed her name after she left what she described as an abusive marriage. She eventually moved back to the West Coast and, among other things, obtained a law degree from Seattle University School of Law, although she said she has never practiced. She also worked as a domestic violence advocate, assisting and advising victims.
Recently, she said, she began working part time with families with special-needs children in Nevada City.
Reade said she feels abandoned by a party that she had long considered herself a part of and stymied by circumstances that she feels leave some people reluctant to take her claims seriously.
"Other people got different treatment with less cooperation," Reade said in a phone call over the weekend, describing her experience of coming forward as one that has rattled her faith in the political system. "I can't tell you that feeling of sort of abandonment, just existentially. Because of who my perpetrator is, there's silence."