First, Iowa Republican Gov. Kim Reynolds announced a special legislative session that ended with GOP legislators hurriedly passing a six-week abortion ban.
Then, she signed it at a prominent conservative summit featuring a half dozen Republican presidential candidates.
Now, she has invited back even more of those candidates for sit-downs at the Iowa State Fair next month, where, invariably, her six-week ban could be a prominent topic of discussion.
It's a series of moves — coming six months before the Iowa caucuses — that in many ways defies a crucial takeaway from the 2022 midterms: that talking about abortion restrictions is political poison for Republicans.
The strategy, however, isn't likely to hurt Republican candidates in Iowa, which has a heavily religious conservative base in the GOP. But appearing to embrace a six-week abortion ban or focus too heavily on restrictions could cause headaches for them down the road, politics watchers in the state said.
By escalating the issue, and her advocacy for a strict ban, Reynolds is effectively nudging candidates to follow her strategy in the 2022 midterms. It was an election in which she made her support of a six-week ban a significant part of her campaign — and won by 18 percentage points, despite national trends showing the issue to be a problem for Republicans.
"One of the things that we know from the midterms last year is Kim Reynolds did really well, and abortion was certainly an issue that actually helped," said Tim Hagle, a political science professor at the University of Iowa and an expert in the state's politics. "This was something that Kim Reynolds was essentially running on."
"Democrats [nationally] leaned very heavily in to the issue and it was very successful for them in a lot of places. But the 'red wave' still occurred in a couple of places: One was Florida, the other was Iowa," Hagle said.
That tack, however, comes with substantial risks for any candidate who might advance past the caucuses, and many Republican candidates seeking to match Reynolds' touch on the issue have nevertheless struggled to find their footing.
NBC News reached out to the Republican presidential candidates for comment. Only the campaign of Sen. Tim Scott of South Carolina responded, pointing to his support for a national ban at 15 weeks.
On the one hand, aligning with Reynolds' position gives candidates the opportunity to reiterate a position that had, for decades, been Republican orthodoxy: Abortion laws should be left up to the states.
But candidates haven't really done that.
At the Family Leadership Summit last week, where Reynolds signed the bill into law during a special onstage presentation, Florida Gov. Ron DeSantis (who, unlike Reynolds, signed a six-week ban for his own state in a quiet, unpublicized ceremony) declined to answer questions from moderator Tucker Carlson about whether he would sign a national six-week ban.
In gatherings with reporters, former Vice President Mike Pence and former Arkansas Gov. Asa Hutchinson touted their support for a national 15-week ban. Former U.N. Ambassador (and former South Carolina governor) Nikki Haley said Reynolds "knocked it out of the park" following her signing but didn't discuss her own position.
"You need to decide who you are. Are you a social conservative candidate or not? It can't just be a tactic," said Craig Robinson, a former political director for the Iowa GOP who now works as a political consultant in the state, referring specifically to DeSantis. Despite being given an opportunity by Reynolds to do so, "he's not championing it like a strong social conservative candidate," he said.
More broadly, Robinson continued, "Republicans still need to figure out how they want to message on abortion.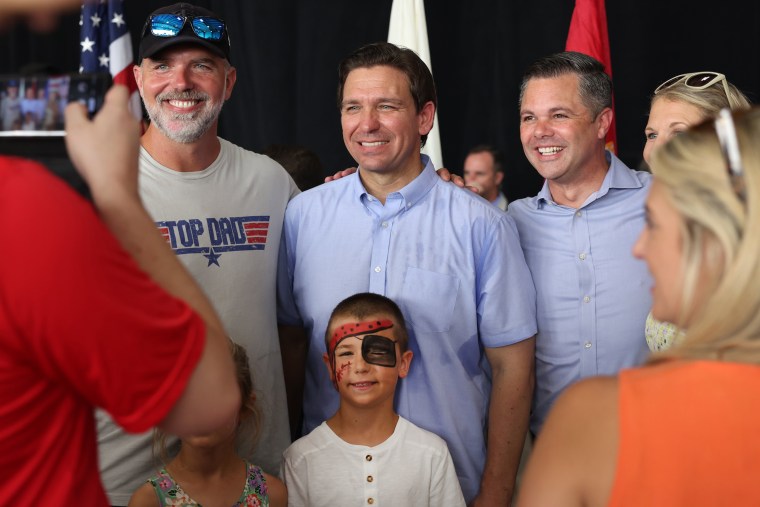 "Everyone wants to blame that we lost all these elections [in 2022] because Donald Trump sucks, right? I think we lost all these elections because … there was no message on abortion," Robinson said.The rocky terrain underscores the struggles that Republicans have endured more generally in talking to voters about abortion rights in the year since the Supreme Court's Dobbs ruling overturned Roe v. Wade.
Reynolds' law, the product of a marathon 15-hour special legislative session she said she called for the "sole" purpose of "enacting pro-life legislation," bans abortions at the sixth week of pregnancy, putting it squarely among the strictest state reproductive health care laws in the nation. 
The measure includes exceptions for the life of the woman, miscarriages and fetal abnormalities deemed by a physician to be "incompatible with life," as well as for pregnancies resulting from rape and from incest. But for the latter two to apply, a rape must have been reported to law enforcement or a "public or private health agency" within 45 days, and incest must have been reported to any of those officials or entities within 140 days — limits that critics say are both arbitrary and challenging to comply with.
The law remains temporarily blocked by a state judge while an ongoing legal challenge filed by reproductive rights groups plays out.
A spokesperson for Reynolds didn't respond to questions from NBC News about her public approach to the law.
Republicans running to the right in the Iowa Republican contest is nothing new: The state's evangelical Christians are a key voting bloc that candidates must win over to place strongly in the caucuses. But by being publicly compelled to take a position on such a restrictive abortion law, candidates' path forward could be trickier.
For example, support for a six-week state ban, as DeSantis has said, is all but certain to give a candidate fits in the next 2024 primary state, New Hampshire.
The state's libertarian-leaning GOP electorate tends to be more open on the issue; Gov. Chris Sununu, for example, is among a small list of Republican governors who support abortion rights.
And the lucky few who make it to Super Tuesday — or further — would then have to compete with even less restrictive attitudes on abortion, even among Republican voters.
An NBC News poll released last month found that 61% of all voters disapproved of overturning Roe, while 57% said they were less likely to vote for a candidate who supported a six-week abortion ban (29% said they were more likely to support such a candidate).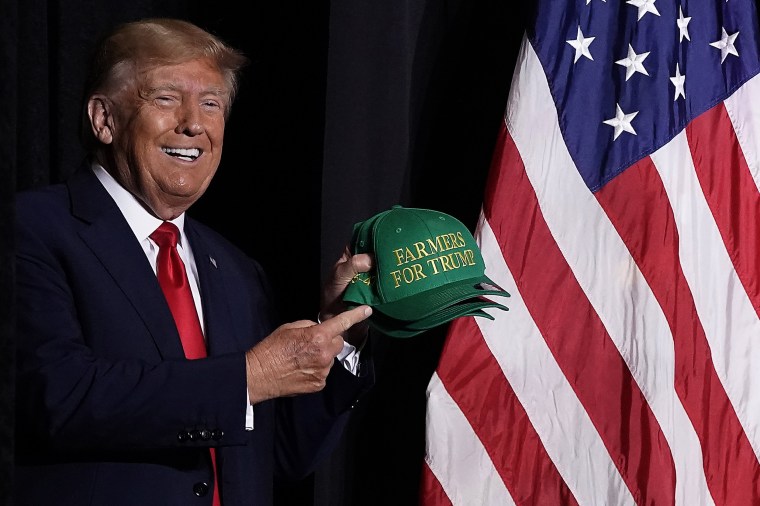 At least one candidate, however, seems poised to benefit from Reynolds' approach: Donald Trump.
The former president has criticized six-week state abortion bans as being "too harsh," skipped the Family Leadership Summit and trashed the popular Reynolds for remaining neutral in the caucuses (a long-held tradition by the state's governor). It's not clear whether he will sit down with her at the state fair.
While those actions don't necessarily bode well for his support in Iowa, Trump remains well ahead in early polling for the GOP primary, both nationally and in several other early-voting states, like New Hampshire and South Carolina.
That could mean that Reynolds' actions don't apply to Trump — which could further cement his (very early) front-runner status.
"The safe position for Republicans is what Donald Trump is saying. That it's a state issue," Robinson, who is not affiliated with any of the presidential campaigns, said. Trump, too, hasn't taken a clear position on abortion, though he has more clearly suggested the issue be left to the states and has blamed GOP candidates' hardline positions on it for the party's underperformance in the midterms.
"The guy that's leading the race by substantial margin is right on the issue," Robinson said. "It's the right thing, politically."