When Donald Trump was arrested a little more than a week ago in Georgia on charges of trying to overturn the 2020 election, he journeyed to Atlanta's Fulton County jail in a flashy motorcade, submitted to a mug shot that made worldwide news, then proclaimed election interference by President Joe Biden's Justice Department.
The next day, Biden's campaign released a video to run in battleground states. 
It was about abortion. 
The president's seeming disconnect from a major, consequential day in politics was as purposeful as it was predictable. It follows a long-held practice for Biden — one he adhered to after three previous indictments of the GOP front-runner: Stay quiet while Trump tries to convince Americans that Biden has abused the power of the presidency to sideline his likely 2024 election opponent.
But it's not just a muted approach to Trump's criminal charges, which Biden aides say is intended to demonstrate that his Justice Department acts independently from the White House. Biden has taken an overall gloves-on strategy to Trump, rarely uttering his name and declining to punch back when given the opportunity.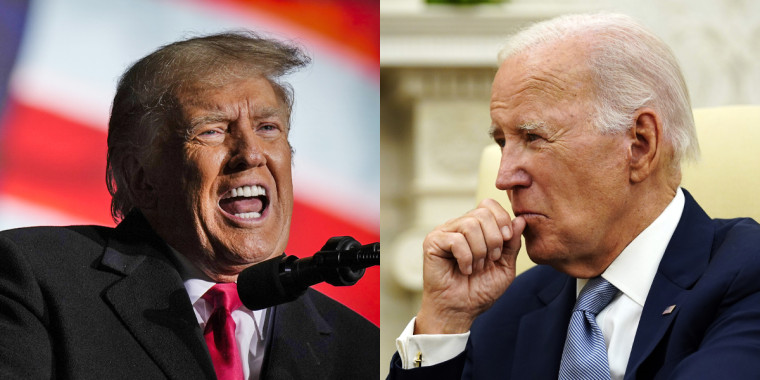 Biden's closest political aides decided that he would not engage in day-to-day political combat until next spring — mirroring the tack taken by former President Barack Obama's 2012 re-election campaign — even though that affords the former president months of largely unanswered attacks. It's a political gamble that some Biden allies worry could have potentially perilous consequences.
"What Trump has done is so egregious, so beyond the pale that I think we all have to take a very firm and aggressive and hostile stand against him," former Democratic Rep. Tim Ryan of Ohio said, because Trump and 18 others charged with him in Georgia "literally tried to end the United States as we know it."
"There needs to be a unifying approach here," Ryan added. "It's natural the president would lead that." 
Without forceful pushback, Ryan said, Trump's incessant attacks on Biden over his four indictments could seep into the public consciousness.
Chuck Rocha, a Democratic strategist who served as a senior aide on Sen. Bernie Sanders' 2020 presidential campaign, was among the Democrats who praised Biden's messaging strategy but also pointed out the risk of the calculation at play.
"You need to be able to draw a distinct contrast, and they're banking on Trump making his own contrast," Rocha said of Biden and his aides.
The president's team has a plan for him to shift his messaging after Labor Day to make a more "direct contrast" with Trump, a Biden adviser told NBC News. Biden has often leaned in on the message of defending democracy — including in his re-election launch video, which opened with images from the Jan. 6, 2021, attack on the Capitol but did not name Trump specifically. His first campaign focused on reclaiming the "soul of America."
The effort comes as polls show Trump and Biden effectively tied in a hypothetical general election matchup, and after some Democrats, including former President Barack Obama, have cautioned Biden not to underestimate Trump's political strengths.
So far, Biden has stuck to broadly criticizing "extreme MAGA Republicans" and mentioning the former president obliquely at off-camera campaign fundraisers.
The Biden campaign also recently made a $25 million ad buy in battleground states. The ads focus on such issues as abortion and the economy. Trump was among the imagery that appeared in the ads, which were widely praised by Democrats. 
"One thing I'm heartened by is they are spending money now. They are up on the air," said one Democratic strategist who asked for anonymity to speak more candidly about the campaign. What's potentially troublesome at this stage in the race, the strategist said, is the campaign's lack of hiring in key states.
"That's more worrisome than not getting out of the Rose Garden," the strategist said.
A key aspect of the president's strategy is to try to change voters' perception of the economy, aides say. Polls show Biden getting little credit from voters on the economy, and his approval rating remains stubbornly low.  
Biden doesn't dwell on Trump, even when he's talking to donors. At one fundraising event this summer, the former president's name never fell from Biden's lips, according to one attendee.
"He never mentioned 'T,'" the donor said in a text message. "And no one asked him about 'T.'" 
On the South Lawn of the White House on the last day of March, as he made his way to Marine One, Biden dodged several questions about Trump's first indictment — and then made it clear he had no inclination to talk about his likely opponent at all.
"I have no comment on Trump," he said. 
And in early August, when Trump was indicted on federal charges of attempting to steal the 2020 election, Biden, on vacation in Rehoboth Beach, Delaware, went for a bike ride, then went to see the movie "Oppenheimer." Both the White House and his campaign declined to comment on the charges.
The White House and Biden's campaign have been guided by the belief that Biden first needs to tell his own story, particularly on the economy. From their perspective, Biden can best do that as president by holding official events, such as the one last week about lowering drug prices for Americans battling cancer or diabetes. The plan has been for him to take this approach through 2023, then lean in more to being a candidate in 2024.
"He's being present this year. He's talking about his accomplishments and his vision," a Biden adviser said. "That's the main focus."
The adviser said it's the role of the campaign — rather than the White House — to push back on Trump. They are designed to work in tandem. Biden campaign surrogates bracketed the first Republican debate last week on the ground in Milwaukee, while the president traveled to the city the week before to talk about his agenda.
Biden, without a primary, had only four staff members in his campaign through June, but the campaign now numbers up to several dozen staffers, according to a spokesperson. All along, the campaign worked in concert with the Democratic National Committee, which built an infrastructure during the 2022 midterms that it said was still intact. Since then, the DNC has already added seven figures' worth of staffing and operations to battleground states, according to Ammar Moussa, a DNC spokesperson. The DNC has also stayed involved in voter outreach, including through texts and calls, using Biden's volunteer network to contact voters ahead of special elections in battleground states this year.
Trump and his allies, meanwhile, relentlessly, and increasingly, push the narrative that Biden abused his position as vice president to enrich his family, namely his son Hunter. They've argued that Hunter Biden, who's been under federal investigation for tax evasion and gun possession, has received special treatment by his father's Justice Department. And they've tried to stoke concerns among voters about the 80-year-old Biden serving a second term by casting him as mentally unfit and raising the prospect of Vice President Kamala Harris having to take over.
Part of the Biden team's rationale for silence on Trump's legal troubles is the view that talking about the indictments, in addition to suggesting a link between the president and the Justice Department's actions, could diminish the serious nature of the cases.
Matt Bartlett, a Republican strategist and Trump State Department appointee who resigned on Jan. 6, 2021, over Trump's response to the attack on the Capital, likened some of the former president's rhetoric about Biden to the "swift boating" of then-Democratic presidential nominee John Kerry in the 2004 election. That controversial effort, in arguing that Kerry had misrepresented his military service, "defined and cemented a bogus sentiment, went unchallenged for too long, and then could not be righted," Bartlett said.
He noted the architect of the swift boat attack on Kerry, Chris LaCivita, currently works on Trump's re-election campaign. 
"The White House should have a more professional and pronounced approach to this that can also explain how and why these charges are not political and are independent," Bartlett said. "Right now the Trump campaign is creating confusion about the details and creating controversy about being a victim. It is a deliberate plan that once again seems to be going unanswered in the public domain."
For now, Biden's approach on messaging is not all that different from the one Republicans have taken against Trump. No one got into the primary to challenge Trump until months after he declared, leaving his candidacy unanswered and allowing him to solidify his support within the party. Since then, Trump has cannibalized media coverage and strengthened his position in the Republican field.
A slew of Democrats said Biden's decision not to comment on Trump's criminal charges is the right one.
"When a train wreck is occurring, you don't need someone standing off to the side saying, 'Look at that train wreck.' It's obvious," said Democratic strategist Tom Bonier, CEO of Target Smart. Democrats are right, Bonier said, to focus on the issues and criticizing "Republican extremists," rather than get tangled in Trump's legal drama.
Data lends some credence to the path, with polling showing Americans are taking the indictments against Trump seriously. In a poll earlier this month from The Associated Press-NORC Center for Public Affairs Research, 53% of those surveyed approved of the Justice Department prosecuting Trump over attempting to overturn the 2020 election.
Those numbers are part of the reason it's risky for Biden to attack Trump at this point rather than allow the legal system to play out, said Patrick Murray, director of the Monmouth University Polling Institute.
"You know that there's a small group in the middle that you're going to want to win if you're the Biden campaign, particularly in states like Wisconsin and Pennsylvania," Murray said. "There's no need to give Trump's attacks more oxygen now so that opinions on the economy harden when you think that there's a chance down the road that you're going to be able to soften that opinion a little more."
But Ryan, the former Democratic congressman from Ohio, said, "People in the middle want strength and they want strong leaders, and they need leaders who say no."
Amanda Loveday, a senior adviser to the pro-Biden super PAC Unite the Country, doubted Democrats would look back in six months and regret not talking about Trump right now.
"The only people who will regret not talking about the negative attributes of Donald Trump are going to be the people in the Republican primary — not Joe Biden," she said. As for polls showing Trump and Biden close right now in a hypothetical general election matchup, Loveday pointed to the 2020 election dynamics.
"At this time in 2019, the same polls would have told you there's no way that Joe Biden would have been president," she said.
Jim Messina, who managed Obama's re-election campaign, said he's "thought long and hard" about whether the strategy he executed in 2012 is the right one for 2024, and he believes it is.
"Even if Trump was hammering Biden daily, who cares?" Messina said in a text message. "Swing voters are still a year away from waking up and comparing the two likely nominees.
"I truly believe Biden is doing this exactly right," he continued. "Focus on economic messaging, raise money and let the Republicans feed on each other."