WASHINGTON — Democratic Rep. Ruben Gallego announced Monday he will run for the Arizona U.S. Senate seat currently held by centrist Kyrsten Sinema, who left the Democratic Party in December to become an independent.
"As a Marine, I never back down from a fight and in the Senate, I'll fight to make sure every Arizonan has the same chance that I had at the American Dream," Gallego said in a statement.
Gallego launched his campaign with videos in English and Spanish, highlighting his humble beginnings as the son of an immigrant mom. If elected he would become the first Latino senator in what has become one of the most competitive states in the country.
Gallego is the first major candidate to jump into the race. His long-expected campaign comes as Sinema's intentions remain a mystery; the first-term senator has not said whether she will run for re-election as an independent in 2024.
"A never-ending focus on campaign politics is why so many people hate politics," Sinema told local radio station KTAR on Friday.
When pressed by reporters Monday evening, Sinema refused to comment on Gallego's Senate bid. Earlier in the day, a Sinema aide declined to comment on Gallego's announcement.
If she runs, it could become a three-way race in the general election, with Republicans sure to field a nominee. Some Democrats fear that could play into the GOP's hands.
In his statement Monday, Gallego said: "The problem isn't that Senator Sinema abandoned the Democratic Party — it's that she's abandoned Arizona. She's repeatedly broken her promises and fought for the interests of big pharma and Wall Street at our expense. I'm running for the U.S. Senate because the rich and the powerful don't need any more advocates in Washington — but families who can't afford groceries do."
The National Republican Senatorial Committee said Monday in a news release that it "welcomes" Gallego to the race.
"The Democrat civil war is on in Arizona," its spokesman, Philip Letsou, said. "Chuck Schumer has a choice: Stand with open borders radical Ruben Gallego or back his incumbent, Senator Kyrsten Sinema."
Who else might run?
It's unclear what competition Gallego will have in the primary. Rep. Greg Stanton, D-Ariz., has said he won't run. An ally close to Democrat Paul Penzone, the Maricopa County sheriff, said that "a lot of people have approached him" but that for now, he's focused on a re-election bid for sheriff in 2024.
On the Republican side, a source close to failed governor candidate Kari Lake said that "many people are urging her to run" but that she is "very invested in the legal battle" over the race she lost in the midterm elections.
Karrin Taylor Robson, who narrowly lost to Lake in the 2022 primary after spending $20 million of her family's money, is seriously considering a Senate run, a source close to her said. If she runs, she would make a play to win back the Republicans and independents who once supported Sen. John McCain, R-Ariz., and have drifted away from the GOP, the source said.
Blake Masters, a GOP Senate nominee who lost in 2022, is "strongly considering" another bid this cycle, two sources said.
And Mark Lamb, the Pinal County sheriff, is also considering a Senate run in 2024, said an Arizona Republican source.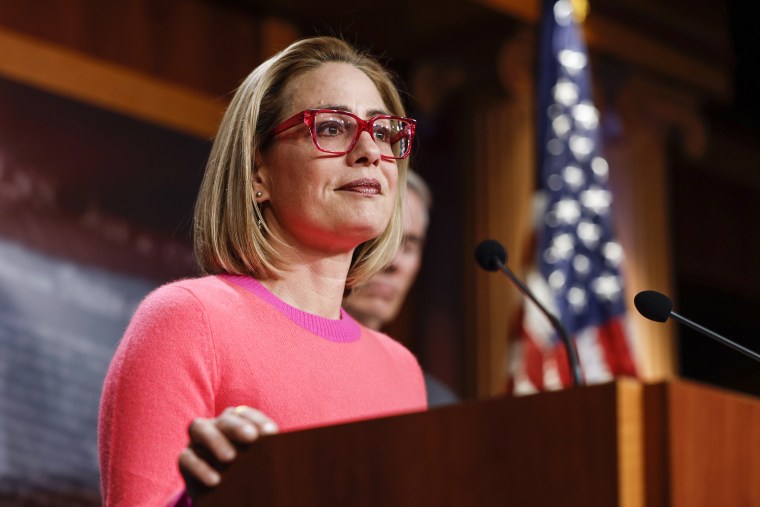 Sinema vs. Gallego
Sinema became the first Democrat in 30 years to get elected to the Senate from Arizona in 2018. In recent years, she has cut numerous bipartisan deals and broke with President Joe Biden on some of his top priorities, like higher tax rates for the wealthy, weakening the Senate's 60-vote rule to pass a federal voting rights law and raising the minimum wage to $15 per hour. She has drawn criticism from Arizona Democrats and cut ties with the state party.
A Gallego adviser said he's prepared for a two-way race if Sinema steps aside or a three-way race if she chooses to run.
The adviser, who spoke on condition of anonymity to discuss internal matters, said the strategy to frame it as a battle of who is "fighting for working people" versus "fighting for Wall Street" will work against Sinema, if she runs, as well as the eventual Republican nominee.
"She has no base," the Gallego adviser said of Sinema. "If anything, she could play the spoiler."
Gallego's decision sets up a challenging dynamic for Democratic leaders in what they see as a must-win race in order to hold the Senate majority next year. Senate Majority Leader Chuck Schumer and the Democratic Senatorial Campaign Committee have declined to say whether they will support Sinema if she runs.
Sinema's allies argue that her work to secure deals with Republicans on proposals like infrastructure and a modest gun safety law helped Democrats in the 2022 midterm election. Some have questioned whether Gallego's more progressive record is a good fit for Arizona, a former Republican stronghold that has become highly competitive. In 2020, Biden carried the state. That year, and again in 2022, Sen. Mark Kelly, D-Ariz., won Senate races.
Sinema's situation is unique. Over the next two years, Schumer said, she'll get her Senate committee assignments from the Democratic Party. But unlike liberal-leaning independent Sens. Angus King of Maine and Bernie Sanders of Vermont, she doesn't attend caucus meetings and has worked to distance herself from the party.
Gallego's campaign cited a survey last month by the Democratic-affiliated Public Policy Polling firm, which tested a three-way race between Gallego, Sinema and hypothetical Republican candidate Kari Lake. In that survey, Lake got 41%, Gallego 40% and Sinema 13%.
"Although Sinema would not have a serious path to victory as an independent candidate she could have a spoiler effect since she gets 14% from Biden voters but only 9% from Trump voters," PPP pollster Tom Jensen said in a memo circulated by Gallego's team.