Florida Gov. Ron DeSantis downplayed the Jan. 6, 2021, attack on the U.S. Capitol on Friday, saying that the deadly day was not an insurrection.  
"It was not an insurrection," DeSantis told comedian Russell Brand in an interview on his streaming show "Stay Free with Russell Brand."
"These were people that were there to attend a rally, and then they were there to protest. Now, it devolved, and it devolved into a riot, but the idea that this was a plan to somehow overthrow the government of the United States is not true, and it's something that the media had spun up just to try and basically get as much mileage out of it and use it for partisan and for political aims," he continued. 
The comments were perhaps the governor's most direct on the insurrection since launching his campaign in May. 
Earlier this week, DeSantis told reporters in South Carolina that former President Donald Trump "didn't do anything" during the attack on the Capitol. 
"He should have come out more forcefully," he said in response to a question from NBC News during a policy event, which was ultimately overshadowed by news of Trump receiving a letter from special counsel Jack Smith informing him that he is a target of the federal investigation into efforts to overturn the 2020 presidential election. 
DeSantis has not yet said whether, as president, he would pardon Trump if the former president is convicted. 
"On day one, I will have folks that will get together and look at all these cases, who people are victims of weaponization or political targeting and we will be aggressive at issuing pardons," DeSantis said in May.
Many rioters who are charged with fighting law enforcement on Capitol grounds and others charged with entering the building itself have explicitly said they were there to try to stop Congress from certifying the 2020 election.
Members of Congress and then-Vice President Mike Pence, one of DeSantis' challengers for the 2024 nomination, were evacuated from the Capitol building due to the mob before returning that night to formally confirm Trump's election loss. Approximately 140 law enforcement officers were injured. 
DeSantis joins many Republican members of Congress in rejecting the "insurrection" label for the Capitol riot, while some have downplayed the gravity of Jan. 6 by comparing it to a tourist visit or peaceful protest.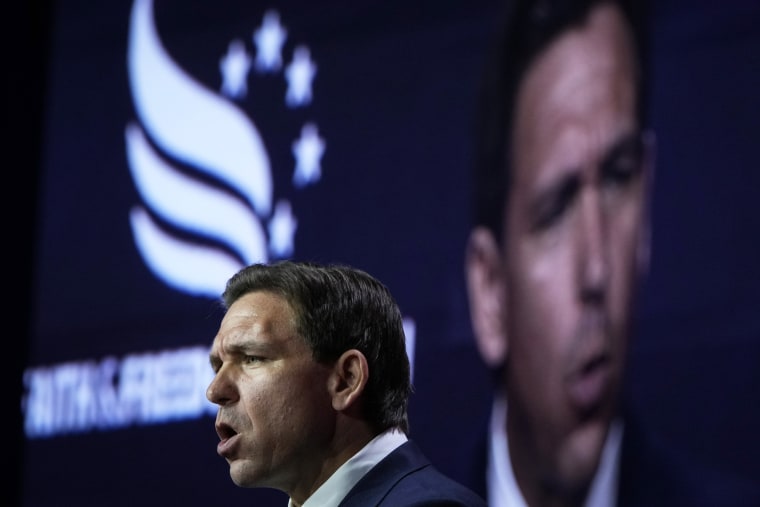 Pence himself has also shied away from calling the attack an insurrection.
"I've never used the word insurrection," former Vice President Mike Pence told conservative media personality Tucker Carlson at the Family Leadership Summit in Iowa last week. "It was a riot that took place at the Capitol that day," he added.
South Carolina Sen. Tim Scott — who was in the Capitol during the attack — told voters in New Hampshire on Tuesday that Jan. 6 "was a really dark day in the history of the country," saying that he searched makeshift weapons in case he needed to defend himself. 
The DeSantis campaign is in the midst of a reboot amid distant polling behind Trump and worrisome fundraising numbers. The reboot will focus on smaller, less-produced events in early states and will see more of a national message rather than a constant touting of the governor's record in Florida.