TALLAHASSEE, Fla. — Gov. Ron DeSantis announced Tuesday that he is sending more than 1,100 state law enforcement agents and National Guard members to Texas' border with Mexico. The number is a tenfold increase compared to a similar move in 2021, and comes just weeks ahead of his expected presidential launch.
DeSantis had signaled for weeks that he was preparing an immigration-focused announcement as he re-energized his war of words over the issue with President Joe Biden, whose administration recently allowed for the lapse of Title 42, a pandemic-era policy that made it easier to expel migrants. 
"The impacts of Biden's Border Crisis are felt by communities across the nation, and the federal government's abdication of duty undermines the sovereignty of our country and the rule of law," DeSantis said in a statement.
What DeSantis will be sending:
800 members of the Florida National Guard;
200 agents (in teams of 40) from the state Department of Law Enforcement;
101 state highway patrol troopers;
20 agents from the state Fish and Wildlife Conservation Commission and the Department of Emergency Management;
5 fixed-wing aircrafts;
17 unmanned drones;
10 waterborne vessels.
DeSantis' office said the personnel will be at the border for 30 days, with possible extensions. The announcement comes just weeks before the June start of hurricane season.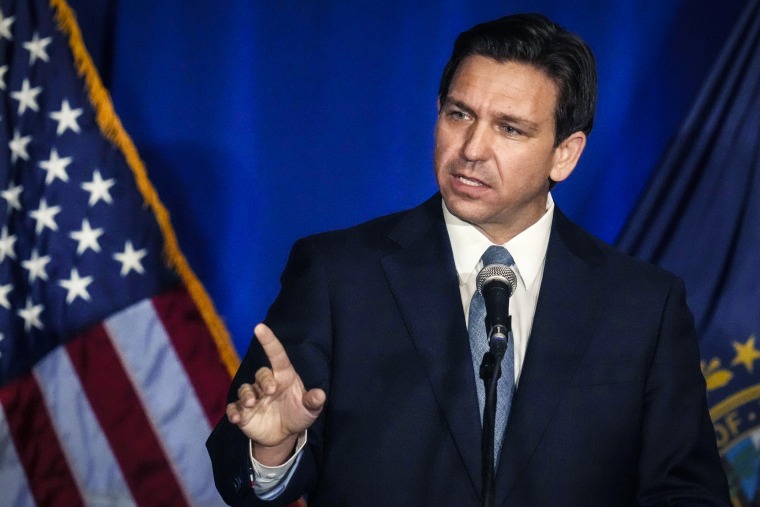 In June 2021, DeSantis sent just over 100 Florida law enforcement officers over six weeks to help with what he called at the time "a catastrophe at the southern border under the Biden Administration." Those officers came mostly from the Florida Highway Patrol, the Department of Law Enforcement and the Fish and Wildlife Conservation Commission.
The Florida personnel in that instance were sent after Texas Republican Gov. Greg Abbott made an Emergency Management Assistance Compact request, which prompted Republican governors across the country to send state resources to the southern border.
Abbott said in a statement Tuesday, shortly after DeSantis' announcement, that he has sent letters to all 50 governors requesting "support in responding to the ongoing border crisis."
In its ask for assistance from the states, Texas requested that those states pay for the costs associated with the mission.
DeSantis' communications director, Taryn Fenske, said that "given the crisis at the border, we decided to send in the cavalry." She told NBC News that law enforcement agencies in Florida and Texas have been in contact for over a week.
"We didn't want bureaucracy standing in the way of border security," she added.
Over the past few weeks, DeSantis has once again amplified his focus on immigration. Last week, he signed a measure aimed at disincentivizing migrants from coming to Florida, just one day before Title 42 was set to expire.
In January, he signed an executive order deploying the Florida National Guard to respond to hundreds of Cuban migrants arriving in southern Florida. That's on top of the more than $20 million the Republican-dominated Legislature has given him to help expand a migrant transport program that sparked controversy last September when it was used to shuttle 50 mostly Venezuelan migrants from Texas to an unsuspecting Martha's Vineyard.
In addition, DeSantis has devoted increased time during public appearances on immigration, even when the events are unrelated. For example, he opened a Friday news conference held to sign banking legislation with comments Title 42.
"Biden cannot just release all these people into our country who are here illegally," DeSantis said Friday. "Maybe it will cause them to look internally and say 'maybe start doing our job and protecting the American people for a change.'"
The immigration focus comes against the political backdrop of DeSantis soon launching a presidential campaign.
NBC News has reported the announcement is likely in the next couple weeks, in part because DeSantis' political operation has moved its headquarters. That move prompted them to spend federal campaign funds, which will give them 15 days to file paperwork with the Federal Elections Commission.