President Joe Biden visited Florida on Wednesday to survey the damage caused by Hurricane Ian, his second storm-related trip this week.
The president, who was accompanied by first lady Jill Biden, surveyed damage to the Fort Myers region from a helicopter before he met with local officials and residents at Fishermans Wharf, a once-buzzing marina that was ripped apart by the storm.
Biden was greeted by Republican Gov. Ron DeSantis and his wife, Casey DeSantis, and met briefly with GOP Sens. Marco Rubio and Rick Scott.
Speaking in front of a pile of debris at the wharf, Biden said: "The key here is building back better and stronger to withstand the next storm.
"You can't go back to what it was before — you got to build back better, because we know more is coming," he added.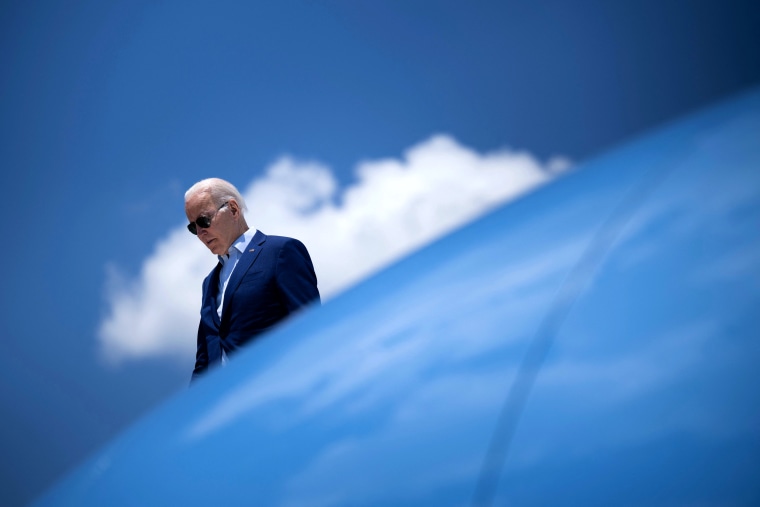 Biden and DeSantis, who have publicly sparred in recent months over immigration and other issues, sought to put aside their differences for the day. They shook hands, met with affected Floridians and spoke at a joint news conference, where they highlighted the close coordination between the federal and state governments in response to the storm.
"Thank you very much for the hospitality," Biden said. "This is about America coming together."
Answering reporters' questions at the end of his remarks, Biden said he and DeSantis "have very different political philosophies, but we've worked hand in glove."
DeSantis, speaking at the joint news conference, said: "I think we've worked as well across state, local and federal [government] of any disaster that I've seen.
"We are cutting through the bureaucracy. We are cutting through the red tape. And that's from local government, state government, all the way up to the president. So we appreciate the team effort," he added.
Just a few weeks ago, DeSantis provoked Democrats by flying migrants from Texas to Martha's Vineyard, Massachusetts, to make a statement about the Biden administration's immigration policies. Biden accused DeSantis of using migrants as "props" for "political stunts."
More than 100 deaths have been blamed on Ian, which made landfall in southwest Florida as a Category 4 hurricane last Wednesday, bringing 150 mph winds and storm surges as high as 14 feet.
Biden said Friday that Ian would likely be one the worst storms in the country's history and that it could take years to rebuild.
Thousands of Floridians are in emergency shelters after their homes were damaged or destroyed, and thousands of people are still without power.
In a briefing with reporters traveling on Air Force One, Deanne Criswell, the administrator of the Federal Emergency Management Agency, said 4,000 federal personnel were on the ground in Florida to help with recovery efforts. As of Wednesday, 17 search and rescue teams were still going door to door to account for residents in Lee County, which bore the brunt of the hurricane, and they will continue until every structure in the region is cleared, Criswell said.
She also said FEMA had opened a center in Lee County to let people know what their insurance plans will cover and what type of federal assistance they qualify for.
The trip was Biden's second this week to survey storm damage, following a visit to Puerto Rico on Monday, where Hurricane Fiona ripped through the island on Sept. 18, leading to an islandwide power outage and killing at least 25 people.
As storms become more severe because of climate change, some lawmakers and Biden administration officials have encouraged people to weigh the risks of rebuilding in areas that are vulnerable to hurricanes.
Biden said Wednesday that a lot could be done to make sure affected communities were rebuilding more resiliently — such as building telephone poles out of steel instead of cement or wood — but he added: "The question every community is going to have to ask is: 'Should we rebuild in this spot or that spot?'
"Will it be able to withstand what's likely to come again? That's a local decision," he added.
The National Oceanic and Atmospheric Administration has predicted "above-average hurricane activity" this year — which would make it the seventh consecutive above-average year — because of several climate-related factors. Hurricane season runs from June 1 to Nov. 30.