WASHINGTON — Secretary of State Antony Blinken is urging the Senate to confirm more than 60 State Department nominees who have been blocked by Sen. Rand Paul, R-Ky., while he seeks information from the administration about the origins of Covid-19.
"I am again asking for your leadership to swiftly confirm State Department nominees on the floor," Blinken wrote in a letter Monday obtained by NBC News. "If you are holding one or more nominees, I respectfully ask that you reconsider or work with the Department to find a reasonable and expedited path forward."
"Our foreign policy and national security interests are depending on it," Blinken added.
Last month, Paul blocked all State Department nominees from clearing Senate confirmation, citing his long-standing request that the department release additional information about the origins of Covid and related government-funded research.
Sixty-two diplomatic nominees are awaiting Senate confirmation, including 38 nominated for ambassador positions. All but three of the ambassadorial nominees are career foreign service workers, and some of their appointments have languished in the Senate for more than 18 months, Blinken told reporters Monday.
"By the end of the summer, we expect Egypt, Israel, Jordan and Lebanon will all be without confirmed U.S. ambassadors," Blinken said, also citing vacant ambassadorial posts in Asia, Europe and Latin America.
Such postings, Blinken said, were once routinely confirmed through unanimous consent, an arcane rule that allows the Senate to quickly consider requests without a lengthy argument process. If a single senator objects, however, a request is denied. Blinken said America's adversaries who seize on apparent U.S. weakness could benefit from the blockade of nonpartisan diplomats.
The nominees "represent our most seasoned diplomats," and "their talents are the products of generations of investment by American taxpayers to defend U.S. national security, to sustain and strengthen our alliances and partnerships around the world [and] to ensure that our foreign policy is advancing the interests of the American people," Blinken said at Monday's news conference.
"It strains credulity that some of the members of Congress calling most loudly on outcompeting our rivals but at the same time [are] tying our hands behind our back," Blinken said. "We cannot and we must not let this become the new normal."
A spokesperson said Rand previously made the Foreign Relations Committee aware of his intention to oppose "all nominees and legislation" unless the committee's Democratic chair "stopped obstructing oversight efforts."
Paul, the spokesperson said in a statement, is "simply trying to access COVID-19 documents being held by various government agencies that are under the jurisdiction of the foreign relations committee." The spokesperson made no mention of Blinken's accusation that Paul's block harms national security.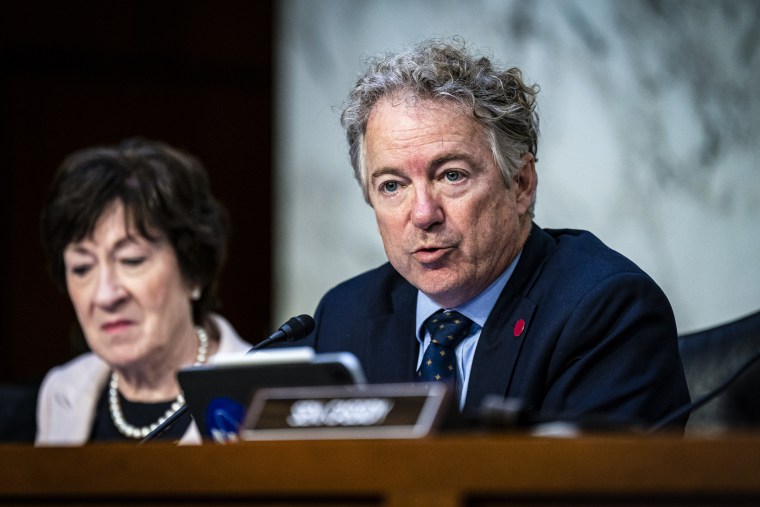 State Department spokesperson Matt Miller, responding to Paul's statement, told reporters Monday that the agency is cooperating with Paul and said it would continue to "provide documents that are responsive to his request."
Paul, however, "is asking us for documents that are not State Department documents," Miller said, and he "shouldn't be holding our nominees hostage."
"All that does is hurt our national security," Miller said.
Another Republican senator, Tommy Tuberville of Alabama, has separately blocked hundreds of military promotions, citing his objection to a Defense Department policy that provides paid time off and reimburses travel costs for service members and dependents seeking abortions. Military promotions are usually approved without delay, and President Joe Biden denounced Tuberville's blockade as "totally irresponsible" Thursday.
Blinken, responding to a reporter's question Monday, said the State Department is in "close contact" with the Pentagon over the stalled military appointments.
"That, too, is absolutely detrimental to our national security," he said.