WASHINGTON — There were competing Republican reactions Wednesday to the apparent victory of Democrat Conor Lamb in Pennsylvania's 18th Congressional District hours earlier.
Publicly, many — though not all — dismissed the result as an outlier with just a few useful takeaways for GOP candidates looking to dodge a Democratic wave. Privately, just as many feared that Tuesday night's result may have signaled that there are no surefire strategies, and no district is secure.
"If you're a Republican in a safe seat," said retiring Rep. Charlie Dent, R-Pa., "you better be ready."
House Speaker Paul Ryan, R-Wis., dismissed Lamb's apparent win as a victory for the GOP message.
"I think the candidate that's going to win this race is the candidate that ran as a pro-life, pro-gun, anti-Nancy Pelosi conservative," he said at a news conference Wednesday. "That's the candidate that's going to win this race."
Behind closed doors, Ryan cautioned Republicans that the race was "a bit of a wake-up call," Rep. Kevin Cramer of North Dakota told reporters after the session.
"I think you can't deny that, and if you do, you're lying. And he doesn't lie," Cramer said of Ryan.
House GOP leaders warned their members at Wednesday's meeting that one big lesson of the race was the need to significantly step up their fundraising. "We need to make sure that our candidates aren't massively outraised and outspent on TV as it was the case between these two candidates," Ryan said at a later news conference.
More money never hurts — but, as many Democrats noted Wednesday, it wasn't the issue in the Saccone-Lamb race, where Republican and conservative outside groups spent more than $10 million on the campaign, more than twice what opposing groups invested in the race.
In the wake of Saccone's apparent defeat, Ryan also stressed the need for members of his conference to run on the tax plan that passed late last year — a message that Saccone and outside groups supporting his candidacy had embraced throughout the campaign, though their focus switched in the home stretch to culture war touchstones.
The overall GOP message Wednesday sounded much like the explanation party leaders offered following the surprise victory of Democrat Doug Jones in Alabama's Senate race last year: that few big lessons could be drawn from the loss because the Democrat had run against a flawed candidate and embraced enough of the Republican platform that he was practically a member of the party.
"I think Mr. Lamb was brilliant," said Rep. Mike Kelly, R-Pa. "He ran as a Republican. It worked for him. He certainly didn't run as a Democrat."
Lamb did support Trump's tariffs plan and is personally anti-abortion. He is also strongly pro-labor, criticized Republicans for their efforts to repeal Obamacare and has called for expanded background checks for firearm purchases.
And the analysis that his apparent win was due to his success in making his positions palatable to a traditionally conservative electorate may have been cold comfort to the 118 Republicans running in districts more Democratic than his.
"I'm sure there's going to be a narrative that Democrats had the right candidate and we didn't have our preferred candidate," said Dent, who leaves Congress at the end of the year after serving in the House since 2005.
"Truth is, this is a very toxic environment and this is a district that is 95 percent white. Trump won by 20 points. I don't think we should look at these districts necessarily as Trump winning by 20 — you can consider it as a minus 20 Hillary district, too."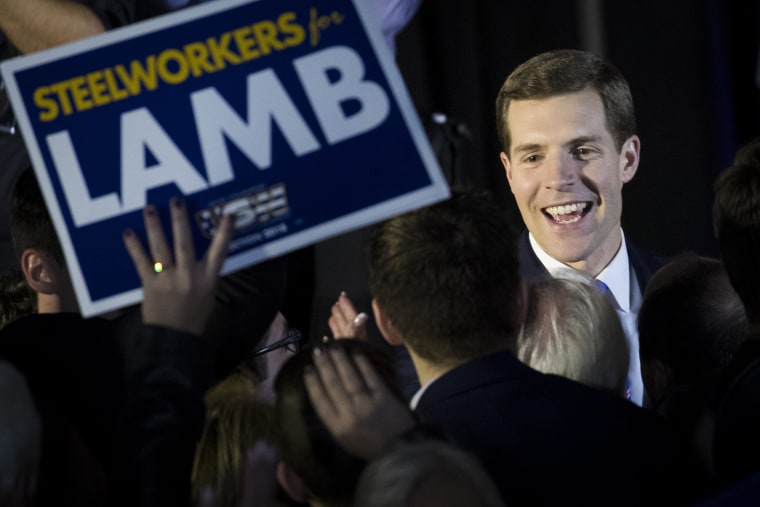 Perhaps the biggest morning-after question mark hovering over the Hill Wednesday: If President Donald Trump couldn't deliver victory in an area that gave him a double-digit win in 2016, how could he help save his party's House majority?
Whether or not the president actively visits a district, said Dent, he'll be a presence in the race.
"This midterm is going to be a referendum on the party in power, and the president of the United States in particular, and his conduct in office," he said.
As of Wednesday afternoon, Trump had not reacted publicly to Lamb's victory. He had stumped for Saccone in Pennsylvania, even holding a rally just days before the election on Saturday night near Pittsburgh. The president's son, Donald Trump Jr., also campaigned for Saccone a day before the election.
Sen. Jeff Flake, R-Ariz., a fierce critic of the president who's also planning to retire from Congress this year, was asked Wednesday if Republicans should be more worried after losing a district that Trump won.
"Yeah," he said, laughing. "Goes without saying."