WASHINGTON — Two key Republican senators who have remained undecided on the Supreme Court nomination of Brett Kavanaugh on Thursday praised a new FBI report detailing the agency's latest background investigation — comments that seemed to suggest the odds of confirmation might be moving in his direction — even as a potential Democratic swing vote announced her opposition.
Their comments came as Senate Republicans on Thursday claimed that the FBI probe into sexual assault allegations against Kavanaugh had vindicated him by failing to uncover new evidence of wrongdoing, while Democrats blasted the speedy probe as "limited" and "incomplete," with Sen. Heidi Heitkamp, D-N.D., saying that she had decided to vote against the nomination.
"The process has been bad, but at the end of the day, you have to make a decision, and I've made that decision... I will be voting no on Judge Kavanaugh," Heitkamp told North Dakota's WDAY TV News.
The Senate is set to take a key procedural vote on the nomination at 10:30 a.m. ET on Friday. If the measure passes — which requires a simple majority — a final floor vote could be held sometime this weekend.
All eyes Thursday had been on Heitkamp and the handful of other senators who began the day publicly undecided on Kavanaugh's nomination: Republicans Susan Collins of Maine, Jeff Flake of Arizona and Lisa Murkowski of Alaska, along with one Democrat locked in a tough re-election fight: Joe Manchin of West Virginia.
Collins said Thursday morning after a GOP morning briefing that she was still absorbing the new report, but sounded satisfied with its scope. "It appears to be a very thorough investigation," she said, adding that she still planned to "go back to personally read the interviews."
Flake, who is retiring, left the same briefing also saying he planned to go back and read more of the report — but added that he saw "no additional corroborating information" to back up misconduct allegations, calling the report "reassuring." Flake, a member of the Senate Judiciary Committee, forced a delay in Kavanaugh's confirmation process last week with his demand that the FBI investigate the allegations.
And Murkowski said she was still undecided on Kavanaugh and will return later to finish.
"My job is to listen carefully to the concerns of everyone. Ultimately there is a decision point, believe me," she said. "I have not had the opportunity to go through it myself."
By afternoon, several hundred protesters were demonstrating inside the Senate Hart Office Building, with signs that read "We Believe Dr. Christine Blasey Ford," "Believe Survivors" and "Kavanaugh Lies" and chants of "Hey hey! Ho Ho! Kavanaugh has got to go!"
Most Republicans quickly claimed the report vindicated the nominee. In a statement after receiving a staff briefing on the report, Senate Judiciary Committee Chairman Chuck Grassley, R-Iowa, said that the new report "found no hint of misconduct" and "there's nothing in it that we didn't already know," he said.
"These uncorroborated accusations have been unequivocally and repeatedly rejected by Judge Kavanaugh, and neither the Judiciary Committee nor the FBI could locate any third parties who can attest to any of the allegations," he said. "There's also no contemporaneous evidence. This investigation found no hint of misconduct and the same is true of the six prior FBI background investigations conducted during Judge Kavanaugh's 25 years of public service."
Senate Majority Leader Mitch McConnell, R-Ky., said the report amounted to an exoneration.
"What we know for sure is the FBI report did not corroborate any of the allegations against Judge Kavanaugh," he said at a press conference with GOP senators Thursday afternoon, adding that "there's no way anything we did would satisfy the Democrats."
Senate Majority Whip John Cornyn, R-Texas, said that the first procedural vote on the nomination in the full Senate would occur "tomorrow morning," with a final vote slated for Saturday.
Democrats and attorneys for women who have accused Kavanaugh of misconduct have been critical of the depth of the investigation and of some of the limits the White House, which had initially dismissed the need for a new probe, had placed on it.
Top Democratic senators, meanwhile, expressed outrage Thursday that the FBI probe was limited in scope and incomplete.
"We had many fears that this was a very limited process that would constrain the FBI from getting all the facts," Senate Minority Leader Chuck Schumer, D-N.Y., told reporters at a press conference Thursday. "Those fears have been realized."
Sen. Dianne Feinstein, D-Calif., top Democrat on the Senate Judiciary Committee, said that the report "looks to be a product of an incomplete investigation that was limited perhaps by the White House, I don't know."
"The most notable part of this report is what is not in it," she said, noting that the FBI did not interview Kavanaugh or accuser Christine Blasey Ford about the allegations.
Neither senator spoke about the specific contents of the report and neither took questions from reporters.
The investigation — which lasted less than a week — involved conversations with a small fraction of dozens of individuals who came forward to offer potential information about the allegations, with one current and two former FBI officials confirming to NBC News that agents had not been permitted to speak with many of them. A source briefed on the background investigation told NBC News on Thursday that the FBI contacted 10 people and interviewed nine of them.
White House press secretary Sarah Sanders dismissed the criticism Thursday, telling reporters that anyone who says Ford "wasn't given ample opportunity to make her case and state her case has been living in a cave."
"We allowed the FBI to do exactly what they do best. We haven't micromanaged this process. We accommodated all of the Senate's requests," she said, adding that the president had ultimately allowed the FBI to conduct interviews as it felt was needed.
"We feel, as Chairman Grassley said a few minutes ago, we didn't learn anything new, and based on what we knew before we felt very confident" of Kavanaugh's confirmation, she said. White House deputy press secretary Raj Shah said Thursday that President Donald Trump had been briefed on the report earlier in the morning.
Schumer said Thursday that he disagreed with Grassley, and that Democrats were calling again for the documents relating to the probe to be made public, with proper redactions.
"Why shouldn't all of America see the facts?" asked Schumer, who added that Democrats also want to see the directive that the White House sent to the FBI when it authorized the investigation.
A visibly frustrated Sen. Lindsey Graham, R-S.C., who has vehemently defended Kavanaugh, told reporters Thursday that he learned nothing more about the allegations made against Kavanaugh and commended the FBI for conducting a "reliable" investigation.
"Why won't we dunk him in water and see if he floats?" asked Graham.
Grassley, who supports Kavanaugh's confirmation, added that he trusts "that the career agents of the FBI have done their work independent of political or partisan considerations."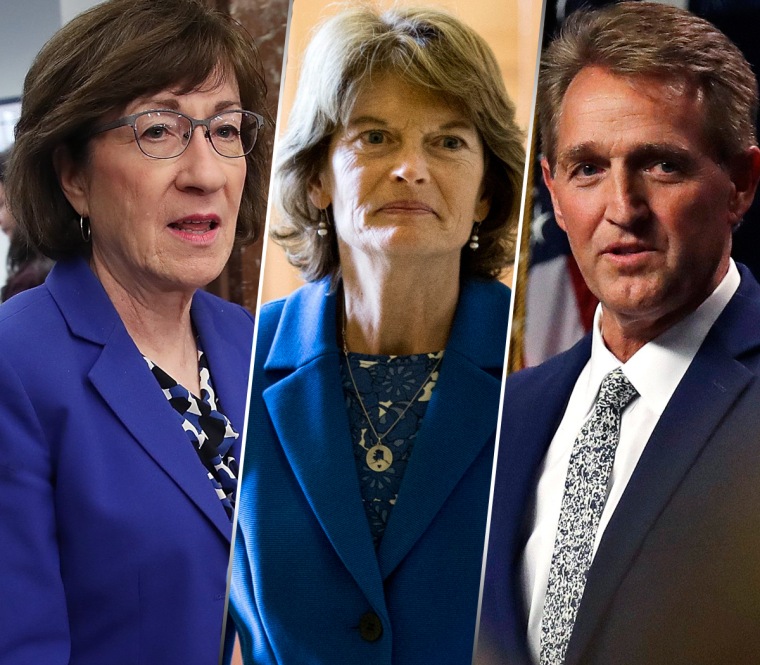 The FBI said late Wednesday that it had completed its investigation. Senators can view the report, which was not scheduled for public release, in a secured location at the Capitol throughout the day on Thursday.
The Senate is scheduled to take a procedural vote on Kavanaugh's nomination on Friday. If that motion passes, there will be up to 30 hours of debate and then the Senate will take a final vote on his nomination.
Attorneys for Ford, who accused Kavanaugh of sexually assaulting her when they were both in high school in the early 1980s, blasted the FBI probe in a statement late Wednesday.
"An FBI supplemental background investigation that did not include an interview of Dr. Christine Blasey Ford — nor the witnesses who corroborate her testimony — cannot be called an investigation. We are profoundly disappointed that after the tremendous sacrifice she made in coming forward, those directing the FBI investigation were not interested in seeking the truth," they said.