WASHINGTON — With overwhelming bipartisan support, the House voted Wednesday to pass the debt ceiling legislation negotiated by Speaker Kevin McCarthy and President Joe Biden, sending it to the Senate with days to spare before a potentially disastrous default.
The vote was 314 to 117, with 149 Republicans joining 165 Democrats.
The bill would extend the debt limit for two years alongside a two-year budget agreement if it is signed into law. It is the culmination of months of political warfare and weeks of frenzied negotiations between the two parties that finally broke a lengthy stalemate.
The deal overcame heavy criticism from GOP hard-liners, who argued that its spending cuts and conservative provisions are too weak. It also faced opposition from Democrats, who criticized the added work requirements and nondefense spending cuts negotiated by the two men.
"You are getting so many wins for the American people in this bill," said McCarthy, R-Calif., who hailed it as a measure that "moves us in the right direction" fiscally. He said his message to fellow Republicans on Wednesday was: "You're not spending more money. There's no new government programs. There's no tax increases. There's nothing in the bill that you really should be negative about."
Biden praised its passage.
"This budget agreement is a bipartisan compromise," Biden said in a statement. "Neither side got everything it wanted. That's the responsibility of governing."
The bill now goes to the Democratic-led Senate, where it needs 60 votes before it can get to Biden's desk. Majority Leader Chuck Schumer, D-N.Y., and Minority Leader Mitch McConnell, R-Ky., have both endorsed it and called for speedy passage.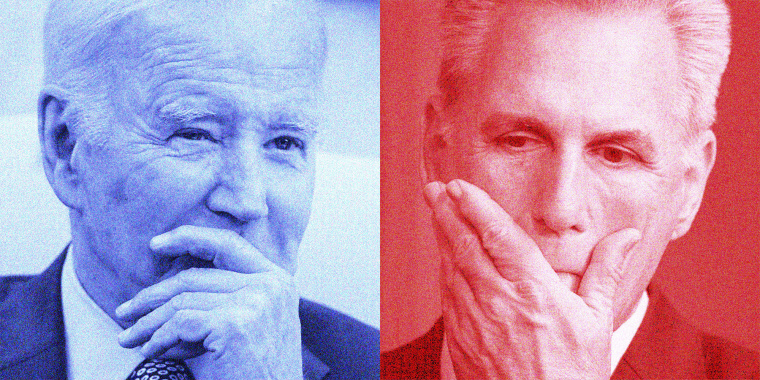 The White House has urged passage of the bill as the U.S. nears Monday's deadline to act or risk an economically catastrophic default on the nation's debt. The deal includes modest spending cuts, and it would suspend the borrowing limit to Jan. 1, 2025 — with the Treasury then able to use extraordinary measures to pay the bills.
House Republican leaders always expected to lose some votes, mostly from hard-right members who say the deal isn't aggressive enough at delivering spending cuts. That meant some Democrats were needed to get it over the finish line.
"House Democrats are going to make sure that the country does not default — period, full stop," said Minority Leader Hakeem Jeffries, D-N.Y. "We will continue to be responsible stewards of our economy. And we will not let middle-class Americans, working families, those who aspire to be part of the middle class, seniors, veterans, the poor, the sick and the afflicted be hurt by a dangerous GOP-manufactured default."
The legislation would cap spending for the next two years. It includes conservative measures that would claw back about $28 billion in unspent Covid relief funds, eliminate $1.4 billion in IRS funding and shift roughly $20 billion of the $80 billion the IRS got through the Inflation Reduction Act to nondefense funding.
The bill would also restart federal student loan payments after a lengthy pause that began at the start of the pandemic. And it would add work requirements for people up to 55 years old to get benefits under the Supplemental Nutrition Assistance Program and Temporary Assistance for Needy Families (the current threshold is 50 years old), with carve-outs for veterans and homeless people.
The Biden-McCarthy agreement wouldn't make changes to Social Security, Medicare or Medicaid.
An analysis by the nonpartisan Congressional Budget Office found that if the bill's spending caps and targets are followed, it would reduce federal discretionary spending by $1.3 trillion over the next 10 years. Only the first two years of spending levels would be binding under the legislation, however.
The SNAP reforms would actually net a spending increase of $2.1 billion, the CBO found. The new work rules would save $6.5 billion, but the new exclusions for homeless people and veterans would add 78,000 people to SNAP benefit rolls and cost $8.6 billion.
Hard-right members tore into the measure.
Rep. Dan Bishop, R-N.C., said the conservative policy provisions were "fictionalized suggestions of change" that are insignificant. "In effect what they've done" is a "clean" debt limit extension with no substantive policy additions, he argued, portraying it as a surrender to Biden's demands.
"And so there's nothing there," Bishop said. "If you're going to do tacitly a clean debt ceiling, make it short."
Senators who oppose it, like Mike Lee, R-Utah, have procedural tools they could use to try to slow it down past Monday's deadline. Schumer has encouraged members to act quickly to avoid default.
"Senators should be prepared to move on this bill quickly once it is the Senate's turn to act. I cannot stress enough that we have no margin — no margin — for error," Schumer said Wednesday, warning that "any needless delay, any last-minute brinkmanship" could mean that "the federal government will default for the first time ever."
McConnell quickly praised House passage of the bill on Twitter and added: "Now, it's the Senate's turn to pass this agreement without delay."