Sen. JD Vance announced Tuesday that he will be putting a procedural hold on Department of Justice nominees in response to the prosecution of former President Donald Trump for allegedly mishandling national defense information.
Vance's office said nominees for positions with the U.S. Marshal Service will be excepted from the Ohio Republican's move.
The announcement follows "the unprecedented political prosecution of Donald J. Trump by Biden's Department of Justice," Vance's office wrote in a statement. Trump was arraigned Tuesday as Vance made the announcement. Vance has endorsed Trump's 2024 presidential run.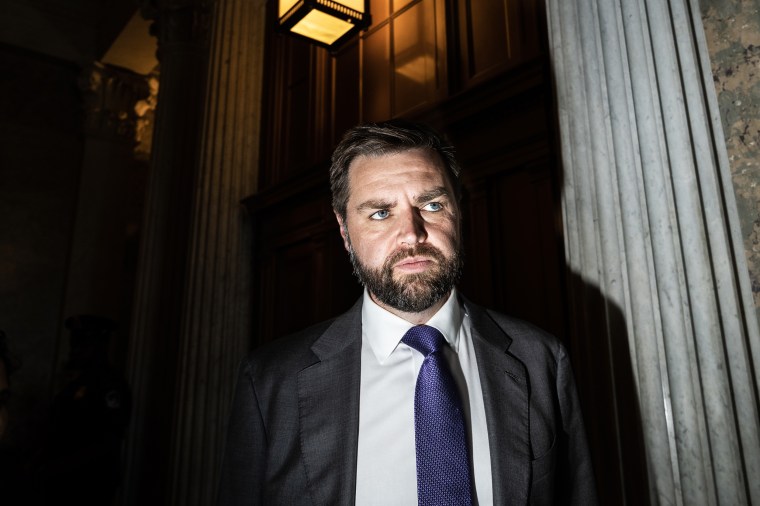 "I've announced today that I will be holding all Department of Justice nominees that Merrick Garland will use, if confirmed, not to enforce the law impartially, which is his duty, but clearly to harass his political opponents," Vance said in a video posted to Twitter. "I think that we have to grind this department to a halt until Merrick Garland promises to do his job and stop going after his political opponents."
One senator's hold on nominees cannot block confirmation to executive branch positions. But it can dramatically slow down consideration on nominees that would otherwise have been considered noncontroversial.
It is unclear how many Department of Justice nominees Vance's move will ultimately affect.
Vance, who was elected in 2022 in large part thanks to Trump's support, charged in his Twitter video that Trump is just one recent example of Garland using the justice system for political purposes.
A spokesperson for the Department of Justice declined to comment on Vance's announcement.
Shortly after Vance shared his announcement, Donald Trump Jr. responded on Twitter and retweeted the senator's video.
"JD Vance is one of the few Republicans in the US Senate who isn't afraid to stand up to Biden, Garland and the radical left," Trump Jr. wrote, along with three flame emojis.
"Let's make this department work a little bit more slowly until Merrick Garland changes course and actually does his job the right way," Vance said.