Former House Speaker Nancy Pelosi said Thursday she's not sure whether she will watch soon-to-be released body camera video from an officer who responded to the brutal attack on her husband last year at their home in San Francisco.
The police video is scheduled for release Friday, according to an advisory from San Francisco Superior Court following a judge's order.
Asked whether she would watch the video, Pelosi, D-Calif., said she doesn't know.
"I mean, it would be a very hard thing to see an assault on my husband's life," she told reporters on Capitol Hill.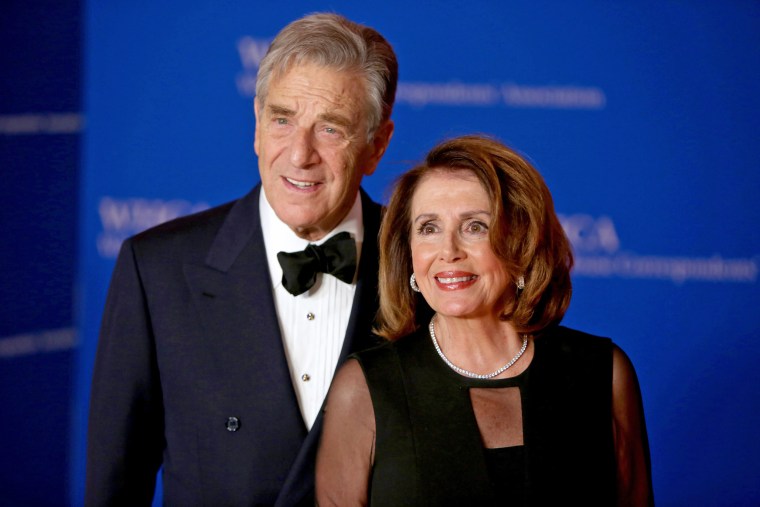 A judge this week granted a motion filed by NBC News, The New York Times and other news organizations asking that evidence be made public in the case against David DePape, who is accused of assaulting Paul Pelosi.
The evidence consists of video from a body camera worn by an officer who responded at the Pelosis' home on Oct. 28, a 911 call Paul Pelosi made to police, parts of a police interview with DePape and security video from the break-in captured by U.S. Capitol Police.
DePape of Richmond, California, faces a pair of federal charges in connection with the attack, which is alleged to have involved DePape's demanding the whereabouts of Paul Pelosi's wife, then the House speaker, and attacking him with a hammer. He also faces related state charges. DePape has pleaded not guilty.
Pelosi, who was in Washington, D.C., at the time of the attack, said her husband's recovery is ongoing.
"It's one day at time," she said Thursday. "He's made some progress, but it will be about three more months, I think, before he's back to normal."
Pelosi, 82, underwent surgery to repair a skull fracture and injuries to his right arm and his hands. He spent about a week in the hospital.