ATLANTA — Georgia's Supreme Court on Monday denied Donald Trump's bid to halt the Fulton County district attorney's probe into whether the former president and his allies interfered in the state's 2020 presidential election.
The rejected petition was one of two Trump's lawyers filed in different Georgia courthouses last week, both seeking to effectively derail District Attorney Fani Willis' investigation into whether there were "coordinated attempts to unlawfully alter the outcome of the 2020 elections."
The petition sought to disqualify Willis from investigating Trump and to quash a report from the special grand jury she used to help her investigation.
In a brief, unanimous ruling, the nine-judge state Supreme Court said what Trump was seeking "is not the sort of relief that this Court affords, at least absent extraordinary circumstances that Petitioner has not shown are present here."
"Moreover, even if the petition were procedurally appropriate, Petitioner has not shown that he would be entitled to the relief he seeks," the court said.
A representative for Trump did not immediately respond to a request for comment.
The DA's office declined to comment.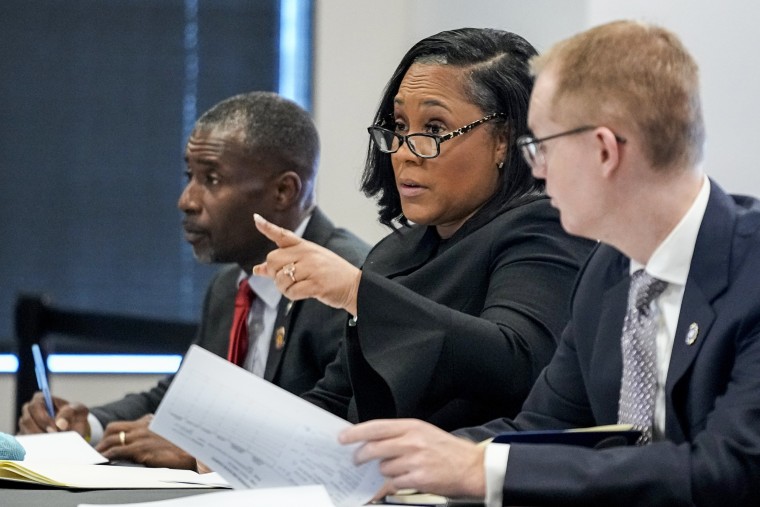 A similar Trump petition filed Friday is pending before Fulton County Superior Court.
Both petitions sought a court order barring Willis "from introducing any evidence obtained via the special purpose grand jury process to a regular grand jury."
The special grand jury recommended indicting more than a dozen people, its foreperson, Emily Kohrs, said on "NBC Nightly News" in February. Their names have not been made public.
Trump's petition asked both courts to act swiftly because Willis "has signaled that she will use the report — itself the fruit of contorted and coopted process — to secure an indictment against Petitioner within weeks, if not days."
Trump filed a similar petition in Fulton County Superior Court in March. The judge who has overseen the grand jury investigation, Robert McBurney, has yet to rule on that filing.
Willis began her sprawling investigation in January 2021. Trump has denied any wrongdoing and maintained that Willis, a Democrat, is conducting a politically motivated "witch hunt."
In letters to local law enforcement agencies, Willis has indicated that she would most likely seek indictments during the first half of August.
Blayne Alexander and Charlie Gile reported from Atlanta and Dareh Gregorian reported from New York.