WASHINGTON — Lawyers for Donald Trump and the Justice Department squared off Monday in a federal appeals court, where the former president's lawyers argued before a panel of skeptical judges that his constitutional rights have been violated by a gag order barring him from disparaging witnesses and prosecutors in the election interference case.
The judges didn't immediately issue a decision, but they indicated in their questioning that they could leave the gag order in place while narrowing its scope. They repeatedly pressed Trump's lawyer about his contention that his speech can't be curtailed at all and grilled the government's attorney over provisions in the gag order that bar Trump from criticizing special counsel Jack Smith and his staff and high-profile possible witnesses in the case.
The two sides began presenting arguments in Washington before the three-judge panel of the U.S. Court of Appeals for the D.C. Circuit shortly after 9:30 a.m. ET, with Smith, who made the decision to charge Trump, sitting in the front row. The hearing had been expected to last about an hour, but it went on for more than twice as long as the judges peppered both sides with questions.
Trump attorney D. John Sauer argued that leaving the gag order in place would set a "terrible precedent" for "restrictions against core political speech."
The judges — two nominated by former President Barack Obama and one by President Joe Biden — issued an order this month pausing the gag order until they could hear arguments in the appeal. Pressed by one about prosecutors' argument that Trump's public comments about witnesses and officials have led to people being "threatened and harassed," Sauer said, "That's all based on evidence that's three years old." He said that Trump has commented on the case "incessantly" and that there's no evidence that anyone in the election interference case has been threatened.
Judge Bradley Garcia, the Biden nominee, asked Sauer, "Why does the district court have to wait and see, and wait for the threats to come, rather than taking a reasonable action in advance?"
Judge Patricia Millet asked whether there was a First Amendment concern related to Trump's hypothetically calling witnesses and telling them to be loyal. Sauer responded that that could be a violation of his bail conditions and most likely wouldn't trigger constitutional issues. The judge then asked whether that dynamic would change if Trump made a similar remark on social media or at a political rally.
"If he's communicating with the American electorate?" Sauer replied. "I'd have to know more about the context," he said, adding it would be "further afield" if he made such a remark on social media. 
Asked whether there was any need to balance Trump's political speech with concerns over threats, Sauer said Trump should be entitled to "absolute freedom" to speak his mind.
The judges seemed skeptical of that argument, but they also had questions for Smith's office about the scope of the gag order, including how it protects Smith and his team. Smith's attorney Cecil VanDevender told the judges that his office has "been subject to multiple threats" and "intimidating communication" after Trump issued "inflammatory posts" about Smith. One of the judges said Smith most likely has "thick enough skin" not to be intimidated by such posts.
The same judge also questioned the gag order's protection of criticism of potential witnesses like retired Gen. Mark Milley, the former chairman of the Joint Chiefs of Staff, who has been highly critical of Trump. She noted that Trump issued a scathing post-indictment social media post about Milley a day after he had blasted Trump in an interview. When the judges said they were skeptical that Trump's posts would affect Milley's testimony, VanDevender said they could have an effect on other witnesses who are testifying.
The judges also questioned where the line existed on how Trump would be entitled to defend himself, but only to a point. VanDevender said Trump could say a public figure who'd be testifying against him had said something that's "untrue" but couldn't call the person a "slimy liar."
"He can say it's untrue. Can he say that person's an 'untruth speaker'?" Millet asked.
"Yes," the lawyer responded.
"But he can't say 'liar'?" Millet continued. "There's a balance that has to be undertaken here, and it's a very difficult balance in this context," she said, adding, "We have to use a very careful scalpel here."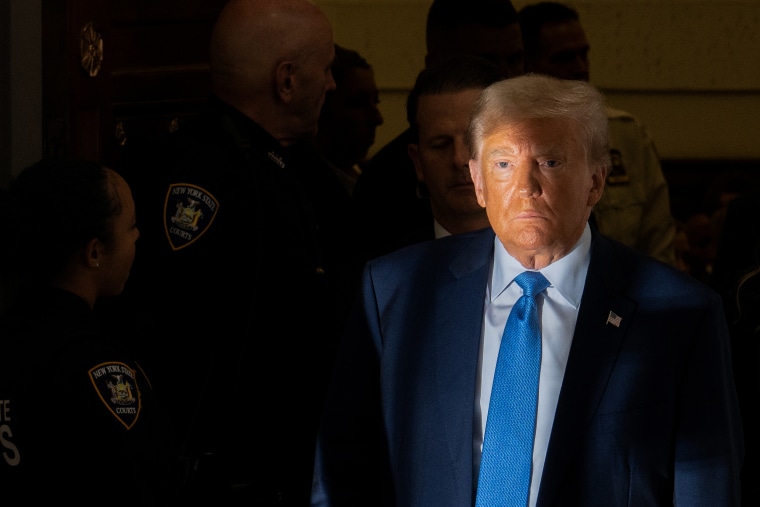 Trump has contended that because he is a presidential candidate, his speech shouldn't be impeded in any way.
"The Gag Order appoints an unelected federal judge to censor what the leading candidate for President of the United States may say to all Americans," Trump said in a statement Friday. "No court has ever upheld a gag order on core political speech at the height of a campaign," he added, calling for the ruling to be "speedily reversed."
Prosecutors from Smith's office have argued that the order is necessary for a fair trial and that Trump's social media posts and public comments about prospective witnesses and lawyers in the case led to risks of harassment and witness intimidation.
U.S. District Judge Tanya Chutkan, who is overseeing the case, agreed with prosecutors in an order last month.
"Undisputed testimony cited by the government demonstrates that when Defendant has publicly attacked individuals, including on matters related to this case, those individuals are consequently threatened and harassed," Chutkan wrote in an Oct. 17 ruling that cited Trump's comments about how some people involved in the case "are liars, or 'thugs,' or deserve death."
"The court finds that such statements pose a significant and immediate risk that (1) witnesses will be intimidated or otherwise unduly influenced by the prospect of being themselves targeted for harassment or threats; and (2) attorneys, public servants, and other court staff will themselves become targets for threats and harassment," she wrote.
Her gag order prohibited Trump "from making any public statements, or directing others to make any public statements," that target likely witnesses and the substance of their testimony, as well as the special counsel, his staff and employees of the court.
But it also made some exceptions by explicitly allowing Trump to continue criticizing the Biden administration and the Justice Department in connection with the case, to argue that the case is politically motivated and to assert his innocence. Chutkan also said she wouldn't prohibit "statements criticizing the campaign platforms or policies of Defendant's current political rivals, such as former Vice President Pence," a then-presidential candidate who's likely to be called as a witness for the prosecution when the case goes to trial in March.
Trump's attorneys appealed the order, arguing that Chutkan was acting as "a barrier between the leading candidate for President, President Donald J. Trump, and every American across the country," and that the court has "no business inserting itself into the Presidential election."
"President Trump's speech about this case is quintessential campaign speech," and the "First Amendment does not permit the district court to micromanage President Trump's core political speech," his lawyers argued.
Prosecutors countered that Trump was seeking special treatment and urged the appeals court not to give it to him.
In their filing, government attorneys said Trump maintains "that it is not enough for him to be able to defend himself in court, publicly profess his innocence, criticize the presiding judge, characterize the prosecution as politically motivated, and criticize the platforms and policies of his political opponents. He must also be allowed to engage in a concerted campaign of targeting witnesses and public servants like court staff and career prosecutors, and even their families, with inflammatory language likely to result in harassment, intimidation, and threats."
"No other criminal defendant or defense attorney could credibly make such a claim, and the Court should decline the defendant's request to fashion a special rule solely for him," they added.
It isn't Trump's first time being hit with a gag order, nor is it the first time he has appealed one.
The New York judge presiding over his ongoing $250 million civil fraud trial imposed a gag order last month after Trump smeared the judge's law clerk on social media. After an appeal, a state court temporarily lifted the gag order until a full panel of judges can consider the matter later this month.
Daniel Barnes reported from Washington and Dareh Gregorian from New York.