Ohioans head to the polls Tuesday to decide whether to make it more difficult to pass ballot measures in the state.
Issue 1 would raise the threshold of support required to pass state constitutional amendments to 60% instead of a simple majority. Tuesday's ballot measure says nothing about abortion rights, but the issue is at the heart of a fight that has received outsize attention for an off-year ballot election.
If Issue 1 passes, it will make it harder for a ballot measure enshrining abortion rights in the state constitution to pass this fall.
Tuesday's ballot measure would also toughen rules for groups trying to place future ballot measures before voters, as they would need to obtain signatures from voters in all of Ohio's 88 counties, instead of the 44 now required. In addition, the measure would eliminate a 10-day "curing" period during which groups are currently allowed to gather additional signatures to replace any previous signatures that officials deem invalid.
Reproductive rights groups have long contended that Issue 1 is designed to make it harder for the abortion measure to pass, and several Republican lawmakers in the state have admitted so as well.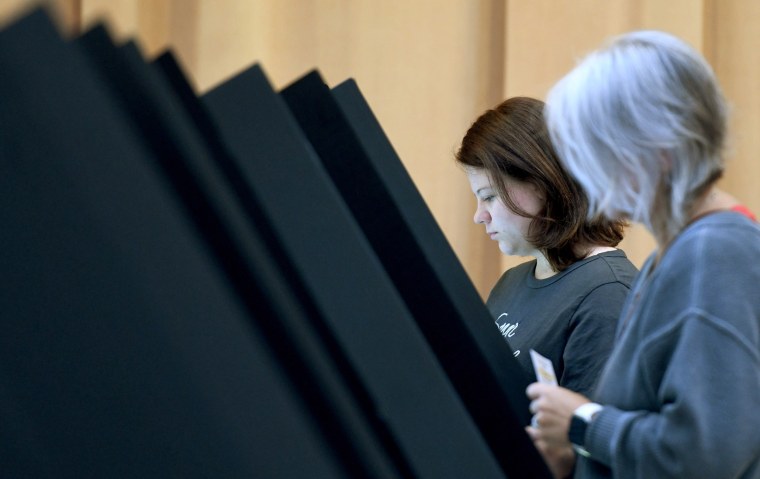 If voters pass the threshold measure Tuesday, then the proposed November ballot amendment to enshrine abortion rights in the state Constitution would need the support of 60% of voters to pass. If it fails, the November measure would need only a simple majority.
In January, Ohio Republicans enacted a law that effectively scrubbed August special elections from the state's calendar, with several GOP state lawmakers calling them expensive, low-turnout endeavors that weren't worth the trouble.
But months later, as reproductive rights groups moved closer to placing their own proposed constitutional amendment on the November ballot, state Republicans reversed themselves and scheduled the August election.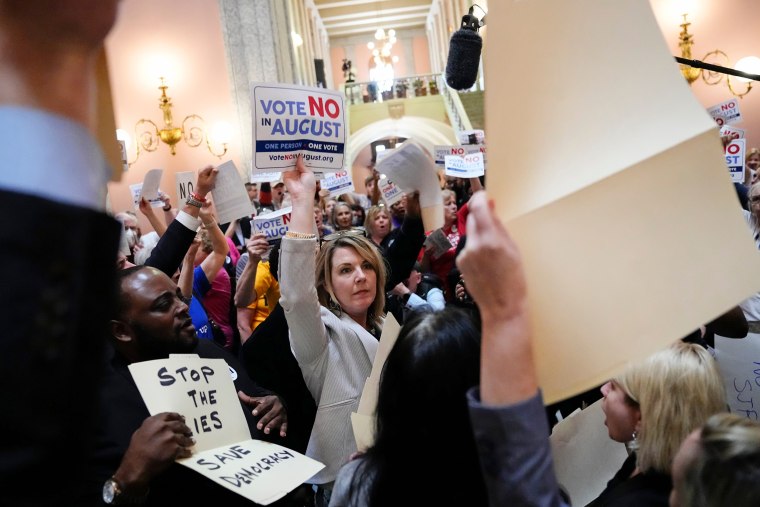 In June, local news outlets published a video of Republican Secretary of State Frank LaRose — a candidate for U.S. Senate — acknowledging that the purpose of the summertime ballot measure was "100% about keeping a radical pro-abortion amendment out of our constitution."
Groups on both sides of the issue have spent millions of dollars on ads to turn out their supporters.
Protect Women Ohio, a prominent anti-abortion rights group and the biggest spender among groups supporting Issue 1, committed $9 million to television, radio and digital ads to run in the state.
The group has also so far committed $25 million for ads opposing the November ballot initiative.
Their ads largely highlight attempts to tie the proposals in both races to parental rights restrictions. The strategy has also leaned heavily into attacks on groups like the American Civil Liberties Union of Ohio, which Protect Women Ohio says is advocating to restrict parental rights. Nonpartisan experts, however, have said the ads are inaccurate and misleading, and reproductive rights advocates argue that they are misdirected and designed to distract voters from protecting abortion rights, an issue on which the public does not side with the anti-abortion rights movement.
On the other side, the main group working to defeat the August ballot measure, called One Person One Vote, has allocated more than $1.1 million to ads over the past two months. And officials with the reproductive rights coalition supporting the November amendment have said they plan to spend at least $35 million through November.
The ads by One Person One Vote focus mainly on the alleged hypocrisy of Republicans and highlight LaRose's comments admitting the August measure was designed to make it harder to enshrine abortion rights in the Ohio Constitution.
Recent polling has suggested that groups hoping to pass Tuesday's measure face an uphill battle: A USA Today/Suffolk University poll released last month found that 57% of registered Ohio voters said they opposed Issue 1, with 26% saying they supported it. Another 17% said they were undecided.
Raising the threshold for passage of any future constitutional amendments would mark a major shift in Ohio, where only a simple majority has been required since 1912. Several former Republican officeholders, including four GOP ex-governors, have publicly opposed the measure.
But if the measure were to pass, it would complicate the prospects of passage for the proposed November amendment. 
Public polling has shown that about 59% of Ohio voters support including abortion rights in the state Constitution — just shy of the newly proposed higher threshold.
The effort in Ohio to use the state Constitution to protect abortion rights closely mirrors others across the U.S. in the year since the Supreme Court overturned Roe v. Wade.
While abortion rights advocates enjoyed a clean sweep of victories last year in the six states — including in conservative states like Kentucky and Kansas — where abortion rights were on the ballot, voters in two states (progressive strongholds California and Vermont) passed pro-abortion rights measures with at least 60% of the vote. None of the anti-abortion rights measures were defeated with 60% or more of the vote.
The proposed November amendment in Ohio was designed to counteract Ohio's "heartbeat bill," which snapped into place immediately after the Supreme Court overturned Roe. That law effectively bans most abortions — with exceptions for the health of the pregnant woman and in cases of ectopic pregnancies — but remains temporarily blocked by a state judge.