First Read is a morning briefing from Meet the Press and the NBC Political Unit on the day's most important political stories and why they matter.
The 2016 urban-rural divide
One of the other findings from our latest NBC/WSJ poll is the stark urban-rural divide in the Hillary Clinton-vs.-Donald Trump presidential race. According to our poll, which found Clinton ahead by three points (46%-43%), Clinton is crushing Trump among registered voters in urban areas (58%-33%), while Trump is ahead of Clinton by an even bigger margin in rural areas (60%-29%). The suburb vote is split, 44%-44%. This divide is even more pronounced using the county-by-county work by our colleague Dante Chinni. When Chinni plugged the NBC/WSJ poll into his county-level breakdown, he found that Clinton is already matching Obama's 2012 performance in the Big Cities and the Urban Suburbs, and Trump is surpassing Mitt Romney's '12 performance in Rural America.

Interestingly, where Clinton is underperforming is in the college towns (Books and Barracks Counties -- hello, Bernie Sanders!), and where Trump is underperforming is in Faith Driven America. But when Trump goes into Urban America -- as he did last night in Albuquerque, NM with a significant Latino population -- you see why you get the protests and unrest that occurred. This country couldn't be more divided between Urban America and Rural America. The advantage here for Clinton and Democrats: There are a lot more votes in Urban America than Rural America.
Trump consolidating the GOP vote is a boon to down-ballot Republicans
Maybe the biggest political story over the past couple of weeks has been how Trump has consolidated the GOP vote. Our own NBC/WSJ poll found the percentage of Republicans backing him in a contest vs. Clinton has gone up from 72% in April to 86% now. And if that holds, it's significant for Republicans because it helps them on the down-ballot front. In particular, more Republicans rallying around Trump means that the Democratic outside Senate targets -- in Arizona, Iowa, Missouri, and North Carolina -- are a steeper climb. After all, there is a big difference between Trump being at 47% in the popular vote and being at 42%-44%.
Trump vs. Susana Martinez
While Republican voters are starting to rally around Trump, some elected officials still aren't jumping on board -- including New Mexico Gov. Susana Martinez (R). And while campaigning in New Mexico last night, Trump blasted the GOP governor, who also serves at the chair of the Republican Governors Association. "We have to get your governor to get going. She's gotta do a better job, okay? Your governor has gotta do a better job. She's not doing the job. Hey, maybe I'll run for governor of New Mexico. I'll get this place going. She's not doing the job. We gotta get her coming. Come on, let's go, governor." Meanwhile, despite reports to the contrary, House Speaker Paul Ryan still hasn't endorsed Trump. "There's no update and we've not told the Trump campaign to expect an endorsement," a Ryan spokeswoman told NBC News.
Trump and Clinton win Washington state's primary (though the contest doesn't count on Dem side)
Last night, Donald Trump easily won Washington state's primary, and he now is just 30 delegates away from crossing the GOP magic number of 1,237 delegates, which he'll do on June 7. Meanwhile, in the Democratic contest, Hillary Clinton actually won the non-binding Washington primary, 54%-46%, despite losing the March 26 caucuses by a whopping 73%-27% margin -- which was Sanders' biggest delegate haul of the primary season. (It was the caucus contest that awarded the state's delegates, not last night's primary.) The same thing also happened in Nebraska, with Sanders winning the binding caucuses but losing the primary, in which more voters participated. So when you hear from Sanders supporters that the Democratic nominating system has been rigged against them, remember how much they've benefitted from the caucuses. (By the way, if Clinton is winning Washington's mail-in primary, she's going to be your big favorite in California.) Here's the Democratic delegate math:
In pledged delegates, Clinton currently holds a lead of 272 delegates
Clinton 1,770 (54%)
Sanders 1,498 (46%)
Clinton must win 33% of remaining pledged delegates to get a majority in pledged delegates
Sanders must win 67% of remaining pledged delegates to get a majority in pledged delegates
In overall delegates (pledged + super), Clinton holds an overall lead of 760 delegates

Clinton must win 9% of remaining delegates to reach 2,383 magic number
Sanders must win 91% of remaining delegates to reach 2,383 magic number
Poll: Californians rank economy as top issue before primary
Nearly three-quarters of likely California voters say the economy and jobs are among the most important issues in deciding their vote ahead of the June 7 presidential primary, according to a USC Schwarzenegger Institute/Field Poll. The poll, which was shared exclusively to NBC News, finds that Democratic and Republican primary voters care almost equally about the economy and jobs: 73% of Democrats and 77% of Republicans say they are among their most important issues in deciding their vote. But that is where the similarities between the parties mostly end.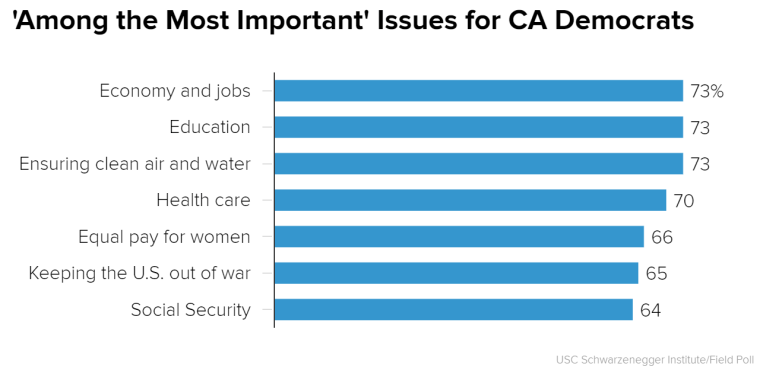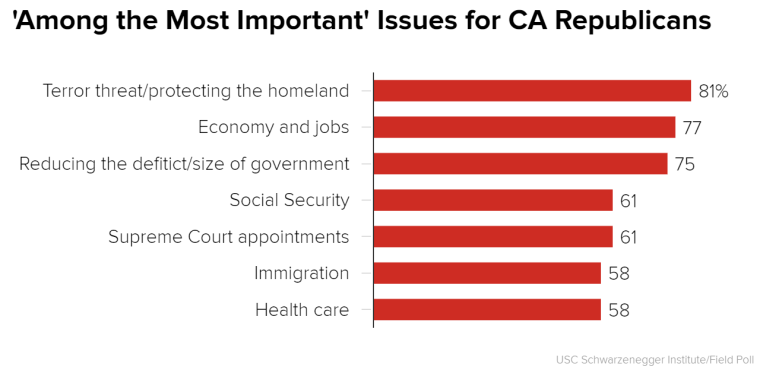 On the trail
Donald Trump holds a rally in Anaheim, CA at 3:00 pm ET… Hillary Clinton also campaigns in the Golden State, hitting Buena Park and Salinas… And Bernie Sanders stumps in California, too… Meanwhile, Bill Clinton campaigns in Albuquerque, NM one day after Trump was there. Don't forget to check out the political unit's rolling minute-to-minute coverage of all the latest 2016 developments at the On the Trail liveblog at NBCNews.com.