WASHINGTON — Nearly four years ago to the day, Republicans in New Jersey were celebrating a gubernatorial victory so sweeping that 1600 Pennsylvania Avenue seemed well within their triumphant leader's reach.
By Tuesday night, that same champion — Chris Christie — had become a political albatross whose historically poor approval ratings all but spiked the chance for his party to hold the governor's mansion even before the race began.
The suspense-free New Jersey governor's race ended with a thud for Christie's lieutenant governor and would-be GOP successor, Kim Guadagno, who was roundly defeated by Democrat Phil Murphy in an election called for the Democrat the moment the polls closed.
Related: Democrat Ralph Northam Wins Virginia Governor's Race
Early exit polls left no doubt that the most unpopular governor in the Garden State's history was present in voters' minds.
Nearly eight in 10 voters said they disapproved of Christie's performance as governor, with more than half saying they strongly disapprove.
Asked about Christie's ties to Guadagno, 51 percent said that her tenure as his second-in-command made them think worse of her as a candidate.
And a plurality — 35 percent — called corruption in government their biggest concern in the election, compared to 27 percent who cited property taxes and 20 percent who said health care.
Unlike many unpopular governors who find themselves mired in middling dislike and garden variety statehouse dysfunction, Christie's decline was precipitous, and self-inflicted.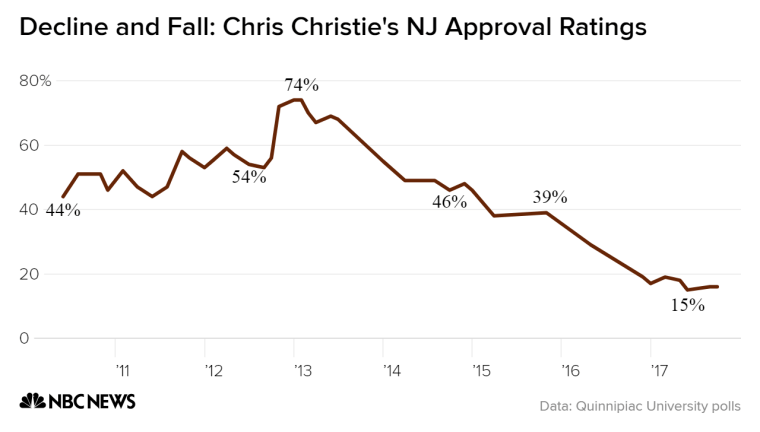 Throughout his eight years as governor, Christie's approval rating shattered records on both ends of the dial. In early 2013, after rave reviews for his early handling of Hurricane Sandy and his bipartisan outreach, a staggering three-quarters of New Jersey residents gave him a thumbs-up for his job performance. In his re-election contest that November, he crushed his Democratic challenger and defied the GOP's national demographic track record by winning a majority of votes among women and Hispanics.
Full Coverage: Everything You Need to Know About Tuesday's Elections
But his handling of the Washington Bridge scandal — combined with well-publicized absences from the state to nurture a national image, a deflated 2016 presidential campaign and public humiliations by Donald Trump — sent his approval ratings plummeting into the teens early this year. By summer, Christie was left berating reporters after his family was photographed relaxing on a beach he had closed to the public amid a state government shutdown.
Murphy, for his part, wasted little time exploiting Guadagno's disadvantage. In his first TV ad, he tied her to the "Christie playbook," and his subsequent pitches blasted the "Christie/Guadagno economy" and the Bridgegate scandal.
Guadagno had already been denied a top party surrogate because of the crippling unpopularity of her own party's president in the state; exit polls showed just 33 percent of the state's voters approve of Trump. And Christie's toxicity left her with no air cover from the once-popular governor, either.
In fact, Christie was not only absent from the campaign trail for Guadagno, he also didn't hold back from making damaging digs about her policy proposals and campaign tactics. In July, as Guadagno was announcing her choice for lieutenant governor, Christie told reporters that running mates "don't matter," suggested that the race might not be competitive and said that Guadagno hadn't approached him for help.
The two also feuded over taxes, including over Christie's blunt rejection of Guadagno's major plan to audit state government in search of savings. And Guadagno spared no criticism after Christie's beachside debacle, calling the damning photos "beyond words."
Still, Guadagno's efforts to distance herself proved futile Tuesday.
While she took pains to try to prove that "anybody who knows me knows I'm not Chris Christie," her Election Day performance ended up highlighting a key similarity between them.
Come January, neither one will be governor.