President Joe Biden touted his administration's efforts to boost clean energy manufacturing and create union jobs in a speech Thursday in Philadelphia.
Earlier in the day, the White House announced the first offshore wind lease sale in the Gulf of Mexico, which it says will have enough clean energy potential to power nearly 1.3 million homes.
"When I think climate, I think jobs," Biden said. "I think union jobs. Not a joke."
Biden visited the Philly Shipyard after a steel-cutting ceremony earlier in the day to mark the construction of an offshore wind vessel.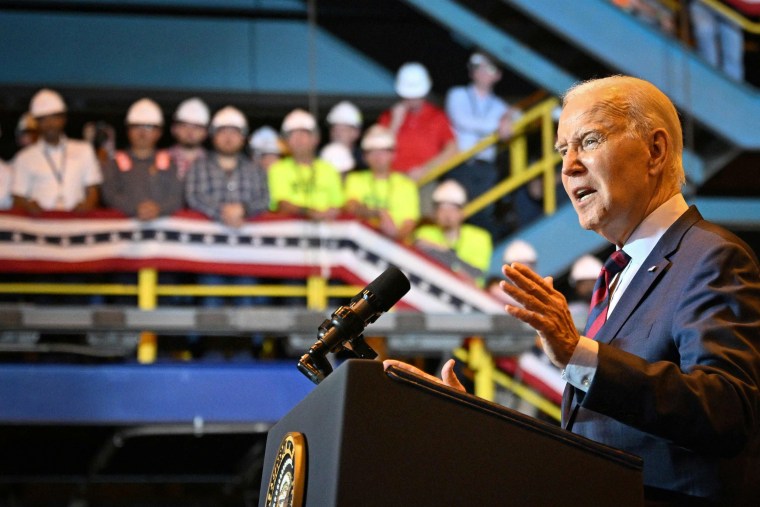 The power generators will bring an estimated $125 million in economic activity every year, and 1,000 workers across nine unions have been employed to build them, using steel plates made by the United Steelworkers in Indiana, the White House said.
Biden said: "All this investment means good-paying jobs here at home, here at home. We're making sure these new jobs come free and fair and the ability to join a union if you're not already in one."
The potential for more strikes looms over Biden's re-election campaign.
On Wednesday, Biden met briefly with Shawn Fain, the president of the United Auto Workers union, a White House official said. UAW leaders had asked to brief senior White House staff members about their analysis and positions in relation to negotiations with the Big Three automakers — General Motors, Ford and Stellantis. Fain has said the UAW is willing to strike against those companies.
UPS workers have also threatened to strike as Teamsters leaders, who represent UPS workers, negotiate a new labor contract. Meanwhile, the national board of the Screen Actors Guild-American Federation of Television and Radio Artists, also known as SAG-AFTRA, voted unanimously to go on strike this month after the Writers Guild of America had already gone on strike.
Biden has frequently referred to himself as the most pro-union president in history. "I made a commitment that I'd be the most pro-union president in American history, and I'm keeping that promise," he said Thursday.
Despite his administration's efforts to promote his "Bidenomics" agenda, his economic approval rating has risen only slightly, by 3 percentage points, to 37% in April, according to CNBC's new All-America Economic Survey.
This summer, high-level administration officials spread out over the country to tout Biden's economic agenda as part of the Investing in America tour. Biden highlighted the importance of infrastructure in a speech about Bidenomics in South Carolina on July 6.
Bidenomics focuses on three points: making public investments, educating workers to grow the middle class and promoting competition, according to the White House.
Across the aisle, the GOP has seized upon voters' worries over the economy to attack Bidenomics. The White House took a swipe at Republicans in Congress in its fact sheet announcing Biden's visit to Philadelphia, saying that if Republicans "had their way, their states would have lost out on billions of dollars in investments, jobs, and opportunity."
"Yet nearly every Republican Member of the House voted again to overturn the Inflation Reduction Act's clean energy tax credits in April 2023 — doubling down on their opposition at a time when manufacturers were investing in their state," the White House wrote.
Biden took aim in his speech at Sen. Tommy Tuberville, R-Ala., for his opposition to the bipartisan infrastructure law, which Tuberville voted against.
In a statement in 2021 explaining his vote, Tuberville said he would be "for a bill that invests every penny of every dollar in improvements to our roads, bridges, waterways, and rural broadband," but he added that "the final legislation is loaded with giveaways to big cities and pet projects that have little to do with real infrastructure."
Biden said: "Here's what he says now: 'Great to see Alabama receive critical funds to boost ongoing broadband efforts.' Thought he thought it was a bad idea to invest in that, but now it's coming to Alabama, and hot damn, boys, good thing."
Biden also condemned Tuberville's blockade of hundreds of military promotions as a move that jeopardizes "our national security."
"I'm glad the senator's coming around on the infrastructure law, but I'm not going to let up until he comes around in the critical military nominations, as well," Biden said.