WASHINGTON — A Washington, D.C., chiropractor who admitted that he "scuffled" with officers during the Jan. 6 Capitol attack was sentenced to 60 days of incarceration on Tuesday, with U.S. District Judge Jia M. Cobb saying she did not believe his claims about why he was at the Capitol.
David Walls-Kaufman of the Capitol Hill Chiropractic Center was arrested in June 2022 and pleaded guilty to a misdemeanor charge of "parading, demonstrating or picketing in a Capitol building," in January.
Walls-Kaufman was originally scheduled to be sentenced in May, but Cobb delayed it after receiving letters from family members of Jeffrey Smith, a Metropolitan Police Department officer who died by suicide shortly after Jan. 6.
Smith's widow filed a lawsuit against Walls-Kaufman and another man, Taylor Taranto, shortly after they were identified by online sleuths, accusing them of assaulting and playing a role in her husband's death. Taranto, who lives in Washington state and has not been arrested or charged in connection with Jan. 6, has acknowledged being at the Capitol that day but denied any involvement in Smiths' death. Walls-Kaufman was not charged with assaulting Smith and also denies a role in his death.
Taranto was inside the courtroom for Walls-Kaufman's sentencing hearing Tuesday. A pair of U.S. Marshals spoke to Taranto outside the courtroom after one of them spotted Taranto using his phone inside the court gallery, and NBC News heard Taranto identify himself to the marshals by name. In recent weeks, livestream and other videos have shown Taranto has been a regular presence at protests outside of the D.C. jail, where supporters of Jan. 6 defendants have gathered.
Erin Smith, Jeffrey Smith's widow, spoke at Tuesday's sentencing hearing, which unfolded at the same time that former President Donald Trump was making his first court appearance in a federal courthouse in Miami in connection with his indictment for allegedly mishandling classified documents and trying to obstruct a federal investigation. Erin Smith told the court that her late husband was a "great police officer" who took great pride in his work. She said that "everything changed on January 6, 2021," and that her husband was a different person after the events of that day.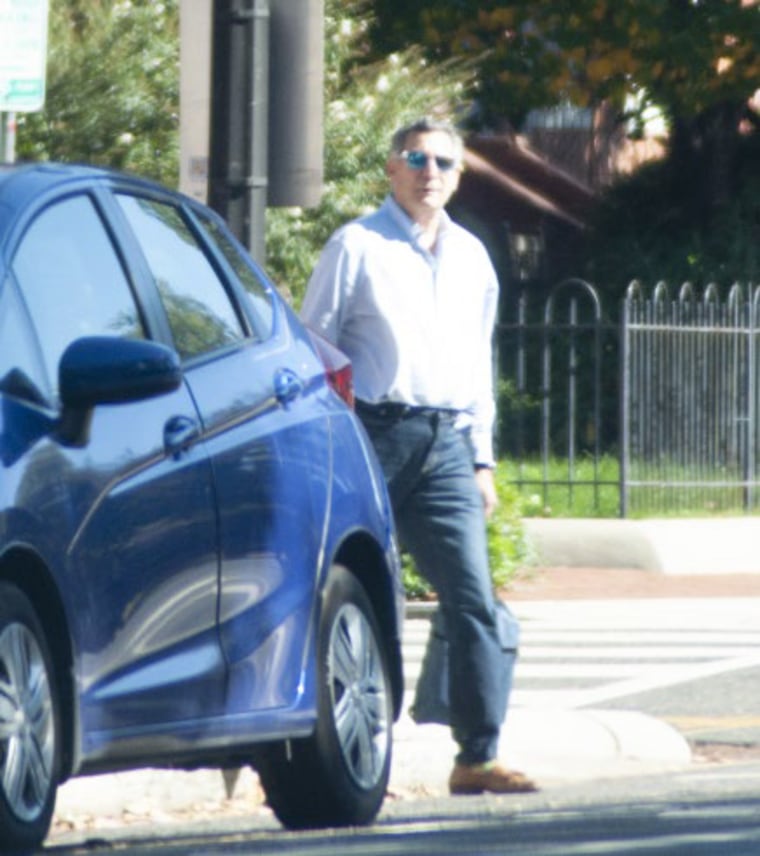 Smith's body-worn camera footage, released after the lawsuit against Walls-Kaufman and Taranto was filed, indicated that he was struck at least twice on Jan. 6: once during the scuffle that took place as he and other officers tried to push Walls-Kaufman, Taranto and dozens of other rioters out of the Capitol after the death of Ashli Babbitt; and hours later, when an unknown individual in the mob outside the Capitol threw a metal object that struck Smith in the face.
The D.C. Police and Firefighters' Retirement and Relief Board previously found that Smith's injuries from Jan. 6 were "the sole and direct cause" of his death by suicide and granted survivor benefits because his death was found to have happened in the line of duty.
"My life will never be the same," Erin Smith said. She spoke about how she had to fight to get justice and enlist the help of online "Sedition Hunters" to "comb through hours and hours of video" to find out what happened to her husband that day. She said she lost the opportunity to grow a family with her husband.
"I now live a sentence of life without Jeff," Erin Smith said.
Richard Smith, Jeffrey Smith's father, told the court that he suspects that Walls-Kaufman continues to believe the 2020 election was stolen, and said that the "senseless, violent attack" on his son was more than a mere "scuffle," in his view. "It's an assault, plain and simple," he said.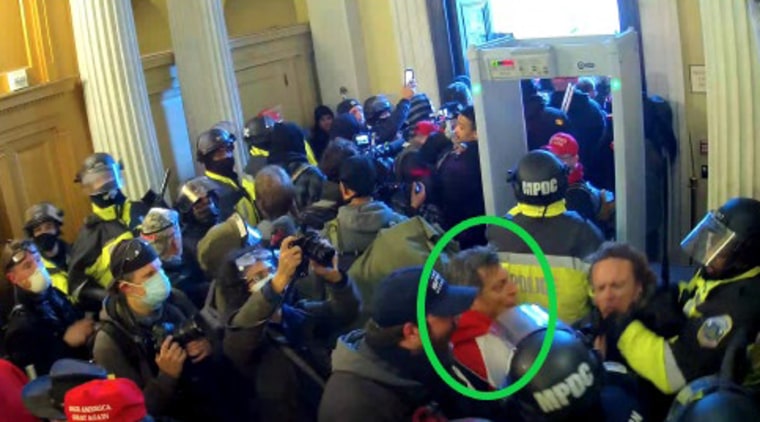 Video shows that Walls-Kaufman entered the Capitol with the mob at the same time as John Strand and Simone Gold. Strand, a male model who was working as security guard for Gold, was charged with felony obstruction of an official proceeding and aiding and abetting, and was sentenced to 32 months in federal prison.
After he entered the Capitol, Walls-Kaufman went inside the office of then-House Speaker Nancy Pelosi and snapped a photo of her laptop before it was stolen by another rioter. At the hearing on Tuesday, Walls-Kaufman claimed he'd opened a latch on one of the doors to Pelosi's conference room so it wouldn't be damaged. "I unlatched that door to get it out of the way," he said.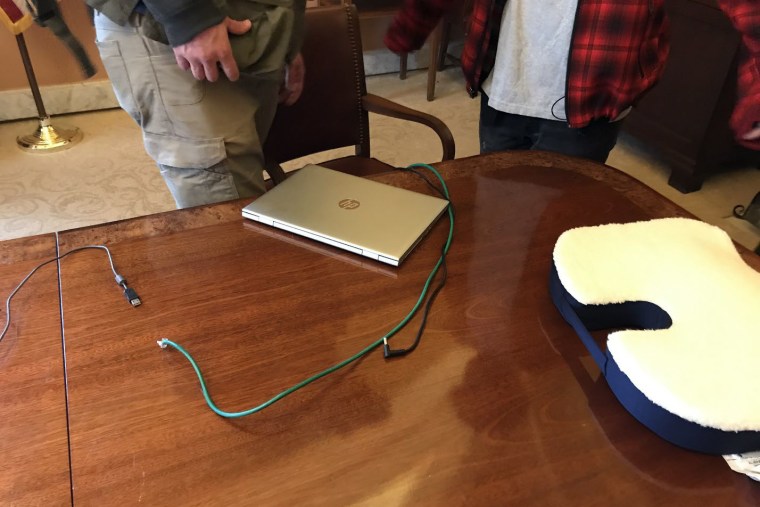 Walls-Kaufman told the court that he was "extremely sorry about what happened that day and my role in it," but then said that he was there to cover what took place because he was "drawn to history and human events." Walls-Kaufman has previously written for the conservative publication American Thinker, where he opined that the "left's contempt for America is total."
Walls-Kaufman, in the days after the election, shared an open letter to Trump on Facebook, calling on the then-president to "save this election" and do "everything" in his power to deliver the "honest" vote. The government said that, in an interview with the FBI after his arrest, Walls-Kaufman "extensively discussed misinformation about the 2020 election being 'stolen.'" But in court on Tuesday, Walls-Kaufman said that he was a Democrat and that he did not know if the election was stolen.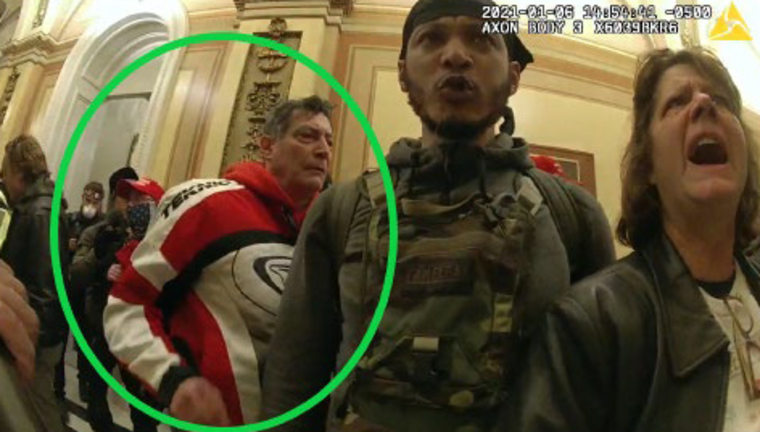 He also claimed that Babbitt — who was shot in the threshold of a broken window leading into the Speaker's Lobby — was "not trying to enter" the Speaker's Lobby and that the "glass was not broken." It was.
Walls-Kaufman said that he was "tremendously upset and emotional" because of what he had seen on Jan. 6, but said there was "no evidence" that he was "a cop killer." He said that people only read "the headlines" and not the fine print. The longer the sentence, Walls-Kaufman said, "the more true it will be."
Cobb — who in other Jan. 6 cases has given sentences below what prosecutors have sought — sentenced Walls-Kaufman to 60 days of incarceration, which is the period of time that federal prosecutors had requested.
Cobb said Walls-Kaufman's case was on the "more serious end" of the misdemeanor cases, and that she could "use my own eyes" to see the video of what happened. She said she could not credit Walls-Kaufman's claim to be an amateur journalist as the reason he went to the Capitol.
"I'm not getting a great sense of remorse," Cobb said.