It's showtime for Lady Luck.
A Virginia court on Wednesday rejected a legal challenge to its decision to count a contested ballot that tied a closely watched state House of Delegates race, clearing the way for election officials to randomly pick the winner in accordance with state law.
James Alcorn, the chairman of the Virginia Board of Elections, told NBC News on Wednesday the board will randomly select a winner in the tied House of Delegates race on Thursday morning after initially postponing the drawing in the wake of the legal challenge.
The court in Newport News, Virginia, denied a motion filed in late December by Democrat Shelly Simonds, who was the initial winner in her 94th district race against Republican David Yancey after a dizzying recount.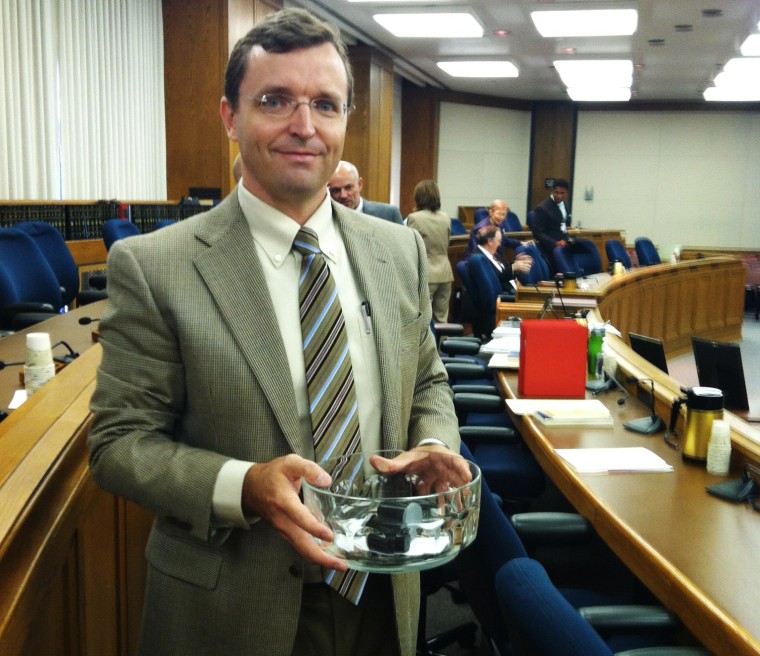 Pieces of paper with each candidate's name on them will be cut into the same size and placed into two old film canisters Thursday. The canisters will then be placed in a large glass bowl. The bowl will be shaken and then Alcorn will pick the winner and another board member will open the canister with the loser's name.
He said the last time a Virginia House race was decided this way was in 1971.
Yancey, the Republican, had a 10-vote lead after the election on Nov. 7, but a recount completed weeks later resulted in a one-vote Simonds advantage, a result which would have marked the first time Republicans had not been in control of the Virginia House in nearly two decades.
However, a three-judge panel later nixed Simonds' win when it ruled that a previously discarded ballot, which had bubbles filled for both candidates with a slash mark through Simonds' name, should in fact have been counted for Yancey, giving each candidate 11,608 votes and placing control of the House back in play.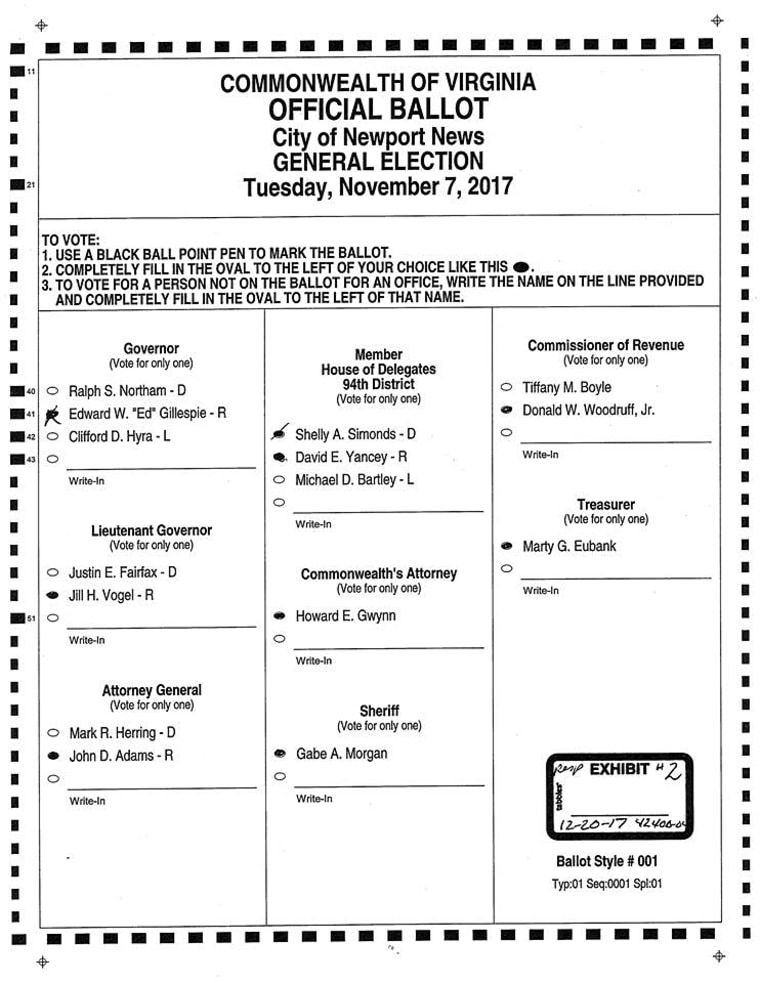 Simonds said she was dismayed by the court's decision, which did not allow her to appeal, but called for closure in the race before lawmakers are seated next week. She also requested that Yancey not request a second recount, which both candidates are allowed by law to do, if he loses the random drawing.
"I am disappointed by the court's ruling, with which I disagree," Simonds said in a statement. "However, I recognize that the people of the 94th District deserve to have representation on Jan. 10, and a second costly recount is not in their interest."
She added: "I respectfully ask Delegate Yancey to enter into a mutual agreement that the loser of tomorrow's drawing will not request a second recount, contest the election in the House of Delegates, or pursue any other action challenging the result. I have no interest in delaying this process, and I hope Delegate Yancey and House Republicans agree."
Parker Slaybaugh, a Virginia GOP spokesman, however, said that since state law allows both candidates a 10-day window to request a second recount, the incoming Republican speaker-designee Kirk Cox would want any possible recount to be settled before seating someone in the 94th District.
"We're not threatening to hold that up," he said. "What we're saying is Republicans are going to organize on Day One, even if it's 99 members."