MONTGOMERY, Ala. — If Alabama is going to send a Democrat to the United States Senate next month, it will be because of voters like Frank Cook.
A lifelong Republican, Cook voted for a conservative state senator in the Republican primary in August. Then, given the choice between appointed Sen. Luther Strange and former state Supreme Court Chief Justice Roy Moore in the September GOP runoff, Cook voted for Moore.
But the mounting allegations of sexual impropriety against Moore have led Cook now to support Democrat Doug Jones in the Dec. 12 general election to fill out the remaining three years of the Senate term left open by now-Attorney General Jeff Sessions.
"I'm just not going to vote for Roy Moore in this situation," Cook said after attending morning services at the First United Methodist Church here on Sunday. "My wife is a Democrat. She has convinced me that in this situation that I need to be voting Democratic. And I agree with her."
First United counts among its community many business and government leaders from the capital region of Alabama. In fact, when Jeff Sessions served as Alabama's attorney general he often attended services here, according to Jeremy Pridgeon, the congregation's senior minister.
But 10 days after the Washington Post first detailed women's accusations of unwanted sexual advances by Moore, followed by more accusations and furious push-back from the judge and his supporters, many worshipers on Sunday were reluctant to weigh in on how the developments had altered, or not, their view on the Senate race.
Related: Could Roy Moore flip deep-red Alabama to blue?
Some politely declined to reveal their current voting plans even as they lamented the negative turn.
"We're hearing way too much," Walter Corbitt said after attending First United's early morning service with his wife. "We really just hope that the best outcome will happen and that God will take care of the state and for the country."
"The Senate race is going to come and go and God's still going to be in control," Mary Corbitt, his wife, added. "You have to vote your conscience and ultimately leave it up to a prayerful consideration."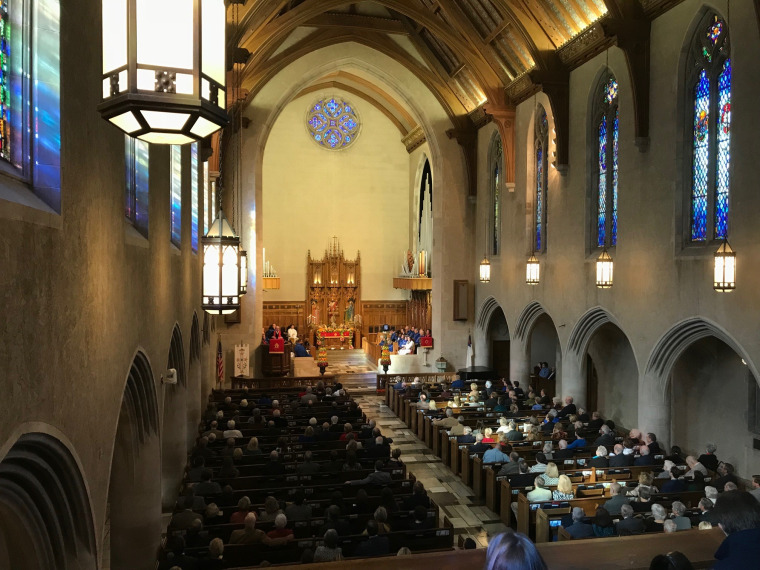 Moore's campaign has rallied support among pastors from Alabama and beyond to mount a vigorous defense of the allegations against him, charging that they represent a smear campaign from his political opponents in both parties.
One local religious leader who has expressed continued support for Moore declined Sunday to elaborate. Pastor Paul Hubbard, after the leading worship service at Montgomery's Lakeview Baptist Church Sunday, insisted he did not want his personal political views to reflect on all in his flock, referring NBC News to comments he had made earlier in the week.
"If he did what he's being accused of then he should be arrested and tried in court," Hubbard told NBC affiliate WSFA. "But accusations are just accusations."
Another pastor at a major Montgomery church, Chris Erwin of the Church of the Highlands, asked NBC reporters not to attend his Sunday service or speak with attendees.
Cook said he was disappointed to see so many faith leaders standing by Moore.
"I feel like I'm a man of faith also. And I just don't believe that the pastors and other people are speaking my religion," he said.
Related: The Moore mud splashes onto GOP candidates in other states
But Jerome Moore, a commercial real estate agent in Montgomery not related to the candidate, said it is the candidate's views on abortion which are most important to him, and were a primary reason he was planning to vote for Moore even as he lamented the choice he was left with.
"It's truly sad we're talking about the issues that we're talking about — late-term abortion on one side, fraternizing with 16-year-olds when you're 30 on the other side," said Moore, who also attended services at First United Methodist Sunday.
Jones is appealing to Republican voters in new campaign ads that allude to the new allegations against Moore. And, speaking to reporters Friday, Jones sought to reassure them, saying that abortion is a "very sensitive, very personal issue."
"We need to reduce the number of women in this country who have to make those kind of decisions. And I think together we can do that," Jones said.
Still, a Fox News survey of registered voters in Alabama taken last week found that Moore maintained strong support among white evangelical voters, 65 percent to just 20 percent for Jones, even as Jones led among all voters by eight points.