WASHINGTON — President Donald Trump said Thursday that he will pardon conservative provocateur Dinesh D'Souza and revealed he is weighing pardons or commutations for Martha Stewart and former Illinois Gov. Rod Blagojevich.
D'Souza, who has produced books and documentaries highly critical of former President Barack Obama and 2016 Democratic presidential nominee Hillary Clinton, pleaded guilty in 2014 to violating campaign finance laws in connection with illegal contributions to a Republican Senate candidate in 2012.
Stewart, who founded a lifestyle and home merchandising company, was convicted in 2004 on charges related to insider stock trading. Stewart sold stock based on a nonpublic tip she received and avoided a loss on her shares of ImClone Systems, according to the Securities and Exchange Commission. She was found guilty at trial on several felony charges, including conspiracy and making false statements to federal investigators, and was sentenced to five months in prison. She was released in 2005.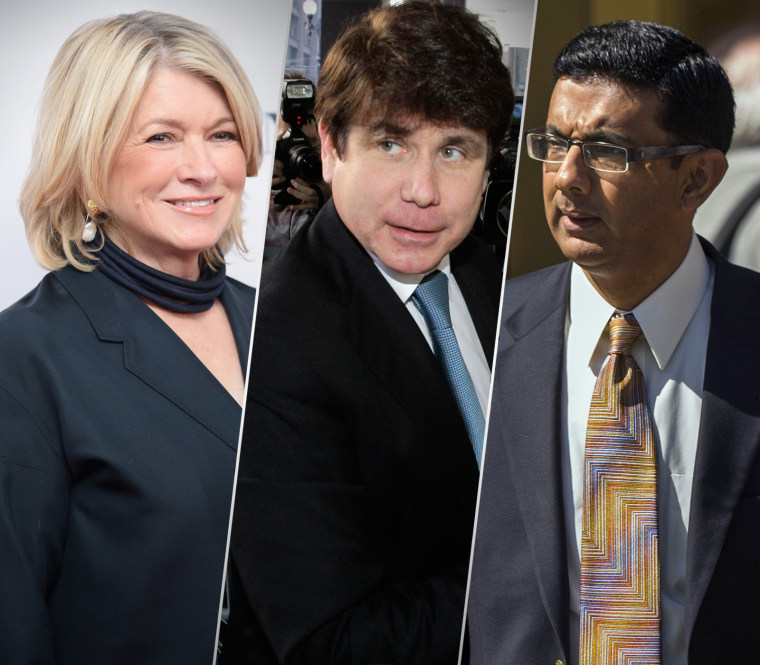 Blagojevich, a Democrat, was impeached and removed from office in 2009 on corruption charges related to his solicitation of bribes in an attempt to "sell" Barack Obama's open Senate seat. He was sentenced to 14 years in prison and is serving his term at the low-security Federal Correctional Institute in Englewood, Colorado.
"There's another one that I'm thinking about, Rod Blagojevich," Trump told reporters Thursday on Air Force One, saying that Blagojevich had received a lengthy sentence "for being stupid and saying things that every other politician, you know, that many other politicians say."
"There was a lot of bravado. ... plenty of other politicians have said a lot worse. And it doesn't, he shouldn't have been put in jail. And he's a Democrat. He's not my party. But I thought that he was treated unfairly."
The president may have been referring to what the then-governor was picked up saying on secret federal wiretaps about his authority to appoint someone to Obama's seat.
"I've got this thing and it's f---ing golden," Blagojevich said in the conversation with another state official on tapes that were played in court. "And I'm just not giving it up for f---ing nothing."
Trump also suggested he was more interested in "curtailment" of Blagojevich's sentence than in granting a full pardon.
Former FBI director James Comey, whom Trump fired last year, had brought the charges against Stewart, who hosted a spinoff of Trump's reality TV show, "The Apprentice," in 2005. Blagojevich was a contestant on "The Apprentice" in 2010.
The president's talk of pardons and commutations came the day after reality television star Kim Kardashian West went to the White House to press for prison reform and a pardon for Alice Marie Johnson, who is serving a life sentence for a first-time conviction on drug-trafficking and moey-laundering charges. Trump has not said what he will do about Johnson.
Trump has granted four pardons to date:
D'Souza made news most recently when he ridiculed the survivors of the Parkland, Florida, school shooting after the Florida House's decision not to consider a ban on so-called assault weapons.
"Worst news since their parents told them to get summer jobs," D'Souza wrote on Twitter. He later apologized.
"I'm very relieved to have my record clean in a way that fully restores my faith in America, my American dream," D'Souza said in an interview on Laura Ingraham's radio program Thursday after Trump's announcement, in which he accused the Obama administration of having "gangsterized" politics.
Preet Bharara, the former U.S. attorney for the Southern District of New York whose office prosecuted D'Souza, said Thursday that D'Souza got a fair shake from the justice system.
"The president has the right to pardon but the facts are these: D'Souza intentionally broke the law, voluntarily pled guilty, apologized for his conduct & the judge found no unfairness," Bharara tweeted. "The career prosecutors and agents did their job. Period."
D'Souza claims that he was targeted by the Justice Department for his political leanings, even though he admitted in court that he broke the law and expressed remorse for it.
Trump's intention to pardon D'Souza might be an attempt to signal to potential witnesses in special counsel Robert Mueller's Russia probe that there's an incentive to remaining loyal, Harvard law professor Laurence Tribe said Thursday.
"Trump's Dinesh D'Souza pardon today, on top of his pardons of Scooter Libby and Joe Arpaio, make sense only as an elephant-whistle to Michael Cohen & all who know damning things about Trump: protect me & I'll have your back," Tribe wrote on Twitter. "Turn on me & your goose is cooked. More obstruction!"
Asked whether there was a connection between the pardon and the Russia probe, White House deputy press secretary Raj Shah said, "Each of the president's actions on pardons or on other things should be judged on the merits, looking at the facts and the circumstances surrounding that case."