WASHINGTON — President Joe Biden said the blowback over his calling President Xi Jinping of China a "dictator" would not undermine recent diplomatic progress between Washington and Beijing. 
"The answer to your question is no," Biden said during a White House news conference on Thursday when asked if his comments were damaging to U.S.-China relations, dismissing the riff as "an incident that caused some confusion." 
"I don't think it's had any real consequence," Biden added. 
The president said he expects to meet with Xi "in the near term."
Earlier Thursday, the Chinese Embassy said the country's ambassador to the U.S., Xie Feng, had made "strong protests" to senior White House and State Department officials.
In a statement, Chinese Embassy spokesperson Liu Pengyu called the remarks "erroneous, absurd and irresponsible," and warned that the Chinese government "does not accept any political provocation against China's top leader and will resolutely respond."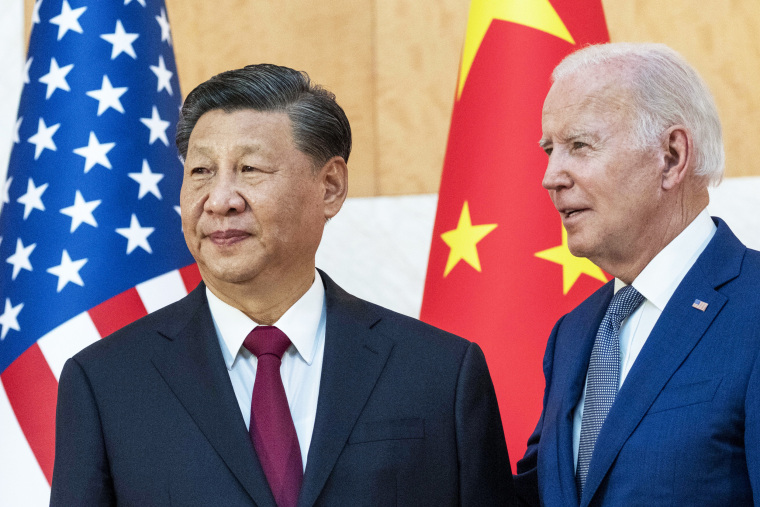 Biden's "dictator" remarks came Tuesday during a campaign fundraiser in California, suggesting China's leader was embarrassed because he did not know about the alleged Chinese spy balloon that had traversed the U.S. in February.
"The reason why Xi Jinping got very upset in terms of when I shot that balloon down with two box cars full of spy equipment is he didn't know it was there," Biden said. "That's a great embarrassment for dictators, when they donvt know what happened. That wasn't supposed to be going where it was."
In the statement, Liu denounced Biden's comments as a "smear" that "seriously contradicts basic facts, breaches diplomatic etiquette" and "infringes on China's political dignity."
"We urge the U.S. side to immediately take earnest actions to undo the negative impact and honor its own commitments," the Chinese spokesperson said. "Otherwise, it will have to bear all the consequences."
Biden's comments came just days after his top diplomat concluded meetings in Beijing including with Xi. Standing alongside Secretary of State Antony Blinken, Xi praised the visit, saying the two countries had "made progress" and "reached agreement on some specific issues," describing the outcome as "very good." 
Speaking to reporters shortly after the meetings, Blinken also said the U.S. and China had made progress and agreed "on the need to stabilize our relationship."
But in the statement Thursday, the Chinese government said Biden's comments "run counter to the commitments made by the U.S. side, and undermines mutual trust. The nature and impact are very negative."
The statement continued, "With the latest irresponsible remarks about China's political system and top leader, people cannot help but question the sincerity of the U.S. side."
The State Department downplayed the significance of Biden's remarks. 
"It should come as no surprise, of course, that we have differences and disagreements with the PRC," Vedant Patel, the State Department deputy spokesperson, said Wednesday, using the acronym for the People's Republic of China. "And the president believes that diplomacy, including this recent trip undertaken by the secretary, is a responsible way to manage tensions, clear up misperceptions, avoiding miscalculations, and all of this is in our interest to do that."