WASHINGTON — The United States is speaking with "one voice" on North Korea, the State Department said Wednesday, after President Donald Trump's promises one day earlier of "fire and fury" in response to Pyongyang's nuclear provocations.
"The United States is on the same page, whether it's the White House, the State Department, the Department of Defense, we are speaking with one voice," State Department spokeswoman Heather Nauert said Wednesday.
One day earlier, during a short press availability with reporters at his Bedminster Golf Club, Trump promised further North Korean threats against the United States "will be met with fire, fury and frankly power the likes of which this world has never seen before."
Trump's remarks — which the White House says were the president's "own" words — came after reports that U.S. officials believe North Korea has developed a miniature nuclear weapon capable of fitting onto a missile. However, a U.S. official briefed on the assessment says the advancement does not mean North Korea has a nuclear-tipped intercontinental ballistic missile (ICBM) that can survive reentry accurately.
North Korea's state news agency released a statement Thursday Pyongyang time calling Trump's "fire and fury" comments "senile" and said Trump "was cooped up at the golf course and was clueless about how things are developing."
The state news agency said in a statement attributed to a commander of North Korea's army that "only the absolute force talks with someone" and that it "will continue to monitor the words and actions of the U.S.," according to an NBC translation.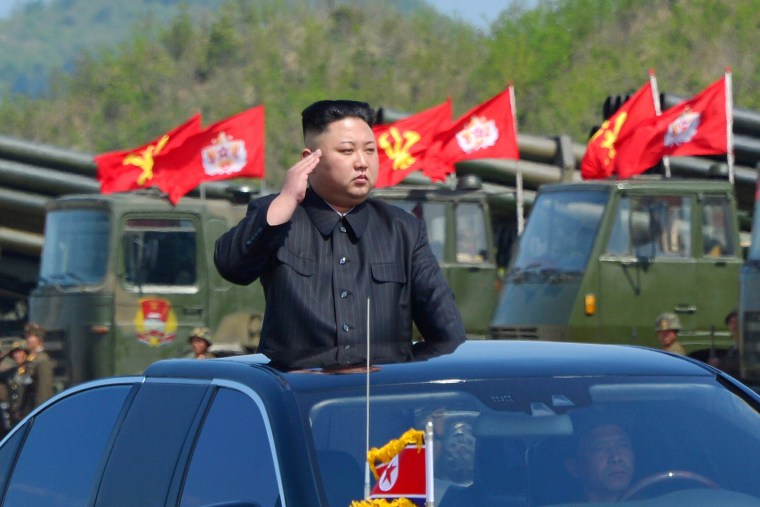 Secretary of State Rex Tillerson, en route to Guam Wednesday morning said the president "was sending a strong message to North Korea in language that Kim Jong Un would understand because he doesn't seem to understand diplomatic language." North Korea's state run news agency said that nation's government is "seriously reviewing" a plan to strike Guam, a U.S. Pacific territory.
Tillerson also said Americans "should sleep well at night" when asked by reporters if people should be worried about the looming nuclear threat from North Korea — striking a starkly different tone from Trump's earlier comments.
Experts and lawmakers, including Senator John McCain, R-Ariz., Senator Dianne Feinstein, D-Calif. and Sen. Jack Reed, D-RI, the ranking member of the Senate Armed Services Committee, criticized the president's comments as intensifying an already uneasy situation.
"The President's 'fire and fury' ad lib was not helpful," Reed said in a statement. "Defusing the North Korea threat will take smart, steady leadership and stronger diplomatic ties with our key allies."
Nauert said that the president spoke with his Secretary of State after Trump's "fire and fury" statements, but was unclear about whether the two men spoke before Trump made those comments. The two men have "ongoing conversations," she added.
Defense Secretary James Mattis also put out a statement Wednesday urging North Korea to "stop isolating itself and stand down in pursuit of nuclear weapons."
"The DPRK should cease any consideration of actions that would lead to the end of its regime and the destruction of its people," Mattis said in the statement.
Mattis also stressed that while the State Department is seeking a diplomatic resolution, the U.S. and its allies are prepared to defeat any armed threat.
"The DPRK regime's actions will continue to be grossly overmatched by ours and would lose any arms race or conflict it initiates."