WASHINGTON — For Sarah Huckabee Sanders, chaos in President Donald Trump's White House has proven to be a ladder.
Not that she would call it that.
Just days after she replaced Sean Spicer as press secretary in July — a job she'd been moonlighting in for months — Communications Director Anthony Scaramucci was also out the door.
It looked like an administration in turmoil, but Sanders faced the press corps with a smile.
"If you want to see chaos, come to my house with three preschoolers. This doesn't hold a candle to that," Sanders said. "Just to be clear, that's not an open invitation to come to my house. But if you guys want to schedule babysitting time, I'll be happy to work that out."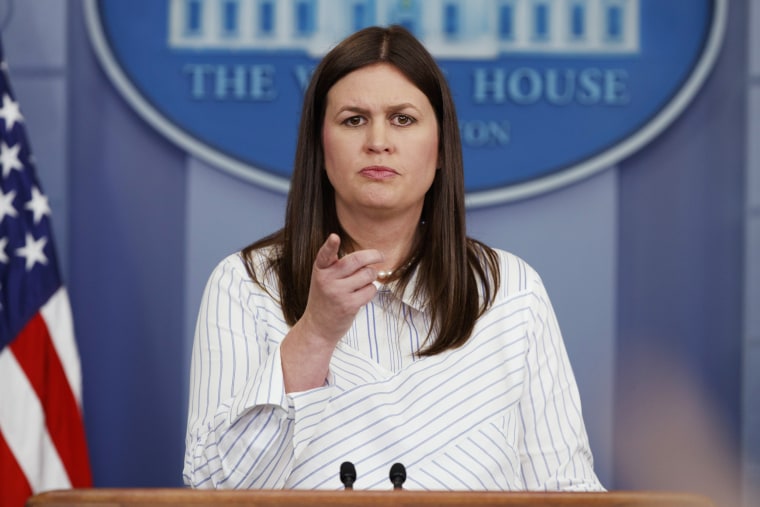 The laughter from the White House reporters was an early indicator of cooler, less contentious briefings to come as women ascended in a White House communications office that had seen unprecedented turnover and no shortage of drama in the early days of Trump's term.
For the first time in any administration, two women are now in command of its top public-facing roles — press secretary (Sanders) and communications director (Hope Hicks). And thanks to another recent hire — Mercedes Schlapp as a senior communications strategist — women now make up 62 percent of Trump's small but nimble press operation.
They say it makes a difference.
"You're able to take [the president's strength] and then mix it with a bit of softness," said Schlapp, the department's newest addition.
Both Hicks and Sanders are familiar with the disconnect that their rise might present to some.
Trump is a thrice-married president whose private, public and professional interactions with women have often been called into question. His campaign against Hillary Clinton was marked by vitriolic attacks, including on her stamina, that critics viewed as sexist, as well as allegations of sexual misconduct that rocked the final weeks of the campaign. And there were his attacks on former Miss Universe Alicia Machado and Megyn Kelly, then of Fox News ("blood coming out of her wherever"), as well as the "Access Hollywood" tape.
"I spend a lot of time around the president, and I've never felt anything but respected and empowered by him to do my job," Sanders told NBC News. "Can he be tough? Yes. But he's equally tough on men. People want to say 'Oh, he's tough on women' — no, he's tough on everybody."
Kellyanne Conway, the counselor to the president, said it wasn't a surprise that Sanders, Hicks and other women would take on more visible roles in the White House.
"That is just natural for Donald Trump to hire and elevate women to high positions," she said, citing his history with the Trump Organization and his 2016 campaign.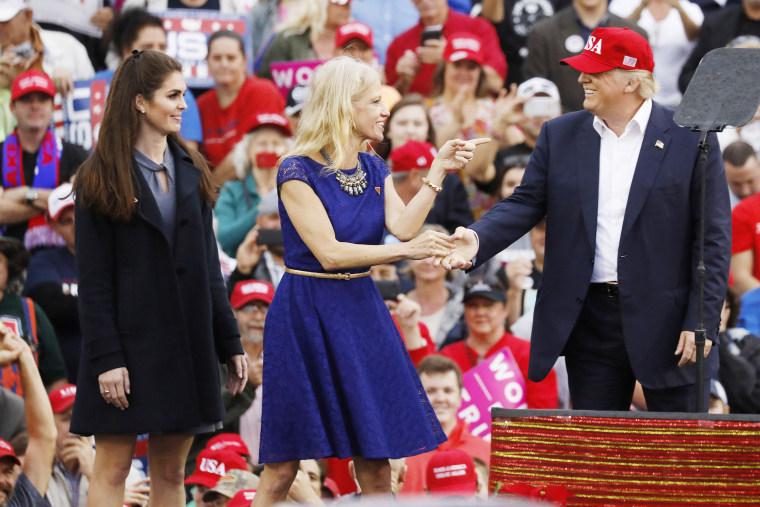 As Trump's campaign manager, Conway watched cable news mention the "Access Hollywood" tape "every single day, if not every single hour," in October and November, only to find that "voters decided differently between what offends and what affects" them, she said. With Trump's victory, Conway won one of her own, becoming the first woman to manage a successful White House campaign.
As for Trump's high-profile attacks on women on the trail, Conway argued that they weren't indicative of misogyny but rather represented the famously combative "counterpuncher" reacting to someone who drew first blood.
Now, women are in charge of channeling his message, both in front of the camera and behind the scenes.
Trump's isn't the first administration to give women a role in shaping its voice. Four of President Barack Obama's five communications directors were women, as were half of President George W. Bush's.
Press secretaries in those administrations tended to be male, however. The Obama administration placed three men behind the White House podium over two terms, while the Bush administration ended with Dana Perino after three men had the job before her.
Overall, communications and public relations have always been friendly fields for women, said Martha Joynt Kumar, a professor of political science at Towson University in Maryland and author of "Managing the President's Message: The White House Communications Operation."
However, she added, having Hicks and Sanders atop the hierarchy is a mark of "progress in bringing in women at the senior level in a White House."
Jaclyn Friedman, founder of Women, Action & Media (WAM!), which advocates for gender equity in the media, said the benefit for Trump was that a female team of communicators "makes him look softer and more egalitarian."
While a raft of high-profile departures and subsequent hiring announcements has pushed the gender makeup of the communications office into the spotlight, some of those staffers said they hadn't realized the historic nature until it was pointed out.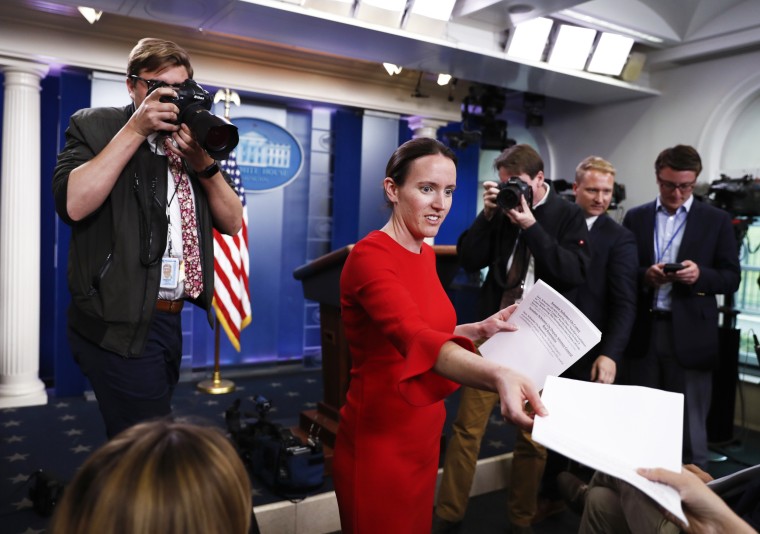 "I don't know that this team has ever looked at gender," said Deputy Press Secretary Lindsay Walters, a veteran of the Republican National Committee's communication department. "You should want a seat at the table as a female because you are qualified to be at the table ... not because it's a pity card. And I think you're seeing that here."
Still, multiple staffers said the result of the women-dominated press office was an environment that prized collaboration and welcomed a diversity of opinions.
"Everyone's encouraged to speak up. Everyone's encouraged to participate," said Helen Aguirre Ferré, the White House's media affairs director.
Is that a notably female characteristic?
"It's unique to our communications press team," she said, pausing briefly before adding with a smile, "who happen to be headed by women."
But while the press office is 62 percent female, Trump's Cabinet is 83 percent male, with men serving in 19 of 23 filled Cabinet posts. And of the 42 U.S. attorneys Trump has nominated, only one is a woman, Buzzfeed reported. Although Conway advises on policy, the communications shop by and large does not.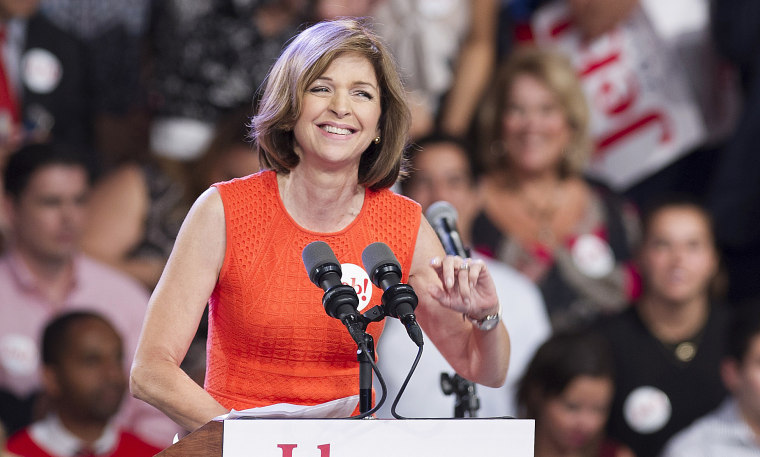 According to Friedman, the elevations of Sanders and Hicks followed a trend often seen in embattled companies called the "glass cliff phenomenon" — bringing in female leaders in times of crisis or when the possibility for success is low.
"Obviously, it's great to have women in leadership positions, especially high-profile ones where you're going to see that person on TV a lot," she said, but for this White House, it took "several rounds of dudes" failing to get to a point where women were elevated.
Conway said: "Women sometimes have to come in in the second wave."
She added that it can take time before people realize that it's among the women in the office "where the toughness and the smarts and the production and the deliverables and the lack of ego lie. And sometimes it takes that second round, the first layer peels off, and boom."
Regardless of how long it took for the "boom," the women close to the president repeatedly pointed to his track record in the private sector of promoting women in the Trump Organization.
"President Trump really does hire based on the job you do and on your performance," Hicks said days before her title shifted from "interim" to permanent communications director.
And Sanders said that while it's "certainly exciting" to make history, "I don't think it has anything to do with me, but it has everything to do with who he is."
"You've got a guy who really wants to do more to help working moms and working women, and I don't think there's any better example that he could show than empowering the ones within his own administration," she said.