"1917," Sam Mendes' searing portrait of World War I, and "Once Upon a Time ... in Hollywood," Quentin Tarantino's love letter to the late 1960s, took home top honors at the 77th Golden Globe Awards on Sunday, capping off a ceremony that ran for just over three hours and featured a mix of ribald jokes, stirring speeches and stunning upsets.
Here's a look at eight key moments from Hollywood's second-biggest night:
Ricky Gervais amuses and offends in his opening monologue
The sharp-witted, foul-mouthed, unapologetically fiendish British comedian kicked off the show with a monologue that earned a few laughs but mostly seemed to leave the crowd paralyzed.
"Remember, they're just jokes," Gervais said at the start of the ceremony in Beverly Hills, California. "We're all going to die soon — and there's no sequel."
Gervais, true to form in his fifth hosting stint, quickly turned to making fun of high-profile celebrities in the audience — and at least one who was notably absent.
"I came here in a limo, and the license plate was made by Felicity Huffman," Gervais joked, referring to the former "Desperate Housewives" star who served a prison sentence for her role in the college admissions scandal.
Gervais seemed to recede from the limelight as the show went on, appearing only for brief introductions to categories and interstitial one-liners. He ended the night the way he began it, telling the crowd to "Get drunk, take your drugs and f--k off."
'Parasite' director makes a plea for foreign-language cinema
Bong Joon Ho, the celebrated South Korean auteur behind "Parasite," provided one of the most memorable quotes of the night.
In his speech accepting the award for best foreign-language film, Bong said viewers in the crowd and at home should not be intimidated by any movie just because the dialogue is not in English.
"Once you overcome the 1-inch-tall barrier of subtitles, you will be introduced to so many more amazing films," Bong said through a translator who accompanied him to the stage.
"Parasite," a twisted tale of class warfare and economic inequality, has earned rave reviews and quietly scored at the domestic box office. It could notch a nomination for best picture at the Oscars next month.
Ellen DeGeneres looks back on her career, tips hat to Carol Burnett
DeGeneres offered some sweet but winking reflections on her career during her speech accepting the Carol Burnett Award for Excellence in Television.
She suggested that it took several years to find her footing in the entertainment industry, especially after she made television history by coming out as a lesbian on her sitcom.
"I had a sitcom, and I lost that sitcom. Then I had another sitcom, and I lost that sitcom, too," DeGeneres said. "I got to do something I always wanted to do: Make whiskey. Then I got a talk show ... and I was able to be myself."
"I feel like you all have gotten to know me. I'm an open book," she added.
She then nodded to her sexual orientation, thanking a nonexistent husband in a gag the audience seemed to love.
"I couldn't have done it without my husband, Mark. Mark, you are my rock," DeGeneres said as the camera cut to her wife, "Arrested Development" actress Portia de Rossi.
DeGeneres later paid tribute to Burnett, a comedy legend for whom the honorary award is named.
Patricia Arquette laments U.S. 'on the brink of war' with Iran
Arquette, who won a Globe for her supporting role on the unsettling Hulu series "The Act," described the United States as a nation "on the brink of war" amid mounting tensions with Iran.
The actress, a vocal critic of the Trump administration, called on the audience to "beg and plead for everyone we know to vote in 2020."
"I'm so grateful to be here and celebrate this, but also I know tonight, January 5, 2020, we're not going to look back on this night. ... In the history books, we will see a country on the brink of war."
She later added: "While I love my kids so much, I beg of us all to give them a better world."
Arquette frequently makes rousing pleas for social justice and political action in her awards acceptance speeches.
When she won an Oscar in 2015 for her supporting part in "Boyhood," she called for pay equity for women. In her Emmy acceptance speech last year, she decried the persecution of transgender people.
Tom Hanks sheds a tear and moves viewers to tears
Hanks, accepting the Cecil B. DeMille Award, treated the audience to a heartfelt speech that smoothly veered from wisecracks to tender appreciation of his family and friends.
"Most of the people in this room, I would pay to see them get their cars washed," Hanks said near the top of his speech.
The actor, beloved for his Everyman screen persona and old-fashioned charm, appeared to break down at one point before addressing his wife, the actress Rita Wilson.
"A man is blessed with a family sitting down front like that," he said. "I can't tell you how much your love means to me."
Hanks also apologized for having a cold, acknowledging that he had taken some cold medication before the ceremony.
He was introduced by the actress Charlize Theron, who had a small role in his directorial debut, "That Thing You Do!" — a movie that was included in a slew of clips featured in an affectionate career highlights reel.
The Cecil B. DeMille Award has also been bestowed on Oprah Winfrey, Meryl Streep, Jeff Bridges and George Clooney.
Michelle Williams tackles women's rights, the 2020 election
Williams, honored for her lead role on the FX miniseries "Fosse/Verdon," delivered an eloquent and incisive acceptance speech that touched on issues close to her heart.
She said she could not have reached her level of career success without having access to "a woman's right to choose, to choose when to have my children, and with whom. When I felt supported and able to balance our lives, knowing as all mothers know that the scales must and will tilt towards our children."
Williams, who is pregnant, acknowledged that her personal choices might be different from those of others in the crowd or viewers at home.
"But thank God, or whoever you pray to, that we live in a country founded on the principle that I am free to live by my faith and you are free to live by yours," Williams said. "So women 18 to 118, when it is time to vote, please do so in your own self-interest."
"It is what men have been doing for years, which is why the world looks so much like them," she added. "Don't forget we are the largest voting body in this country. Let's make it look more like us."
Awkwafina wins for 'The Farewell' — and makes history
The rapper and actress Awkwafina became the first woman of Asian descent to win a Golden Globe for best actress in a comedy film, earning the trophy for her performance in the family dramedy "The Farewell."
"If I fall upon hard times, I can sell this, so that's good," she said before going on to thank the film's director, Lulu Wang.
"You gave me this chance, the chance of a lifetime," she said. "Just filming this story, being with you, is incredible."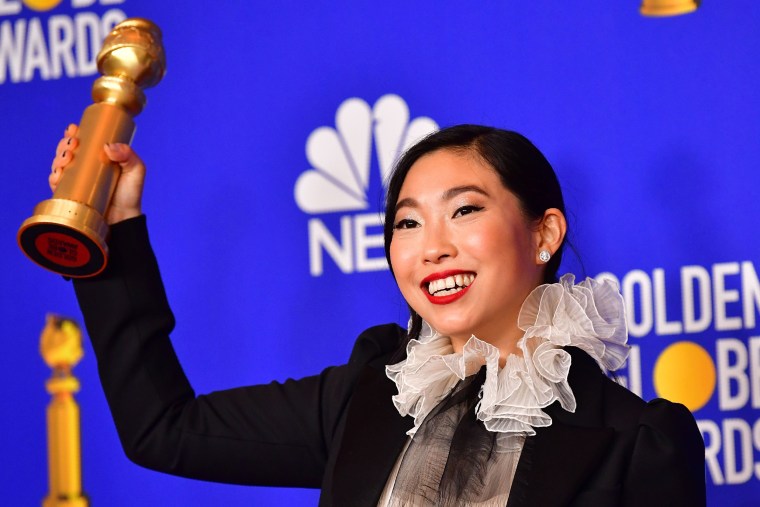 Awkwafina, who rocketed to fame after she co-starred in the blockbuster rom-com "Crazy Rich Asians," dedicated the award to her father, her grandmother and her late mother.
"I'd like to dedicate this award to my dad, Wally," she said. "I told you I'd get a job, Dad."
'1917' beats 'The Irishman,' and Netflix doesn't dominate
"The Irishman," Martin Scorsese's sweeping gangland saga, went into the night as the favorite to win one of the most coveted honors: best film drama.
But those expectations were dashed with an upset victory for "1917," a relentless and powerful action drama about a pair of courageous British soldiers in World War I. The film's director, Sam Mendes, also beat out Scorsese in the best director category.
"I really hope this means people will turn up and see it on the big screen, the way it was intended," Mendes said, accepting the best drama film award. ("1917" received a limited theatrical release in select cities near the end of 2019, but it goes into wide release this month.)
"The Irishman," seen by some critics as Scorsese's late-career magnum opus, was completely shut out of the Globes, falling short in all the categories in which it was nominated — and the movie's distributor, Netflix, came close to being shunned, too.
The streaming giant went into the night with a commanding 34 total nods — more than any other studio — but it ended up with just two: Laura Dern won for her turn as a divorce lawyer in "Marriage Story" and Olivia Colman was recognized for her portrayal of Queen Elizabeth II on "The Crown."