Jimmy Kimmel kicked off the 90th Academy Awards with pointed one-liners about the upheaval in Hollywood, from the #MeToo movement and the fall of Harvey Weinstein to debates over pay inequities.
The wave of sexual misconduct allegations that has roiled the film industry in recent months cast a long shadow over the Oscars, which are airing live on ABC.
Kimmel joked that the golden Oscar statue is the ideal man in Hollywood: "He keeps his hands where you can see them, never says a rude word — and most importantly, no penis at all. He is literally a statue of limitations."
In the midst of the snark, Kimmel also struck an earnest tone during his opening monologue. He condemned workplace abuses and praised the legions of accusers for sharing their stories.
"We can't let bad behavior slide anymore," he said. "The world is watching us. We need to set an example."
Scandals in the spotlight
Three actresses who have accused Weinstein of sexual misconduct — Ashley Judd, Salma Hayek and Annabella Sciorra — took to the stage to celebrate the "unstoppable spirits" who have come forward with allegations of assault or harassment.
They presented a video segment about diversity and inclusion that featured Mira Sorvino, an Oscar-winning actress who has also accused Weinstein of harassment.
The organizers of "Time's Up," an initiative to battle sexual misconduct, did not stage another fashion protest, as they did by wearing black at the Golden Globes.
"We're here to celebrate, and it's something to celebrate how much this movement has grown in less than six months," said #MeToo founder Tarana Burke on the red carpet. "There's no need for a dress code. We did the dress code thing and now we're doing the work."
The contenders
The best picture race this year is unusually wide open — and that could make for suspense in the final minutes of the broadcast.
The whimsical fable "The Shape of Water" and the caustic revenge drama "Three Billboards Outside Ebbing, Missouri" have been pegged by some pundits as good bets for the top prize. But the satirical horror smash "Get Out," "Dunkirk" or the coming-of-age comedy "Lady Bird" could score an upset.
"There is no one film that the academy has coalesced around," said Matthew Belloni, editorial director of The Hollywood Reporter. "There are five movies that legitimately could win best picture, and each have their backers."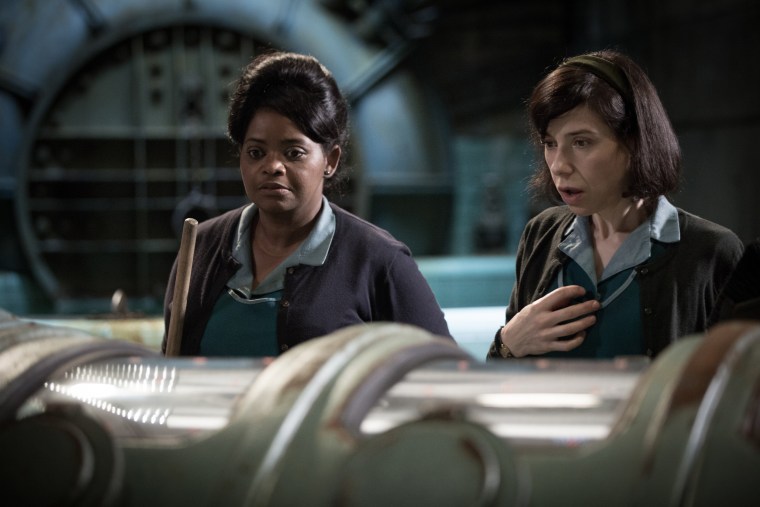 The remaining acting trophies are widely expected to go to Frances McDormand (best actress, "Three Billboards") and Gary Oldman (best actor, "Darkest Hour").
Hollywood legends Warren Beatty and Faye Dunaway will reportedly return to present the best picture award, a year after they were handed the wrong envelope and incorrectly announced "La La Land" as the victor instead of "Moonlight," the actual winner.