Many of the Phoenix Zoo's 3,000 animals are used to hot weather. Still, with the city reaching a record 21 consecutive days of temperatures at 110 F or higher, zookeepers are having to get creative. 
That means everything from fans and misters to frozen treats like ice pops for most animals and blood-sicles — frozen blood refreshments — for the carnivores, said Drew Foster, the zoo's director of living collections.   
"Even when it is incredibly hot, the staff still has to be here to take care of animals," Foster said. "Instead of closing the zoo, we give animals access to climate-controlled areas and give them the care they need."
Millions of Americans are in the midst of a multiweek heat wave, with record-breaking temperatures being recorded from the desert Southwest to Florida. 
Animals are just as susceptible to the heat as people, and the National Weather Service has issued excessive heat warnings across the U.S., urging those in the heat wave's path to stay hydrated, wear appropriate clothing and stay indoors when possible.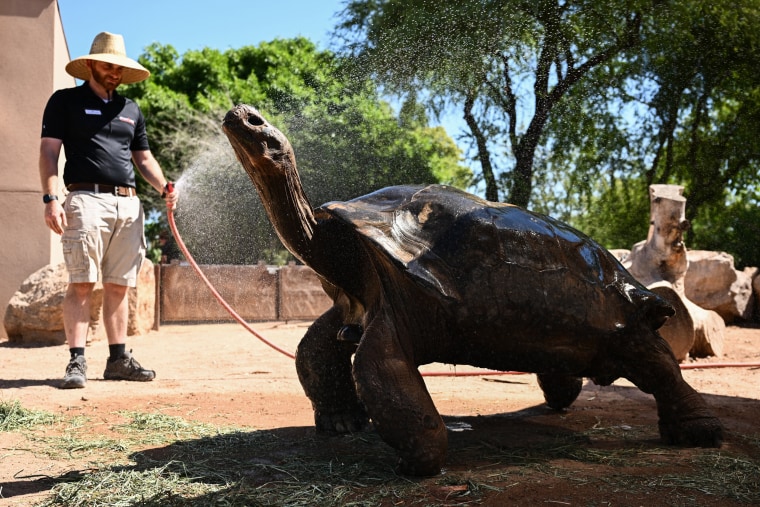 Zookeepers are particularly sensitive to these challenges, often having to care for a wide variety of animals with varying needs. 
Phoenix zookeepers set careful temperature parameters and tailor heat plans for all animals under their care, Foster said. The horned rhinos, elephants and tortoises love water showers, while many of the big cats prefer a gentle misting. Zookeepers carefully monitor animals for signs of heat stress, such as panting.
Given the extreme heat, the Phoenix Zoo has also shifted its hours from 7 a.m. to 1 p.m., opting to welcome visitors during the coolest parts of the day and closing certain enclosures when necessary. The zoo has, however, stopped short of completely closing.
At the Houston Zoo, where temperatures continue to skirt 100° F, staff has maintained its opening hours. Most of the zoo's animals come from warmer climates, but zookeepers are keeping a close eye on those that are less tolerant of heat — feeding the sea lions cold gelatin and ice and providing apes, monkeys and gorillas with climate-controlled rooms and shower pools.
"One of our gorillas in particular loves the shower pool. It kind of looks like a person sitting in a hot tub," said Kevin Hodge, the zoo's vice president. "It's really cute."
Many zoos are coping with how to adapt to a much hotter future, as global warming continues to affect the frequency and duration of heat waves. One analysis found that climate change has made extreme heat five times more likely in the Southwest.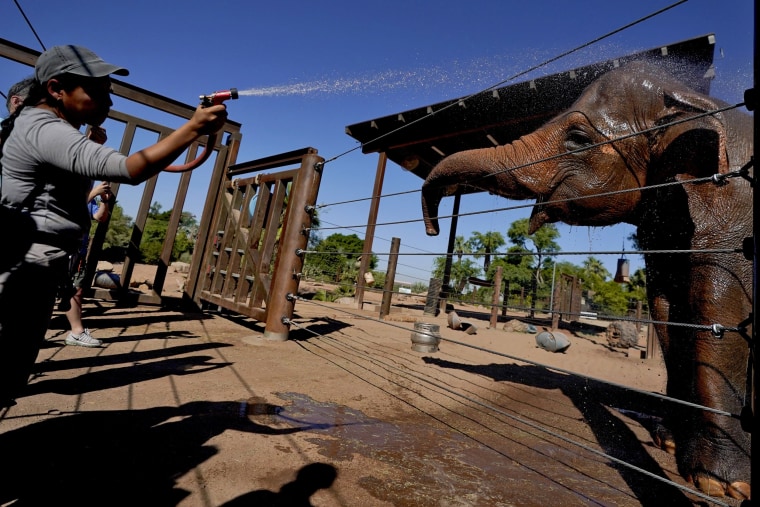 At the Dallas Zoo, where temperatures are routinely reaching the triple-digits, climate change comes up frequently in conversations about planning and adaptation.
"We definitely keep in mind that this is how things probably are going to be going forward," said Anne Burgdorf-Moisuk, a veterinarian and the associate vice president of animal health and welfare at the Dallas Zoo. "And we're going to have a lot of these hot summer days. So, how can we take care of our animals and also provide our guests with a great experience? How do we keep our animals safe and healthy?"
Part of the solution for the Phoenix Zoo includes conserving water for their animals, particularly because the facility is in an increasingly hot and dry desert climate, Foster said.
And in Dallas, the zoo is preparing for the future by more conscientiously planning animal enclosures and exhibits. 
"We make adjustments and adaptations to our exhibit designs, and we have room in our budget for adjustments to extreme weather," Hodge said. "Last summer, our howler monkeys were having a harder time in the heat than we anticipated, so we brought in temporary air conditioning. This summer, we made sure to install permanent air conditioning for the howler monkeys."