At Penguin Air, Plumbing & Electrical in Phoenix, the brutal heat calls for all hands on deck.
With the Southwest in the grips of a severe heat wave, and with temperatures in Phoenix expected to reach 118 degrees Fahrenheit over the weekend, the locally owned company is preparing for the worst.
"We know that when it's 119 degrees out, that means it's going to be 120 [degrees] plus in your home," said Jay Kline, the general manager at Penguin Air, Plumbing & Electrical. "We're making sure that we have as much coverage as we can to help if people's air conditioners break in this crazy, extreme heat."
Phoenix is just one city bracing for blistering temperatures this week and heading into the weekend. Record high heat is expected to build across the region, with many spots across the Southwest projected to see temperatures well over 110 F on Saturday and Sunday.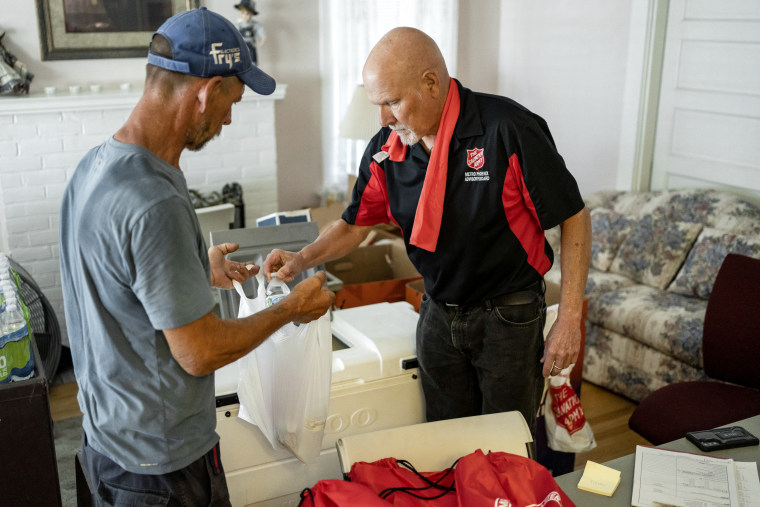 Around 84 million people in the United States are under heat alerts Thursday, stretching from the West Coast across the Southern Plains and into South Florida. In places that are expected to be hardest-hit by extreme temperatures, local officials are racing to prepare residents for the onslaught of heat.
Dr. Kai Singbartl, hospital medical director for the Mayo Clinic in Arizona, said he has not seen an uptick in hospital visits for heat-related illnesses, but warned that people should avoid exposure to extreme heat as much as possible and seek help if they experience symptoms of heat-related illnesses, such as weakness, fatigue, dizziness or nausea.
"Any kind of heat-related illness is a medical emergency," Singbartl said. "This can become a life-threatening emergency very quickly. and they should seek help immediately, call 9-1-1 and ask for professional help."
Forecasts show that some parts of Arizona are likely to reach record-high temperatures between 115 F and 120 F over the weekend.
"Please do not underestimate the excessively hot temperatures coming up this weekend," officials at the Phoenix office of the National Weather Service tweeted Thursday.
Rep. Ruben Gallego, D-Ariz., said Phoenix is working on ways to mitigate extreme heat, but added that the federal government "needs to step up."
"I've introduced bills to add extreme heat to FEMA's list of emergencies and increase shade in urban heat islands," he tweeted Thursday.
In Nevada's Clark County, local officials are operating more than 35 cooling centers that offer people respite from the heat. Las Vegas, which is located in Clark County, is expected to hit 116 F on Saturday, and 117 F on Sunday, which could tie the city's all-time hottest temperature record.
At Death Valley National Park, which straddles California and Nevada, high temperatures over the weekend could reach as high as 129 F, prompting the National Park Service to issue a dire warning for anyone planning to visit.
"Drink plenty of water and carry extra," the park service said in an emergency alert. "Avoid hiking, do not hike after 10 am. Travel prepared to survive. In the case of a heat related illness, get to a cool place and seek help immediately."
In Las Cruces, New Mexico, cooling facilities have been opened up at community centers, public libraries and other spots along busy bus routes, said David DuBois, the New Mexico State Climatologist and director of the New Mexico Climate Center.
"Some people don't have air conditioning, so we're focused on just getting people out of the heat," he said, adding that he's most concerned about the elderly, disadvantaged communities and individuals who have to work outdoors.
Together with local health departments, DuBois said his top priorities now are to educate people in New Mexico about the heat risks over the coming days and where they can seek refuge from the scorching temperatures.
"People here are used to hot summers in the upper 90s, but once you get to 105 or 108 — the other day it was 110 degrees in Carlsbad — that's hard on everybody," he said.
At Penguin Air, Plumbing & Electrical in Phoenix, Kline said he is prioritizing the health and safety of the roughly two dozen air conditioning technicians who will be out in the field responding to customer calls this weekend.
"They're working in that heat all day, so we're making sure we provide ice for them, water for them and electrolyte packets," he said. "We try to constantly remind them to drink fluids, because it's hot and heat exhaustion or dehydration sneaks up on you."