A heat alert system is being tested in health clinics across the U.S. this summer in an effort to deliver timely and locally relevant data to health professionals, who can use this information to cut down on heat-related illnesses and save lives in vulnerable communities when heat and humidity soar.
The system, developed by researchers at Harvard University and the nonprofit research group Climate Central, is designed to go beyond existing weather forecasts and text-based alerts to provide more detailed warnings, as well as customizable tools and resources for health providers and their patients.
Unlike traditional forecasts that provide general information on an area's temperature and humidity, the newly launched email alert system identifies potentially dangerous conditions by taking into account a community's specific risks and vulnerabilities, like access to air conditioning or the prevalence of certain pre-existing health conditions.
Currently 17 clinics across the country are participating in the pilot program. The idea is to provide reliable alerts to health care providers a few days in advance, when heat waves are on the horizon. The early notice allows time for doctors to reach out to patients who are especially vulnerable and to prepare their facilities for upticks in heat-related emergencies.
Doctors who are taking part in the pilot program said the system could tackle some of the biggest threats from extreme heat, which causes more deaths each year in the United States than any other type of weather event. Doctors can use the toolkit to develop heat action plans that incorporate a patient's job, economic situation and medical history.
"It helps you set out a very specific plan that goes beyond saying, 'drink a lot of water and sit in the shade,'" said Dr. Sara Fernandez, an internal medicine physician at San José Clinic in Houston, where she has been a volunteer for more than nine years.
San José Clinic, a charity-run facility that caters to low-income or uninsured people in and around Houston, was one of the first places to test out the alert system. Texas and huge swaths of the South and Southwest have been gripped for weeks on end by unrelenting and intense heat waves this summer. 
Dr. Adlia Ebeid, chief clinical officer at San José Clinic, said the new heat alert system allows doctors to be more proactive when extreme temperatures are in the forecast. The goal in adopting such a tool, Ebeid said, is "saving people from ending up in the emergency room, hopefully — and ultimately, saving lives."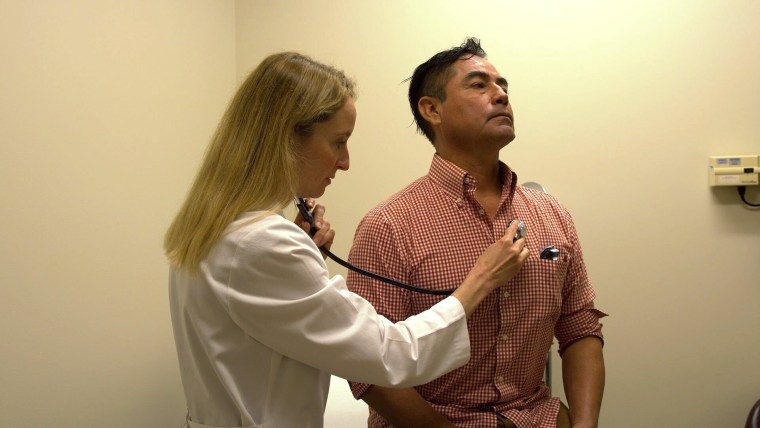 Oscar Ramirez, a construction worker who lives in Cypress, Texas, a suburb located roughly two dozen miles from downtown Houston, benefited from the more personalized care that can come out of the new alert system.
Ramirez said he has been struggling with the unforgiving heat this summer and recently fainted while on the job. Last month he was also forced to miss a week of work due to heat-related health issues. 
In a recent appointment with Fernandez at San José Clinic, Ramirez was taught about symptoms of heat-related illnesses, ways he can incorporate water breaks and time in the shade while working, and even how to detect signs of dehydration in the color of his urine.
The system is designed to be widely used around the country, but focuses on health risks and impacts within local communities. 
"It's very focused on the temperatures that are likely to be stressful for people in the places where they live," said Andrew Pershing, vice president for science at Climate Central.
For instance, in parts of the country that historically have not had as much exposure to extreme temperatures, the threshold for dangerously hot conditions may be at lower temperatures compared to regions like the South or the Southwest.
The system also considers the needs of different communities and their demographic makeup, Pershing added. Alerts will include resources and health information for doctors and patients in areas where air conditioning is less common in homes, or for clinics that cater to patients with certain illnesses and pre-existing conditions, he said.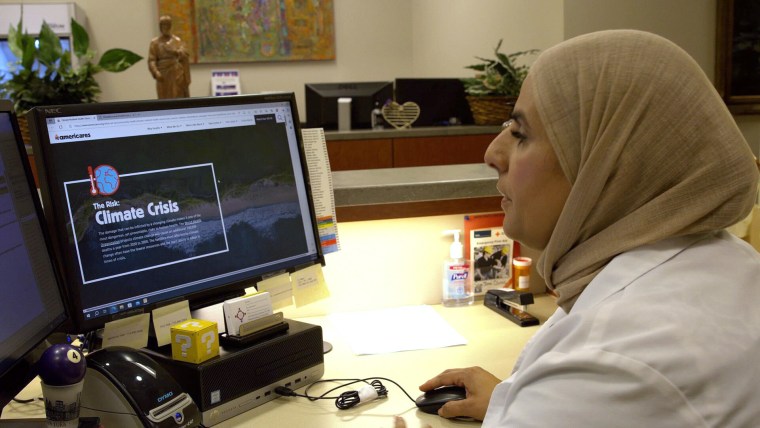 The heat alert system could be particularly useful for doctors and patients in low-income and underserved communities, Pershing said.
"Those are the people who are much more vulnerable, who aren't necessarily going to have air conditioning, who aren't necessarily going to have somebody looking out for them, who may have lots of other stresses in their life that make them more vulnerable," he said.
The alerts are meant to be customized and thus directly applicable for doctors working in their communities.
"The alert system triggers providers at front-line clinics to access an online toolkit, which provides information to providers, patients and administrators of what to do with specific plans in extreme weather, such as extreme heat," said Dr. Sara Fernandez, an internal medicine physician at San José Clinic, where she has been a volunteer for more than nine years.
For places like San José Clinic, which operates on grants and philanthropic donations and does not bill its patients, the heat alerts can be enormously helpful, Ebeid said.
"To have someone who's actually sitting there behind the scenes forecasting and giving us the alerts and giving us the advice alleviates such a huge burden off of the day-to-day ... so we can focus on patient care," she said.
The system, once rolled out on a greater scale, can also fill gaps at the intersection of weather forecasting and public health, which could be particularly valuable in a warming world where heat waves are expected to be more frequent, more intense and longer-lasting.
"Heat is such a challenging thing," Pershing said. "We don't evacuate for heat the way we do for a hurricane. It's this pervasive pressure. We all sort of feel like we can deal with it until all of a sudden you can't."
Denise Chow reported from New York City, and Carlos P. Beltran from Houston.