SEATTLE — For a health system pushed to the brink, Harborview Medical Center's health care workers hardly let it show. 
During a visit to an acute care unit at Harborview on Friday, about half the patients were positive for Covid-19. But doctors weren't pacing the hallways frantically. Some Covid-positive patients could be seen through windows awake and alert. Health workers in N95 respirators calmly suited up in personal protective gear and marched into patients' rooms for treatment as if it were business as usual. 
"Medically, it's not a challenge like it was back in 2020," Isabelle Norville, the charge nurse of an acute care Covid unit at the hospital, said of the omicron surge.
A disease that once struck fear into health workers throughout the Seattle area and around the world has become something that is now routine. The uncertainty of previous waves of infection was less apparent.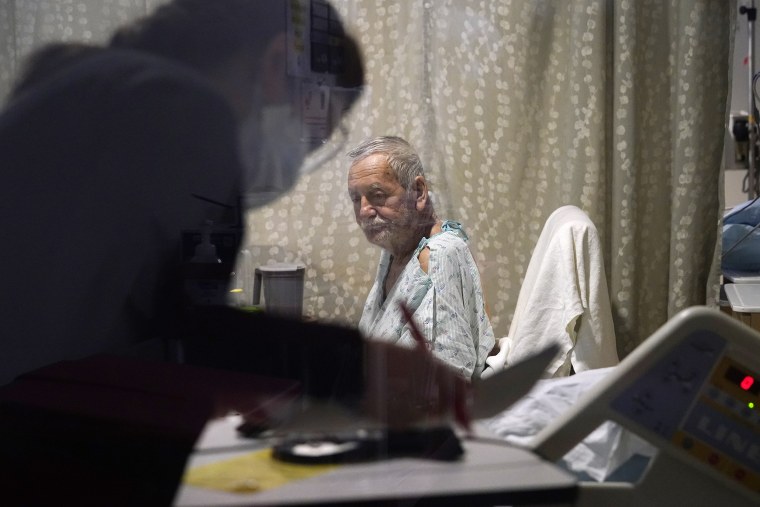 Instead, with Covid hospitalizations climbing to new heights and expanding the hospital well beyond its usual capacity, it was the grind of caring for so many patients that was threatening to break the short-staffed operation.
"I just got back from a vacation a couple days ago, and I already need another one," Jason Naki, a registered nurse, said. "I don't know how long I'll be able to sustain this." 
Added Bibi Martinez, a hospital assistant: "The work's been very heavy." 
"Absolutely exhausted," said Dr. John Lynch, the hospital's medical director of infection control. "The health workforce is nearing a breaking point in a way that's never happened before." 
Even in the Seattle area, where 9 of 10 people ages 5 and older have received at least one dose of a Covid vaccine, the hard math of the omicron surge was setting new records for how many people needed hospital care, further demoralizing the hospital workforce and posing threats to the quality of care. 
Washington hospitals set new records during the pandemic on Thursday, according to an NBC News analysis of U.S. Department of Health and Human Services data. Seven-day averages of adult hospitalizations, pediatric hospitalizations and the percent of inpatients with Covid all reached new highs.
The number of beds used for Covid-positive patients had more than doubled in the past two weeks, from 967 to 2,057, the analysis showed.
Other states face similar numbers. Washington is one of 33 states and territories at a high level of stress, according to data from the Institute for Health Metrics and Evaluation at the University of Washington School of Medicine. Fifteen more states were rated as extreme.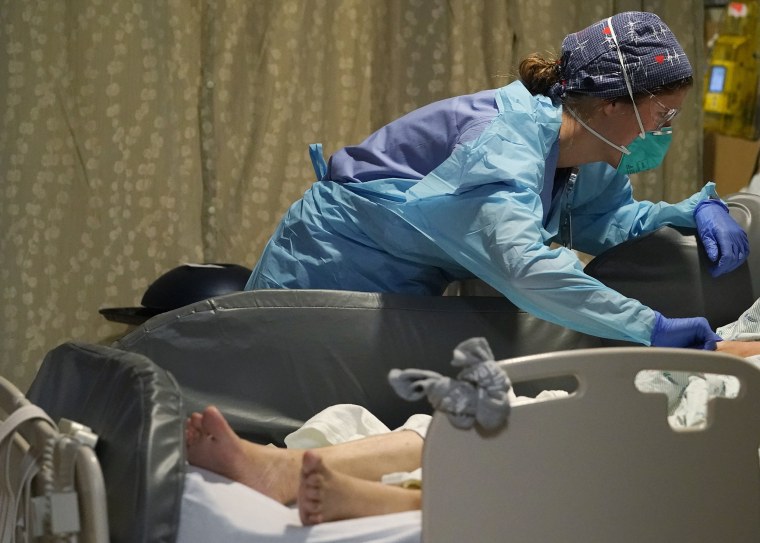 Responding to the surge, Washington Gov. Jay Inslee on Thursday ordered 100 National Guard members to deploy at hospital emergency departments and to run Covid testing sites, including one at Harborview Medical Center.  
Inslee also paused nonemergency procedures, like some surgeries, for a month throughout the state and encouraged retired health care workers to volunteer to help respond to the growing crisis. 
Harborview Medical Center is one of four hospitals in Seattle operated by UW Medicine, a university-affiliated medical system. Across its four campuses, the system counted 194 patients that were Covid-positive Thursday, which is 70 more than the previous high during the peak of the delta wave.  
Harborview, a Level I trauma hospital that typically operates at full capacity, was now stretched well beyond it. 
"This is a 413-bed hospital that has over 500 patients," Lynch said.
The UW Medicine hospital system had begun to convert nonclinical spaces to accommodate the swell of Covid patients, adding beds in conference rooms, hallways and surgery clinics.
Some hospital workers were out sick, complicating matters further. 
Across the UW Medicine workforce, which numbers some 29,000 workers, about 600 were unable to work because they were isolating or quarantining because of omicron, Lynch said. 
Hospital staffing across Washington was concerning enough that he thought some facilities might soon ask staffers not to isolate after a Covid infection, but return to work as soon as they felt better.
Lynch was concerned patient care would begin to falter throughout the state. 
"I am worried that we'd go to crisis standards of care," he said of Washington hospitals. 
Crisis standards are when hospitals are so overwhelmed they cannot provide the typical level of treatment, and organizations are left to triage resources and decide who will receive treatment and who will be left to suffer or even die. 
"The scarcest resources are staffed beds," Lynch said. "The hands of a physician and a nurse and a therapist available for a patient who needs care in the hospital in a bed — that's my biggest concern."
So far, patients at Harborview Medical Center with Covid were faring better than during previous Covid waves. 
"We're seeing less people with ICU Covid," Lynch said. Patients often needed oxygen supplementation, but few required intubation or other drastic lifesaving measures. 
"Overwhelmingly, the patients are in acute care, and it's a mix of people coming in with things like Covid-associated pneumonia and other respiratory problems," Lynch said. 
About 40 percent of patients were asymptomatic for Covid and had been admitted to the hospital for something else, Lynch said. 
"Most of our patients with asymptomatic Covid are vaccinated folks," Lynch said. "A lot of the folks that we see with symptomatic Covid, and certainly folks in critical care, are folks who are unvaccinated."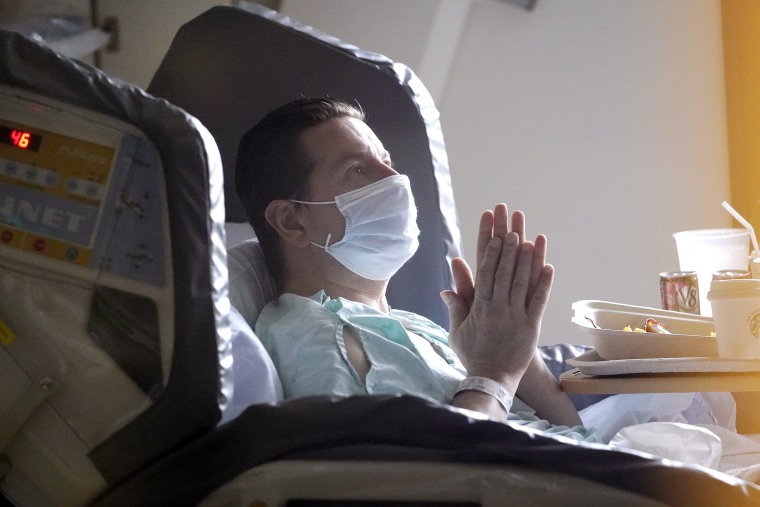 About half of the patients in the 34-person acute care unit on Friday had Covid, Norville, the charge nurse, said. The unit was at capacity, and several patients had to be kept in the hallways earlier that morning. Most of the patients had not been admitted for Covid, but for some other ailment. 
During the omicron wave, "we're not seeing a deterioration of their clinical status as quickly or as often," Norville said.
Covid patients require more work, regardless of symptoms. Nurses must deliver food themselves, take time to don protective gear when entering and keep these patients isolated from others. 
"We're moving into spaces of our facility that we've never moved into before in order to accommodate this number of patients and the needs for those levels of precautions," Lynch said. "The last thing we want to do is make hospitals turn into places where Covid is transmitted."
Lynch said he worries about the next few weeks, as omicron spreads in Eastern Washington, where vaccination rates are much lower and rural hospitals are small and poorly staffed. 
The scene at Harborview on Friday felt far removed from the highs and lows seen during prior visits to Seattle-area hospitals.
During a March 2020 visit to EvergreenHealth, the Seattle-area hospital where the coronavirus outbreak was first discovered in the U.S., hospital workers fumbled while donning their newly assigned respirators. 
Workers were fearful, but resolute. Doctors later likened those early, frightening pandemic days to being in a foxhole together.
In December 2020, during the region's previous peak of Covid-19 cases, the emotion of vaccination took center stage. Some hospital workers wept — with happiness — as they received their shots.
"It's been a long, exhausting road," one ICU nurse had said, believing it was the first step out of a nightmare.
On Friday, emotions at Harborview remained relatively flat. 
"It's surprising to me that even though we've been through a couple of these surges, still how burdensome it feels," Naki, the registered nurse, said. 
The surge was prompting big questions.
"What makes me feel good about my job is delivering good care and being compassionate," Naki said, adding that staffing ratios and the sheer number of patients were making it difficult to provide that. 
"Maybe bedside nursing isn't always going to be in the cards for me," Naki said. "I thought it was, but maybe not. I don't know."