NAME: SJ Sindu
AGE: 30
HOMETOWN: Trincomalee, Sri Lanka
FACEBOOK: SJ Sindu / TWITTER: @sjsindu / INSTAGRAM: @sjsindu
How do you introduce yourself?
My friends call me Sindu. I'm a writer and a teacher. I was born in Sri Lanka and moved to Massachusetts at the age of 7. I currently teach creative writing at Ringling College of Art and Design, and when I'm not doing that, I'm writing or playing board games with my partner.
What inspires you?
Everything. It could be a news story, the way the light filters through the trees outside my window when I wake up, an overheard bit of conversation. I keep a notebook with me at all times so I can write down these ideas. And when I need inspiration, sometimes I look through these books.
But more often, I read for inspiration. Novels, short stories, poetry, essays. I read everything. I like to cram my head with stories and beautiful language. I'm inspired by the way other writers put words together.
What challenges you?
Bigotry. Racism, sexism, homophobia, transphobia, classism, ableism, the legacy of colonialism. All that and the celebration of mediocrity.
Tell us about the biggest risk you ever took.
I'm lucky to be able to say that deciding thick-headedly to become a writer at the expense of other viable career tracks was the biggest risk I ever took.
What are you reading/watching/listening to these days?
I just finished "Sing, Unburied, Sing" by Jesmyn Ward, and "Exit West" by Mohsin Hamid, and right now I'm reading "Kite Runner" by Khaled Hosseini and listening to the audio book of "Idaho" by Emily Ruskovich. Next I'm going to read "Children of Blood and Bone" by Tomi Adeyemi. I'm also really loving the new Queering Desi podcast by Priya Arora and Brown Girl Magazine.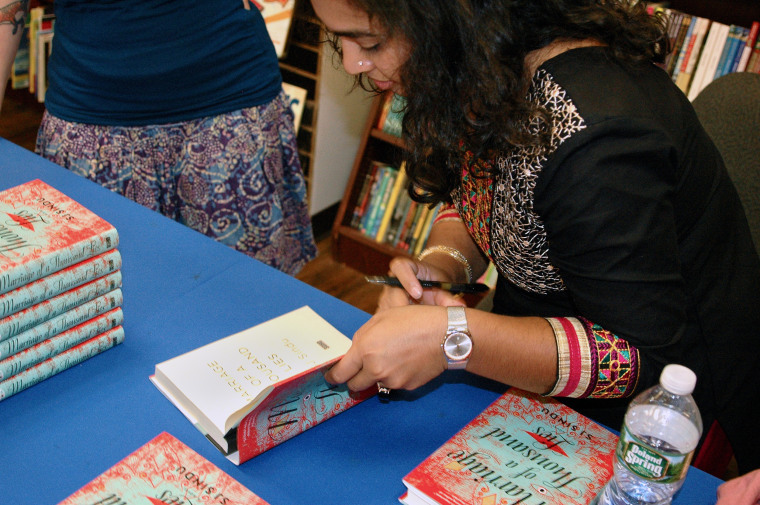 If you weren't doing what you're doing now, what career would you want to pursue?
Honestly, I've had the opportunity to pursue a lot of different careers — web development, graphic design, book editing, medical school, engineering, computer science — and I gave it all up to be a writer and teacher, so I can't imagine doing anything else.
What's your motto?
I think Fatimah Asghar already said this last year, but it bears repeating: Do the work.
I celebrate Asian Pacific American Heritage Month because…
It's important for me to show that there's a lot of diversity in the API community, and a lot of creativity and art, too. It's important to celebrate all our rich cultural heritage, but our modern and changing identities, too. I'm not just API, but also Sri Lankan, Tamil, queer, genderqueer, brown, an immigrant, a war survivor, female-bodied, and an artist.
NBC Asian America Presents: A to Z aims to celebrate the emerging voices and breakout stars of the Asian American and Pacific Islander communities. These individuals aren't just reading the dictionary of what it means to be Asian American and Pacific Islander in America; they're writing new definitions every day.
Follow NBC Asian America on Facebook, Twitter, Instagram and Tumblr.