Thousands of Massachusetts residents remained without power Tuesday as a snowstorm packing near hurricane-force winds continued to wallop coastal communities and force the evacuation of nearly a dozen people on the island of Nantucket. Massachusetts State Police reported downtown Nantucket streets were flooded and at least 11 people had to be evacuated from their homes as waters surged 7 feet in some low-lying areas.
Power and some wireless service was cut to the entire island, Nantucket Police Chief William Pittman told NBC News. Utility company National Grid said it was working to restore power for its 12,800 customers. AT&T service remained down Tuesday afternoon but Verizon said its customers were getting reception.
Nantucket Cottage Hospital wrote in a tweet that they were open and running on a generator, and doctors even delivered a "blizzard baby" just before 4 a.m. ET. Pittman told MSNBC that he would have a better sense of when power would return after 12:30 p.m.
As the storm picked up overnight Monday, the strong wind gusts of more than 75 miles per hour and high tides created 4-foot-high waves and sent water crashing over sea defenses along the coast. Pittman said the streets were filled with water because the storm drains were frozen and "the water had no way of getting back out."
He said they are also watching the possibility of more intense flooding when the high tide comes in around 6 p.m.
Dave Fronzuto, of Nantucket Emergency Management, said flooding on the island is normal during a Nor'easter but this storm has been especially brutal for residents. "The long duration of the storm is what's really hurting them," he added.
Marshfield was one of the low-lying towns on the Massachusetts coast being hammered by the storm surge. Some 50 to 100 residents were being urged to evacuate before Tuesday afternoon's high tide and seek refuge in a town shelter. Power remained out for about 1,200 people and it wasn't expected to be restored until later Tuesday, said Lt. Paul Taber, of Marshfield Emergency Management.
At least nine homes have been severely damaged by the waters, with some uninhabitable and already condemned, Taber added.
Eric Murphy, a 44-year-old pest control worker, told NBC News on Tuesday morning there was 4 feet of water in the street outside his house. "We do get flooding here but this is the worst I've seen in the 15 years I've lived here," he said from his home in the Brant Rock neighborhood of Marshfield. "My house is on stilts but another few inches and we might be in trouble."
Murphy, who lives with his wife and three young daughters, said he woke up at 3 a.m. ET to move his car when water was already coming up the street. "My neighbor has water coming under the door and several cars have been submerged."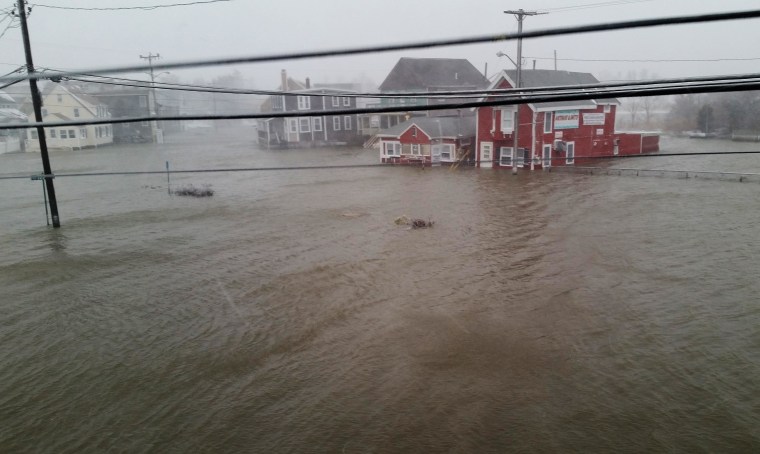 — Erik Ortiz, Shamar Walters, Alastair Jamieson, Alex Smith and Emmanuelle Saliba