A survivor of the Charleston church massacre who was spared by the gunman in order to tell the story said Wednesday that suspect Dylann Roof opened fire just as churchgoers stood to pray.
Polly Sheppard, 70, described during emotional testimony in federal court the terrifying moments after Roof, a self-avowed white supremacist, began shooting during a Bible study class, killing nine at Emanuel AME church in Charleston, South Carolina in June 2015. Roof faces the death penalty if he is convicted.
Some of the victims' last gasps could be heard on her 911 call — played for the first time publicly in court Wednesday.
Sheppard said she dove under a table when the shooting started and could see bullet casings as they fell from the gun.
"He told me to shut up," Sheppard said during her testimony. She never referred to Roof by name, simply calling him "the young man" sitting over at the table.
"Did I shoot you?" Sheppard said Roof asked her.
"No," she said she responded.
"I'm going to leave you here to tell the story," Roof said, according to Sheppard's testimony. Sheppard said she heard her friend, victim Myra Thompson, say "Lord have mercy."
Somehow, among the chaos, Sheppard managed to reach for another person's cell phone on the floor and called 911.
Prosecutors played the disturbing call publicly for the first time to a tense courtroom.
Sheppard told the dispatcher: "Please come right away. There've been plenty of people shot."
Related: Church Massacre Survivor Tells of Watching Son Die as Trial Begins
The dispatcher, realizing the gravity of the situation, remained calm, urging Sheppard to "stay as quiet as possible."
Seconds later, Sheppard said: "He's coming. He's coming. He's coming!"
"He's reloading," she said.
"Oh God, please help me."
"There's so many people dead. Oh my God."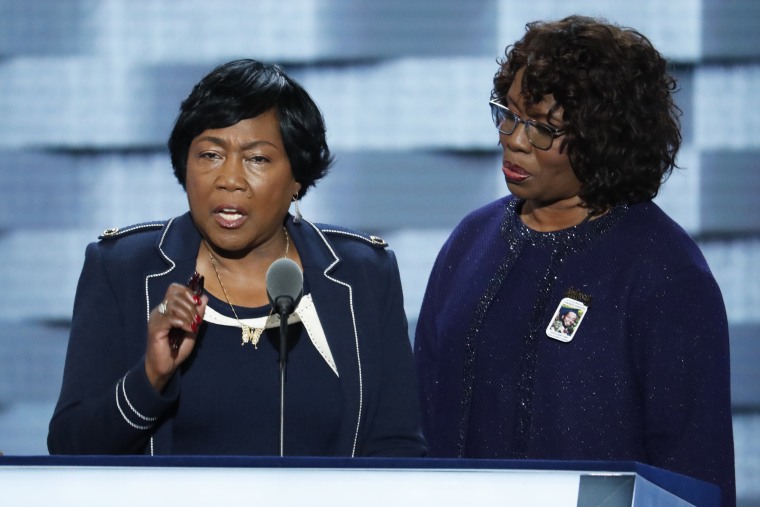 Sheppard said she didn't normally stay for Bible study, but Thompson asked her to stay because she was leading the session.
"For some reason, I didn't go home," Sheppard testified.
Sheppard, one of three survivors of the shooting, also looked back fondly on the friends she lost, calling victim Rev. Clementa Pinckney a "gentle giant." Sheppard said she had known Thompson for many years.
"She would be bossing me around," she said of her friend, to laughter in the courtroom.
Sheppard cried after leaving the witness stand as she was hugged by the victims' families.
Related: Charleston Massacre Suspect Dylann Roof Had List of Churches in His Car
Roof is facing 33 charges in the federal trial for the fatal shooting, 24 of which fall under federal hate crime statutes. Eighteen of those charges carry the death penalty.
Both the prosecution and defense rested early Wednesday afternoon.
Jurors on Friday heard Roof describe to the FBI how he gunned down the churchgoers at the historic black church in an attempt to ignite a race war.
Roof had a handwritten list of several churches in a backpack in his car, and Mother Emanuel was the first, an investigator testified on Monday.