Terrified crowds fleeing the Nice truck attacker were forced to jump off the seafront promenade, sustaining serious injuries as they fell to the beach below, an eyewitness told NBC News on Friday.
Alastair Talbot, a 19-year-old student, was eating outside at an upscale beachside restaurant Thursday night when he heard shots ring out and saw a white object — which he assumed to be the truck — thundering down the street above.
As he fled inside the restaurant, he saw as many as a dozen people leap over the adjacent promenade wall, which he estimated to be between 10 and 15 feet in height.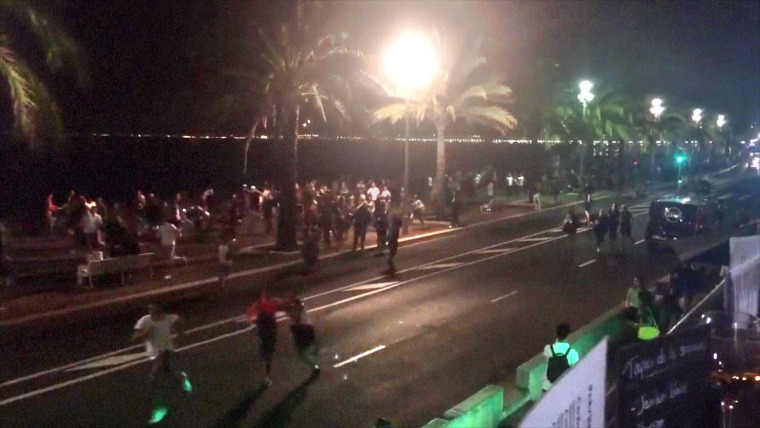 "There were people jumping down and landing on rocks and tables," said Talbot, who is a British-French national studying at the University of Texas, in Austin.
Related: Low-Tech, Soft Target Terrorism Is Growing Threat
He was in France for a family vacation and was at the restaurant with his grandfather to watch the Bastille Day fireworks. At least 84 people were killed and scores more were injured after 31-year-old Mohamed Lahouaiej Bouhlel plowed through revelers.
"There was blood all over the tables — they were all covered in blood," Talbot added, describing the scene after people leapt over the promenade wall to escape the carnage. "There were people who had jumped suffered all sorts of injuries, ankles were snapped."
Related: Americans Sean and Brodie Copeland From Texas Killed
Talbot described the "chaotic" scene of some 60 people cramming into the restaurant's washrooms, terrified from hearing shots that a gunman may be coming their way.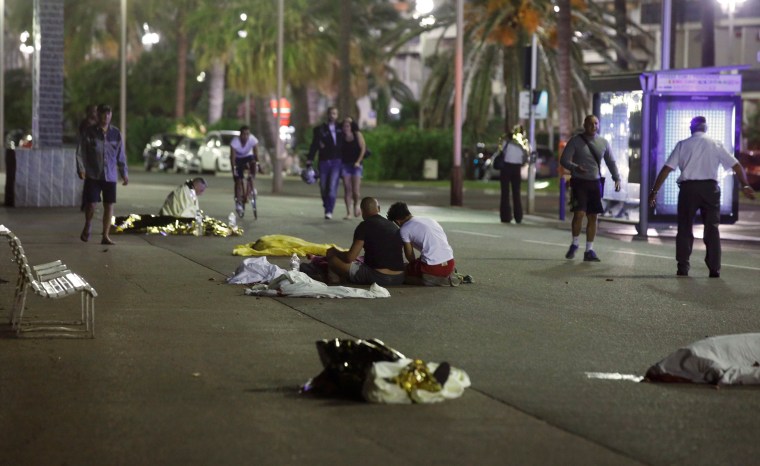 The owners locked the doors but were forced to open them again after the frightened people outside, some of them injured from the fall, began banging on the shutters, begging to be let in.
The crowd of mostly foreign tourists stayed in the restroom for almost five hours after the attack began. They emerged when fire crews and police officers came to their location.
"After we came out I actually carried one guy inside who had a broken ankle," he said. "His foot went all the way to the left and right — it was snapped."