While watching Iraq devolve deeper into chaos, many Iraq veterans are freshly remembering battle buddies lost in that land — leading some to yearn for a return to the fight but others to ponder what their sacrifices now mean.
"That's definitely the question we're all asking ourselves," said Kris Goldsmith, 28, who deployed to Iraq in 2005 as an Army forward observer.
Sign up for breaking news alerts from NBC News
"We spent so many lives and so many years trying to build an [Iraqi] army, and if it didn't work after all of the time, effort, money and blood that we put into it, it was never destined to work," said Goldsmith, who lives in Long Beach, N.Y.
The deaths in Iraq of 4,477 Americans — names never far from the minds of surviving veterans — carry a deeper sting for scores of ex-combat troops after several torrid days of Iraqi city sacking by an al-Qaeda splinter group.
Militants from the Islamic State in Iraq and the Levant, also called ISIL or ISIS, this week overran government forces in the major cities of Tikrit and Mosul. On Thursday, an audio recording purported to be from the spokesman for ISIS beckoned the anti-U.S. rebels to march on Baghdad.
In rapid retreat, Iraqi military members have abandoned for use by ISIS an array of guns, ammunition and vehicles — much of it supplied by U.S. forces to help Iraqi security units defend their own country.
For some veterans, those images have fueled an impulse to head back and finish the mission.
"I feel like I personally haven't closed that chapter in my life."
"Seeing them driving our trucks, picking up our armor and weapons ... pisses me off," said Pete Chinnici, 29, a Marine veteran who served two Iraq deployments.
"I feel like I personally haven't closed that chapter in my life. I still have some fight in me," added Chinnici, who lives in Phoenix. "If they're out there killing innocent people and destroying the country, I still feel like we should bring the fight to them before they bring the fight to us."
Calls for U.S. intervention are rising — including among some U.S. lawmakers — as violence between the Islamic militants and the Iraqi government threatens to erupt into a regional conflict.
Iraq has requested U.S. military help to douse the uprising. On Thursday, President Barack Obama saidhe would not "rule out anything, because we do have a stake in making sure these jihadists are not getting a permanent foothold in Iraq or Syria."
"It's gut-wrenching to see something that took so long and so many years to stabilize come down within just a matter of weeks," said David Curry, 32, a retired Marine who was deployed near the Syrian border in 2005. His unit took fire from insurgents positioned in Syria.
A number of Marines with whom Curry served died in action in that swath of northwestern Iraq — leading some U.S. camps and military buildings there to be designated in their honor. Camp Gannon, near the Syrian border, was named for Maj. Richard Gannon, a Marine commander killed in 2004 trying to rescue a wounded Marine while simultaneously taking on nine enemy fighters.
"To see those places now fall, you think of these guys," said Curry, who was wounded by an improvised explosive device. He lives in San Diego. "There are families who are missing fathers, brothers, dads. They gave their lives trying to stabilize this area that has quickly devolved right back into the exact state it was when we got there."
"It's extremely personal, seeing this," added Dan Whisnant, 47, a Marine reservist who previously served in Fallujah during the fight eight years ago to save and secure that city west of Baghdad. ISIS seized Fallujah earlier this year.
"I mainly feel for the families who have lost their loved ones. There's really nothing you can say to them, which is very difficult for us as leaders of Marines," said Whisnant, who emphasized he was speaking in a "nonofficial capacity," offering his perspective and not that of the Marine Corps. "We lost five Marines there.
"That fact that Tommy Gilbert is not here and that John Thornsberry is not here — there's nothing any of us can do to make those guys come back. But what they did was honorable. What they did at the time definitely saved lives. Their sacrifice and impact should definitely be remembered forever. I try to leave it at that."
Gilbert, 24, a sergeant from Downers Grove, Illinois and Thornsberry, 21, a lance corporal from McDowell, Kentucky, were riding together in a Humvee that struck and detonated an IED in Fallujah.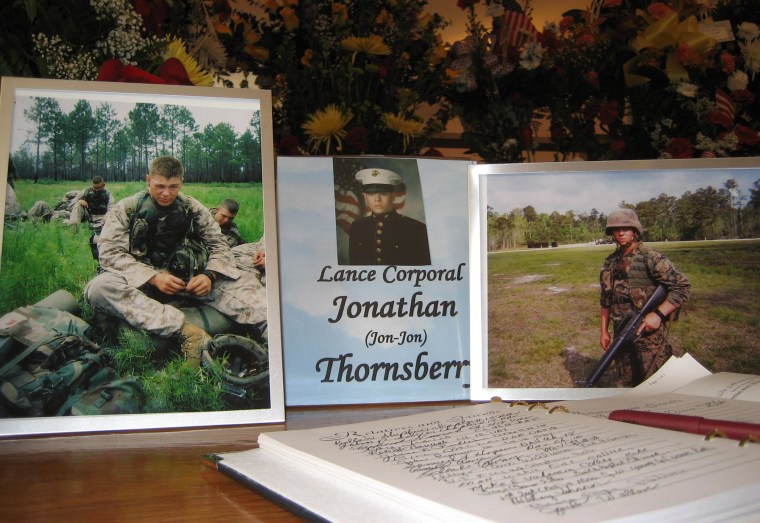 For Thornsberry's father, Jackie, watching the latest events unfold in Iraq has, he said, become "too upsetting." He and his wife have stopped following the evening news.
"You knew this was going to happen before they went over there. Those people, they've been fighting all their lives. They're never going to change," Jackie Thornsberry said. On Thursday, he was watching the now 9-year-old daughter the young Marine left behind.
"It's back to the way it was before they got there. They just wasted their time there. They wasted a bunch of boys' lives. And they didn't gain anything."