Desperate families endured an excruciating wait and search teams scoured the air and water on Saturday, but there was no official word on the fate of a Malaysia Airlines jet that vanished with 239 people on board.
More than 18 hours after the jet took off from Kuala Lumpur on its way to Beijing and disappeared over the South China Sea, the airline still had not confirmed a crash. In the water off Vietnam, the Vietnamese air force reportedly spotted two oil slicks consistent with fuel from a crashed jet.
The airline said it never received a distress call from the plane, Malaysia Airlines Flight 370. Three Americans were on board, one of them an infant. The plane was a Boeing 777-200, considered to be among the safest models in the air.
Planes, boats and helicopters were reportedly dispatched from at least six countries, including the United States, which diverted a Navy destroyer from international waters toward the southern coast of Vietnam.
Malaysia Airlines called off its air search late Saturday night local time but said that it would keep searching from boats, and that the planes would start looking again at daybreak.
Malaysian navy vessels reached the spot where the plane last made contact with air traffic control — the waters between Malaysia and Vietnam — but found nothing.
The plane was carrying 153 Chinese passengers, including an infant.
In Beijing, anguished families waiting for loved ones were taken from the airport to a hotel, where they were put in a room and told to wait for information. By early Saturday morning Eastern time, none was forthcoming. Some stormed out, enraged.
"They're just shut us in this room and told us to wait," one man told Reuters. "We want someone to show their face. They haven't even given us the passenger list."
Another relative pushed past a horde of reporters and said: "They're treating us worse than dogs."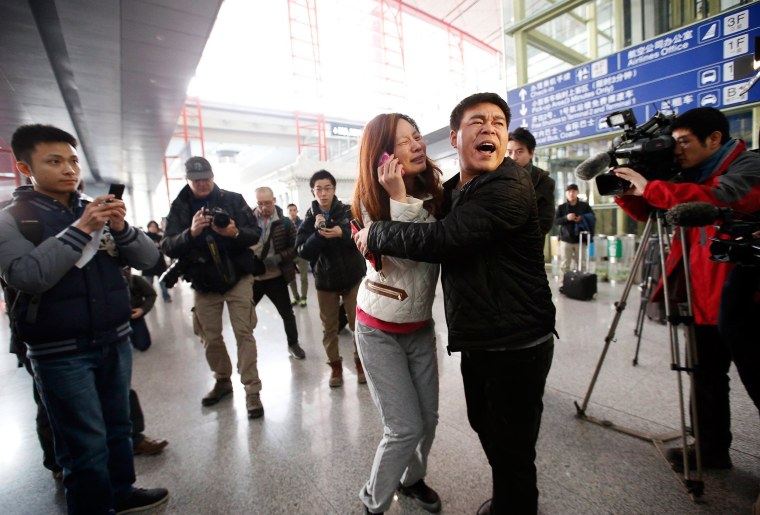 In almost 20 years of service for the Boeing 777-200, the only known deaths are three people killed last July when an Asiana Airlines jet clipped a seawall on approach in San Francisco.
Deepening the mystery, meteorologists said the skies along the route of the Malaysia Airlines plane were mostly clear.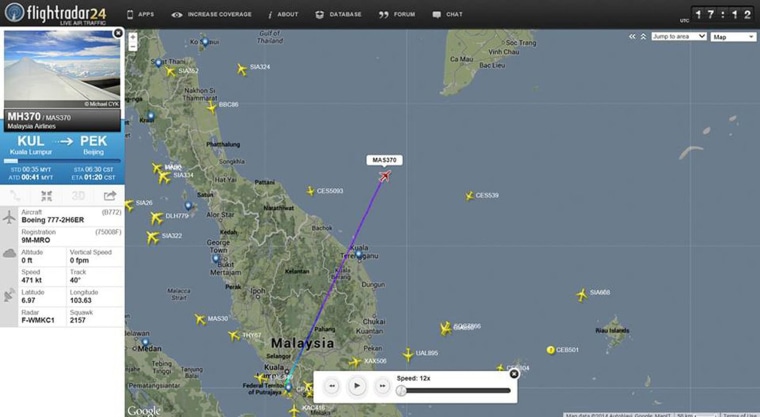 The plane, which had the registration number 9M-MRO, had been in service more than 11 years, according to Reuters. It was involved in a "ground collision" with a Chinese jet on Aug. 9, 2012, according to a French government agency.
The airline identified the pilot of Saturday's flight as Zaharie Ahmad Shah, 53, a 32-year veteran of the airline with more than 18,000 hours of flight time. The first officer, Fariq Hamid, 27, joined the airline seven years ago and had more than 2,700 hours.
Flight 370 was a red-eye, with 227 passengers and 12 crew on board. It took off at 11:41 a.m. ET on Friday, or 12:41 a.m. Saturday local time, and was scheduled to land about six hours later in Beijing.
About two hours after takeoff, air traffic control in the Kuala Lumpur suburb of Subang lost contact with the plane. About five hours after that, at 6:24 p.m. ET Friday, Malaysia Airlines announced that it had lost contact with the jet.
By early Saturday Eastern time, it was long past the point when the plane would have run out of fuel.
The Chinese premier called the prime minister of Malaysia and urged him to push search-and-rescue teams to work quickly, and Chinese state media questioned why the airline took so long to say something.
While flight data recorders and cockpit voice recorders, the so-called black boxes, can emit signals from underwater, it can be extremely difficult to find planes that disappear over the sea.
When Air France Flight 447 went down in the Atlantic Ocean in June 2009, with 228 people on board on the way from Rio de Janeiro to Paris, bodies and some parts of the plane were found within two weeks, but it took two years to find the main wreckage.
The last fatal crash for Malaysia Airlines was in 1995, when 34 people were killed near the city of Tawau. In 1977, a domestic Malaysia Airlines flight was hijacked and crashed, killing 100 people.
Reuters and The Associated Press contributed to this report.